Smart Skills
Stage an entry into performing arts
Usha Albuquerque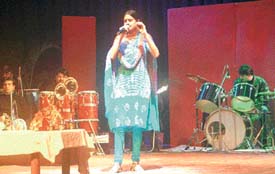 THE unprecedented success of the Indian Idol and other such reality shows on TV has indicated the growing popularity of careers in music, dance and films. Not surprising that production companies and event managers have been scouting the country for fresh faces and young talent. So, now newcomers with talent in singing, dancing, composing, arranging or playing music, choreography and acting, but with no 'godfathers' can seriously look at the avenues within the wide gamut of performing arts.
Performing artists can be divided into three major categories namely: musicians, dancers and actors or dramatists.
Music mantra
Music is a performing art in which the musician communicates with the audience. The main areas here are classical, popular and instrumental music.
Singers sing alone or in a group, with or without musical accompaniments. Usually, however, they either sing live on stage or in sound recording studios.
Then there are the instrumental players/ musicians, who form part of the orchestra.
Orchestra conductors direct orchestras, chorus and other music performances.
Music composers/directors create and write songs and set them to music. Often, music composers/ directors work in conjunction with lyricists or they compose the lyrics themselves.
Nach Baliye
Gruelling daily exercises combined with performances form the routine life of a dancer.
Dancers perform solo or in duet or in a group in their particular dance form, like Odissi, Kuchipudi, Bharatnatyam, Kathakali etc. Many actors and actresses learn classical dance which is a great advantage for dance sequences in movies.
Choreographers design and compose dance sequences. They co-ordinate the stage settings, music, costumes and supervises rehearsal.
Stage show
In films as well as in stage shows, choreographers take on the role of directors and the complete package of the performance is a product of their creative genius.
Theatre has always been recognised as one of the most powerful mediums to alert and inspire the public mind. Theatre is now not just confined to the stage, but it has also spread to performances in streets, parks, etc. Of late, with the growth of mass communication, this role has been taken over to a large extent by television and the film industry.
To enter any one of the fields of performing arts, what is vitally important is some amount of inborn talent.
If you have the talent, some formal training can hone and sharpen the talent.
Grooming talent
In most cases, talent is recognised at a very young age and much of it is nurtured in school through the years.
You can obtain guidance and training from professionals in the field, and train under a 'guru', or attend training programmes now increasingly being provided by a large number of schools and institutions.
Today, there are plenty of job openings for performing artists.
Those with great talent and an ability to market themselves have been able to command attention and earn a substantial amount from the pursuit of their art as a full-time career. But understandably, the numbers are few.
Jobs galore
Most dancers, composers and musicians are employed by academies, kala kendras, Doordarshan, All-India Radio and teaching institutions. There are also many opportunities for self-employment in the form of freelance writing of books on the performing arts, holding private classes at home, producing and directing independent programmes.
Employment opportunities to drama artists are provided by professional theatrical and opera companies and semi-theatrical institutions eg. AIR, television studios, movie studios, films division, song and drama division etc. Artists also set up small theatre groups of their own.
Of late, many musicians and dancers have been teaming up with filmmakers and music directors to take out their own music videos. This is one area which has witnessed a mushrooming of young talent.
Youngsters with a good knowledge of music can also join radio and television as radio jockeys for the radio stations and video jockeys, or VJs presenting music shows on television programmes. Disc jockeys are also much in demand and receive employment in discotheques, five-star hotels and restaurants.
Music/dance therapies have also become very popular now. Dancers and musicians are often employed by health care / psychological treatment / stress management centers as stress busters and for curing people suffering from depression and other mental disturbances.
With the entertainment industry expanding in a big way, there are plenty of employment opportunities for performing artists today. Not only do they get to perform at various cultural shows and events, but also on the screen.
The music industry has witnessed a major revolution. Apart from audio cassettes, CDs, music concerts and playback singing for movies, singers now have their own video albums. Employment opportunities for disc jockeys and video jockeys are plenty. Disc jockeys get to work not only in discotheques and pubs, but also in live cultural events, wedding and New Year parties.
Musicians, dancers and actors also get to give performances in cultural programmes and in international events. Moreover, the business of choreography is also booming these days. The future is extremely bright for talented performing artists in the new millennium, at a time when entertainment has become serious business.
Training talk
Prominent institutions offering diploma courses in music include:
Kalakshetra, Chennai.

Bharatiya Kala Kendra, Delhi.

College of Indian Music, Dance & Dramatics, Baroda.
Prominent institutions offering diploma courses in dance include:
Kathak Kendra, Delhi.

Kalakshetra, Chennai.

Gandharava Mahavidyalaya, Delhi.

Bharatiya Kala Kendra, Delhi.
There are several courses in choreography too, especially in Delhi and Mumbai:
Shiamak Dawar's Dance Academy

Danceworx run by Ashley Lobo
Prominent institutions offering diploma courses in drama include:
The National School of Drama, New Delhi.

Film & Television Institute of India, Pune

Asha Chandra's New Film Acting Course in Mumbai

Padmini Kolhapure's Acting School in New Delhi

Anupam Kher's Acting school in New Delhi

The Dramatic Art & Design Academy, New Delhi run by Amal & Nissar Allana.

Barry John's Imago School of Drama in New Delhi.

College of Indian Music, Dance & Dramatics, Baroda.
The writer is a noted career expert