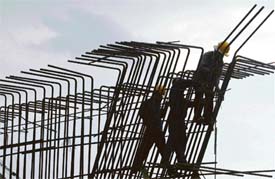 Concrete opTION
The easy availability of home loans has put the housing sector on the fast-growth track, creating more jobs for architects, writes Usha Albuquerque
THE sleek multi-storied buildings in Gurgaon inspire awe. So do some of the sheer glass and steel facades of new structures that are coming up across the country. Architecture is a multi-disciplinary field that synthesises design with sociological, technological and environmental expertise in the conception and execution of buildings. More specifically, an architect is defined as one who organises space and regulates enclosures for different functions.

Careercature
Sandeep Joshi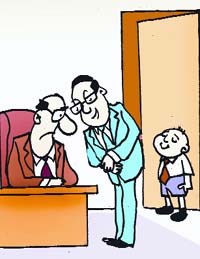 Sir, you yourself told me to arrange for an innocent and fresh face for this job.

Coursechat
"Construction boom has opened new avenues for architects"
Neeraj Bagga
GROWING affluence, easy availability of loans and desire to own a dream house have propelled the construction industry to a new high, resulting in greater opportunities for students of architecture. Paramjit Singh Mahoora, Head of the Department of Architecture (DOA), Guru Nanak Dev University, Amritsar, feels that this field is experiencing a boom like never before.


"Provide employees conducive environment"
In order to bring out the best in employees, HRD guru Lynda Gratton recently said business entities must provide conducive and thought-provoking atmosphere.

UK keen to retain Indian brains
Witnesses 5-fold student gain
H. S. Rao
THE number of Indian students doing higher studies in Britain has increased nearly five-fold in as many years despite the steep fee hike, the Indian envoy to the UK has said.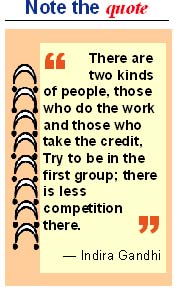 Getting fired can open new doors
Amy Joyce
IT'S a kick-in-the-gut, suck-the-air-from-the-room, I'm-hearing-voices-and-they-are-echoing-in-my-head kind of experience. You've been fired. Even if you knew it was coming, even if you prepared for the possibility, that life-changing moment can leave you motionless—unable to call friends, unable to believe there is another chance out there for you. You question your abilities. You think you'll be marked for eternity.


Career Hotline
Step into world of footwear design
Pervin Malhotra
Q After my Class XII exam, I am keen on taking up a job in the footwear industry. Please tell me about the prospects in this field.
An option you can count on
Engineering & environment
Career in commerce