For the past 20 years, Sister Sudha Verghese, has untiringly devoted herself to the service of Musahars, the most backward among the Dalits of Bihar. Ambarish Dutta meets the Padma Shri recipient.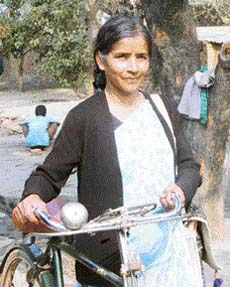 Sister Sudha Verghese on the move to spread awareness among Musahars.
— Photos by Sonu Kishan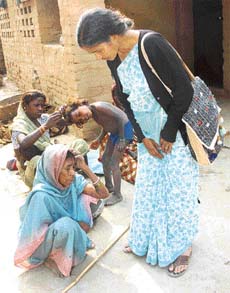 IN this jet age, she is heralding a revolution on a cycle. Her only belongings are her cycle and a bag.
Fiftyseven-year-old Sudha Verghese, recipient of the Padma Shri this year, has dedicated the past two decades of her life for the empowerment of Musahar, the most backward among the Dalits of Bihar and UP. They live in abject poverty in small hamlets in Bihar and UP.
Popularly known as Cycle Sister in and around 50 villages of the Danapur and Phulwari Sharif area, about 40 km from Patna, Sudha first came to Bihar from Kottayam district in Kerala with Notre Dame sisters at the age of 16 in 1965.
Later in the 1970s, after her graduation, she returned to work in the schools run by Notre Dame. But Sister Sudha Verghese did not like the urban-centric approach of Notre Dame and was more interested in working in villages.
During her initial visit to different areas of the state, she was deeply shocked by the condition of the socially ostracised Musahars.
In 1986, she created a stir of sorts when she started staying at a Musahar village near Danapur. "People from other castes and communities despised me but I did not bother. It was a small beginning for me," she said.
According to Sister Sudha, even today the literacy rate is just 0.2 per cent among Musahar women, and 2 per cent among the men.
Working for the uplift of Musahars has been no easy task. In 1987, she found that the stipend the government had allocated for Musahars was being usurped by middlemen. "When I protested against this, I was issued threats. I, however, did not give up and continued making Musahars aware of their rights."
Her second experience was more appalling. In 1989, a Musahar woman was raped but the police refused to file a report. "I went to the police station, but the police refused to believe that the woman was raped." In fact, she says, the policemen wondered who would rape a woman from the Musahar community, which is known to survive by eating rats and rearing pigs, and do not know much about sanitation and cleanliness."
She chased the issue and finally forced the police to register a case against the culprit, who was a local Yadav strongman.
Courtesy Unicef, Sister Sudha now runs 50 educational centres for adolescents that are spread over the Danapur and Phulwari Sharif area. Over 1,500 Musahar girls attend these centres.
Sister Sudha's focus now is not only to impart education but also to restore social dignity to Musahar women, who are learning to save money in banks and post-offices, and trained to earn their livelihood.
According to the Sister, the centres for adolescents run by her, which are known as Kishori Siksha Kendras, are entirely managed by small women's groups (SWG) and are being funded by Unicef.
The Sister, who for the past 20 years has been spending at least 12 hours a day on a cycle touring villages, says: "Initially, I created awareness among women about their rights through Nari Gunjan, an NGO formed by me in the 1980s. Social and physical exploitation was rampant but women were scared of raising their voice against it."
But things have changed now as Musahar women now frequently visit police stations to lodge complaints against physical abuse.
And nothing perhaps demonstrates the change better than the smile on the face of 12-year-old Musahar girl Khusboo. "Had I not joined Kishori Siksha Kendra, my parents would have married me off. I have started studying and will not marry till I am 18."
January 29 was a red-letter day for Sudha Varghese. She managed to secure permission from the State Welfare Department to run an educational centre with food and lodging facility for Musahar girls.
It is, however, a different story that the entire school was renovated by her as the State Welfare Department — paying little heed to her 20 years of service to Musahars — said it would watch her work for three months before considering any grant to the school.
As many as 100 Musahar girls started staying in the school from January 29. The funds for the school, says the Sister, would be generated through self-help groups of Musahar women.
Her commitment prompted her to secure a law degree from Mysore University in 2000 at the age of 50, and she is now often seen in Patna courts fighting cases for Dalits.
When she learnt that she would be receiving the Padma Shri, she was surprised. The greatest reward for her, she says, is the smile on the faces of Musahars.