In pursuit of growth
D. S. Cheema
Ten Rules for Strategic Innovators: From Ideas to Execution
by Vijay Govindarajan and Chris Trimble. Harvard Business School Press. Pages 224. $ 29.95.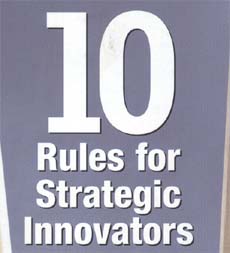 IN today's fast changing and complex marketplace, business is breaking all rules as innovation is becoming increasingly critical to its success. Many corporations fail in creating value for investors when they reach the maturity stage not due to lack of ideas but due of lack of skills to execute those ideas. Execution of innovative strategies can help a company in its aggressive pursuit of growth. No matter how good a strategic innovation plan is, it is the execution where most companies falter. It is a well-recognised fact that innovation can emerge from environments that support personal and collaborative knowledge sharing and creating. However, due to the complexity of strategic innovation, it is a subject of frequent bench marking and research studies.
This book by Govindarajan and Chris Trimble is a result of their research to answer the question "How can established companies convert breakthrough ideas into breakthrough growth?" The authors take the reader through three steps of innovative execution; Forgetting, Borrowing and Learning, with the help of specific examples of selected American companies labelling the strategic experiment company as`A0 " New Co" and most closely related established business company as "Core Co". The book explores the challenges of pursuing strategic innovations and prescribes a systematic actionable approach. The authors offer fresh and compelling insight into opportunities and results of innovation.
The book categorises four types of innovation — continuous process improvement, process resolutions, product or service innovations and the strategic innovations. The characteristics of strategic innovation sharply differ from the others. New Co must address three unique challenges; forgetting some of what made Core Co successful, borrowing some of the Core Co's assets and learning how to succeed in uncertain markets.
Each of the three challenges has been addressed in two parts. The first part analyses the root causes that lead to problems associated with forgetting, borrowing and learning and the second part provides specific recommendations for overcoming each challenge. Though the companies selected for case studies are American, the analysis is universally applicable to any company which wants to thrive using the innovation execution route.
The first chapter has the theme of the book, "Why strategic innovations need a different approach to execution?" The authors relate the organisational DNA of a company; staff, culture; structure and systems with the challenges of execution of strategic innovation making use of the story of Corning Microarray Technologies (CMT). A road map of helps the reader to understand what he could expect in a particular chapter. The second and third chapters, "Why organisations, like elephants, never forget" and "Taming the elephant" continue with the story of CMT.
The book indeed rewrites the concept of innovation and the challenges companies face in implementing strategic innovation. It is a must read for senior executives and a valuable addition to any library. Jeffrey R. Immelt, CEO, General Electric Company, rightly puts it as "a great addition to your toolkit".