Tale of two Peter Pans
Louise Jury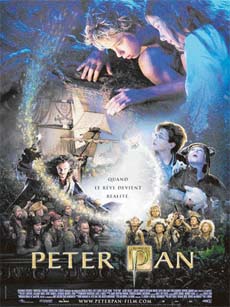 FOR more than a century, the fans of J.M. Barrie's classic story Peter Pan have had a few mysteries to ponder over. Now a century after the story first caught the public's imagination, two rival publications are jockeying to proffer answers.
Great Ormond Street Hospital, to whom Barrie bequeathed the rights to his great work, will announce details of the first officially sanctioned sequel, a book written by the award-winning children's author Geraldine McCaughrean after a worldwide competition.
The sequel will be published this year to raise fresh funds for the famous children's hospital in London.
But to Great Ormond Street's irritation, all the time that McCaughrean has been conjuring up her new adventures, two fathers in America have been doing likewise. Ridley Pearson, asked by his young daughter, Paige, where Peter Pan had come from, embarked on writing a prequel to the story more than two years ago which has sold 500,000 copies and spent weeks in The New York Times bestseller list.
That prequel, Peter and the Starcatchers, will be published in the UK next month with another, Peter and the Shadow Thieves, ready to follow and a third in the pipeline. The new titles, by Pearson, 52, a crime writer, with his friend Dave Barry, 58, a Pulitzer Prize-winning columnist, have been snapped up by Disney.
And the film company is starting a new series of computer-generated Peter Pan animations to rival C.S. Lewis's Narnia stories as family entertainment. "I was reading Peter Pan to my eldest daughter who was about five and after a chapter she said, 'How did Peter Pan meet Captain Hook in the first place'?" Pearson said from his home in America.
"When you think about it, before that wonderful classic gets its engine going, there's already a boy who can fly, who never grows old, who travels with a fairy and left his shadow with pirates." He mentioned his idea for filling in gaps to his friend Barry, with whom he plays in a band called the Rock-Bottom Remainders with fellow writers Stephen King, Amy Tan and Scott Turow.
"It was going to be a small 150-page book to explore this young boy called Peter Pan but it mushroomed from there," Pearson said. "Dave and I had so much fun it kept on growing." Barry added: "The American fans have been incredibly forgiving. We were both aware we were sort of tampering with one of the most beloved children's stories." But what they were not aware of initially was the link to Great Ormond Street Hospital, which gains no royalties from Peter Pan books sold in America though it will gain from the films in a deal signed with Disney half a century ago.
Barry added: "We became pretty sensitive about it. We visited Great Ormond Street Hospital when we were in England to do research for the next book and we saw the tremendous need for funds." They plan to bring their celebrity band to the UK for a fund-raising concert in a bid to help.
But a hospital spokeswoman said the McCaughrean book was the only officially sanctioned title. "We urge anybody who's interested in reading a good book to buy our sequel," she said.
— By arrangement with The Independent