The last princess
Harbans Singh Virdi on Bamba Jindan, the last descendant of Maharaja Ranjit Singh, who is buried in a Christian cemetery in Lahore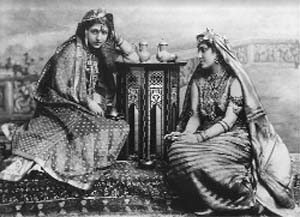 Princess Bamba Jindan with sister Katherine
SINCE I had visited the cultural capital of Pakistan, twice in the past, in 1979 and 2003, the land, lanes and labyrinths of Lahore were no alien to me. Yet it was sheer coincidence that I ran into Afzaal, a storehouse of knowledge and information, at Gulberg, the last port of call for the Punj-Aab bus, that I came to know that the last line of Maharaja Ranjit Singh dynasty had lived and died in Lahore.
It was Afzaal who volunteered to take me to the place where Princess Bamba Jindan, the granddaughter of Ranjit Singh and eldest daughter of Dalip Singh, lay buried in a Christian cemetery on the Jail Road.
Therefore, even in a tight itinerary that I had on this tour, it was sheer pleasure to unfold the pages of Sikh history, which were gathering dust in a land that served as the capital of the vast Sikh kingdom.
I drove early to the Mall Road, Lahore's posh area, and then moved to the Jail Road. I spotted from some distance a Christian cemetery which I entered after some hesitation.
After passing the office and some odd residential quarters, I spotted the slab of while marble under which lay Bamba Jindan, who spent the last days of her life in Lahore.
Prince Dalip Singh had married a German lady Bamba Mueller in London, who bore him six children; Prince Victor Dalip Singh (1866-1918), Prince Federick Dalip Singh (1886-1926), Princes Bamba Jindan(1879-1957), Princess Katherine(died as child), Prince Albert Daleep Singh(1879-1893) and Princess Sophia Alexandra(1874-1948). It is quirk of fate that all his children died issueless.
It is said Princess Bamba Jindan wanted to fulfil the last wish of her grandmother Maharani Jindan. So she carried the ashes of Maharani Jindan to Lahore from London and decided to live the rest of her life in the old city which served as the capital of her grandfather's vast kingdom.
When she landed in Lahore, she initially checked in the then most expensive Flattis Hotel. Later, she acquired a bungalow on rent on the Jail Road. Princess Bamba kept in her custody a vast collection of paintings and other art objects that she had inherited from her father.
Besides, she had other historical documents and royal orders in Persian or Arabic which her grandfather had passed during his 40-year rule. Since she wanted to study them to know their significance, she placed an advertisement in a newspaper for hiring a suitable scholar. After interviewing several scholars, she hired Pir Karim Bakhsh Supra for the job.
Pir Karim Bakhsh was of a saintly disposition. He was also the acknowledged scholar of his time and was equally proficient in Persian, Arabic and English. Pir Karim Bakhsh began his work with utmost diligence. Karim Bakhsh soon became the most trusted man in her life. After discussing with Karim Bakhsh, Bamba Jindan purchased a big chunk of land in the posh Model Town to build the Bamba Palace, where she ultimately moved. Karim Bakhsh also moved along with her with his family in the big mansion. Bamba was very found of red roses, so she got planted thousands of saplings on a vast stretch of land in her palace.
After having settled down in Lahore for some time, Bamba married Colonel Southerland, who was then the Principal of King Edward Medical College. However, the Colonel died soon and the princess was again left alone. Princess Bamba Jindan too died on March 10, 1957. She was buried in the Christian cemetery, also known as Angrezan da kabaristan, on the Jail Road. If you visit the cemetery any time of the year, you will find red roses covering the white marble slab, on which it is written; Princess' Last Resting Place. People say these flowers are not bought from the bazaar but are brought from her palace.
Today, Bamba Palace houses the Oriental Museum and Oriental Archives of Pakistan office in one part while other parts of the palace have been divided among the descendants of Pir Karim Bakhsh Supra of Lahore.
To this day the descendants of Karim Bakhsh continue to pay royal respect to the last descendant of Maharaja Ranjit Singh, by offering red roses from her palace, at her final resting place in Christian cemetery, every year on March 10, to coincide with the death anniversary of Princess Bamba Jindan.