Corporates come calling to colleges
Chandigarh colleges saw a spate of placements this year, emerging as the new talent-scouting grounds for India Inc, writes Chitleen K. Sethi
Catch them young! This is the new placement mantra for companies in the city, many of which are now scouting for raw graduates in their final year of college.


Careercature
Sandeep Joshi

For the sake of the company's health, the duration of anti-stress exercises in office hours needs to be cut.


Placement pulse
"This job was the right fit"
Chetna Keer Banerjee
Ashish Sahi, a final year student of the UBS (University Business School), Panjab University, who has been selected by Esys, an IT products company, for its international operations, at a package of $ 48,000 p.a., shares his experience of the placement process. Excerpts from an interview:
How was your experience with the interviewers?
"I got selected on Day Zero and was interviewed by two top people from the company. In fact, they took me by surprise when they took me for a walk on the campus before a formal interview.



Spell out goals for success
Arvind Sharma
Setting goals gives you short-term and long-term motivation and focus. It helps you to plan and organise your resources and your time so that you can get the best out of your life.
Setting clearly defined short-term and long-term goals will enable you to measure your progress and achieve personal satisfaction once you have successfully met your goals.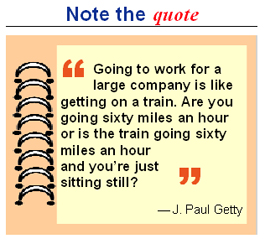 Smart Skills
UN offers a world of opportunities
Usha Albuquerque
Working in an international organisation confers a kind of attractive aura. People who work in the UN, ILO, or the World Bank, are often viewed with respect and admiration by the public.



Making the most of meetings
Hanah Cho
We have all been there.
The boss calls yet another staff meeting, where your mind quickly wanders. You start to zone out. So you doodle to keep busy. Even the clock seems to be ticking slower.



Turn into a taskmaster
Amy Joyce
How organised are you?
If you're like me, you make a list—at least mentally—of everything you have to do. I usually list the five or so things I really must accomplish by day's end.
But those five things will become about 79 by the end of the day.



Event buzz
Re-programme your personality
The Chandigarh Chapter of the Public Relations Society of India (PRSI) organised personality transformation preview sessions at the Bhavan Vidyalya auditorium in the city on Monday.
The well-known mind trainer and author of the popular book "Searching for the Dream You Deserve", Ashwani Kumar from Ahmedabad, made the participants walk on broken glass to help them discover the power within their own self through neuro-linguistic programming (NLP).