M A I N N E W S
10 injured in attack on Dalit colony
Dharmendra Joshi
Tribune News Service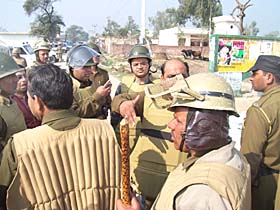 Karnal DC Rakesh Gupta and SP Sibash Kaviraj visit Mehmadpur village on Tuesday.

Mehmadpur (Karnal), February 14
In what could be termed as the recurrence of the Gohana incident, an armed mob of upper castes, mostly Rodhs, allegedly attacked Ravidas Colony at Mehmadpur village of the district today morning.

The only difference between the two incidents was that instead of torching houses of Dalits as had been done in Gohana, Ravidasis were allegedly attacked with sharp-edged weapons, including axes and swords.

While most of them saved themselves by bolting the doors of their houses, about 10 Ravidasis, including women and aged persons, were injured in the attack which continued for over half an hour. Five of them have been admitted to the Civil Hospital.

When The Tribune team visited the colony, almost all male Ravidasis had left their houses because of the fear of another attack and to evade their arrest as some of them had been named in an FIR in

connection with an attack on the police yesterday.

Kanta Rani alleged that over 50 armed men had attacked the colony at the instigation of the sarpanch, Sohan Singh, who belongs to Rodh community, at around 9 am.

Shiksha said Rodhs had not even spared women and the elders and at least 10 persons had been injured. Santresh, one of the injured, said she had been attacked with gandasis and lathis. She and her three children were alone at home as the police had already taken her husband into custody in connection with yesterday's incident.

The sarpanch, however, denied that the colony had been attacked. He said about 100 Rodhs gathered in the village after some of them had been beaten by Ravidasis at Kunjpura this morning but they were dispersed by the police.

The SP, Mr Sibash Kaviraj, said the police had not received a written complaint in this regard. Later in the evening, 18 Rodhs had been booked.

The colony was attacked following the beating of some Rodh shopkeepers by Ravidasis at Kunjpura village where they had been forcing the shopkeepers to close their shops in protest against the decision of the district administration of not allowing them to carry out a procession on Ravidas Jayanti yesterday.