'Stress provokes creativity'
Satish Gujral's works are being exhibited at the National Gallery of Modern Art in Delhi this month. Humra Quraishi meets the eminent artist and sketches out his life canvas.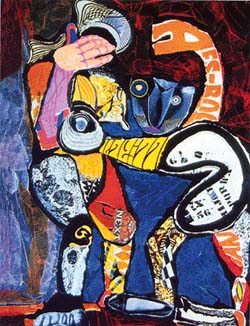 'Beauty and Beast' 1968, paper collage
MEN like Satish Gujral need no introduction. Artistic genius he definitely possesses; it is writ large in his works and architectural designs spanning several decades. But, above all, what's more vital is the fact that he is what he is. No contrived airs or apparent eccentricities or far-fetched talk. The first time I met him for an interview was in the early 1980s and then too his childlike smile and spontaneity held out.
Satish had not only agreed for an interview but also gave it without any tension and those running-after sessions. In fact, I still recollect the warmth with which he conversed when I first met him. This when he is stone deaf and its only through his wife Kiran that one can communicate with him. And once he talks, it's his eyes which convey an overwhelming dimension of emotions. Whatever remains unsaid can be read in his autobiography A Brush With Life. He has not bypassed details of struggle nor has he shied away from focusing on the personal highs and upheavals or the differences that erupted between him and several important personalities such as Indira Gandhi and MF Husain. The details are given against the backdrop of developments—political and personal. It reads like the story of a man who believes in speaking out. Without diplomacy, tension and complication.
Last weekend, I met him at the National Gallery of Modern Art where his works made in the last five decades—from 1948 to 2005—are on display this entire month (February 1-28). Without Kiran the interview wouldn't have been possible. In fact, when I asked Satish a rather personal question, she walked a little distance away (perhaps to give him space to answer frankly) but she had to be called back almost immediately, as he was unable to comprehend what I was asking. The moment Kiran sat across him, he would just look at her mouthing words and begun answering effortlessly.
Here are excerpts from an exclusive interview with Satish Gujral:
How long did it take you to put up this retrospective?
The decision was taken almost four-five years back but then it took almost two years to put it up. It has been tough and, at times, I was almost fed-up and gave up, but, then, it is now all here. It has works right from the Partition times to the series I had completed in 2005.
Have there been any phases in your life when you didn't work because of stress or depression or financial lows or for any other reason?
I have always worked, no matter what happened. May be changed the medium—like from painting to drawing architectural designs but never gave up. Of course, there have been periods of stress and financially very tight times but I feel that stress actually provokes creativity. Also, the fact that when I was actually going through those tough times I didn't really feel they were difficult. At times I didn't even have a single rupee. Once I didn't have money to even reach home from the railway station and my brother Inder had to come and fetch me.
Your marriage to Kiran is not one of those dead marriages. It is so alive that once you told me that she has always been by your side and left (your side) only to go to the maternity home to deliver your three kids! What is the reason for this great companionship?
Both of us have the same interests`85 normally, in most marriages, after a while the couple have nothing in common to talk about. Kiran is not just a trained artist (gave up her career for my sake, to help me) but also my best critic. So we always have something to discuss and argue over.
What about your women friends?
After my marriage with Kiran, I didn't let any friendship develop into an affair. Yes, I was tempted but what actually prevented me from furthering any friendship is the fact that I am no fool to lose Kiran.
Your autobiography carries much — especially the information that you faced several hurdles because you turned deaf during childhood.
Yes, especially in view of the fact that in our country a physical problem or a visible handicap is sneered at and nobody spares you. Why just take my case alone—hasn't Surdas always been referred to as a blind poet or Timur mentioned as a lame? There are also sayings like andhe ko andha kaho aur phir uska gussa saho (call a blind a blind and then see him get all angry). It's always the weak people who sneer at weaker people. Yes, I was sneered at and that left me hurt and bruised. At times I was so hurt that I couldn't even sleep at night.
After we shifted from Jhelum to Lahore, I was called Bola ( deaf ) by kids in the new school. For a while I didn't even realise that I was called Bola. One day I was seeing the attendance register and I saw the word Bola. I asked another boy who was this boy named Bola. He told me that since I was deaf, I was called so. This remark came as such a shock. But, that was not just one incident. Wherever my father took me for admission to a school or college, there was some hurdle but my father never took 'no 'for an answer. Even in the arts college in Lahore and later the JJ School of Arts in Mumbai, my hearing problem came in the way at the admission time.
In Lahore my father had met the then chief minister Sir Sikander Hayat, who made sure that I at least attended the arts classes on an informal basis. Later, in 1948, I got a job in the Department of Public Relations of the Punjab Government as a graphic artist, but I was kicked off after a while because I was told I was deaf. I was bitter and realised that the only way to survive was through self-employment. I went to my father's home in Jalandhar, where the family had settled down, and took to painting.
Was your going to Mexico for studies on a scholarship, a turning point in your life?
Yes, although I had zero chances`85 even my knowledge of English was minimum`85 but nevertheless I did go for the interview. Someone had advised me that whilst answering questions I should look straight at the Mexican cultural attach`E9 who was said to be part of the selection panel. But how was I to spot him among the Indians who had a similar complexion. I was told that Mexicans had Mongoloid features. So holding one canvas each, my brother Inder and I walked to the appointed room and once the interview proceeded, I kept looking straight towards one particular gentleman who had those slanted eyes and high cheekbones. I was sure that he was the attache. Later, I was told that that diplomat hadn't turned up at all and the man I was gazing at was the Joint Secretary, Education, MG Saiyadain.
Totally disappointed, I left for Jalandhar the same night, sure that nothing would come by for my case was hopeless. But, then came another turn of events. An architect friend Ted Bower had been in love with an Indian writer, Shantha Rama Rau, and though she lived in the US, she had come down to Delhi and knew that particular Mexican diplomat/cultural attach`E9 who turned out to be none other than Octavio Paz. He recommended my name for that scholarship.
In the initial years of your painting, what theme did you focus on?
I depicted the suffering of man and because of that theme many people thought I'd been affected by the Partition
In the series you have made most recently—in 2005—(also displayed at this retrospective), you have shown men at play! Has the human and political situation improved in the last few decades? Or does it hint at men playing political games?
There's no politics depicted`85 no`85 never`85 politics has never played any role in my art. I'm not even a fan of games but these men on the canvas are actually at play. Regarding the political situation in the country, I feel all the political parties—be it the BJP or the so-called secular ones are the same. All their talk of idealism is hogwash
You are said to be drawn to the Communist ideology.
Today I call myself a Leftist but not a communist. Why? Because in those early days when I was drawn to the communist party and later travelled on scholarship to Mexico and then to New York and intermingled with several communists, I was left disillusioned. In Mexico, I met many Russian artists who told me what had been happening in Russia and it opened my eyes. Today I call myself a Leftist and not a communist.
You have just said that you are far away from politics and politicians. Your own brother IK Gujral is a politician and very close to you.
Yes , but he is secular and honest.