A taste of Italy
There is much more to Italian food than just pizzas and spaghetti, says Saurabh Malik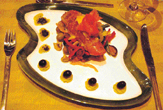 Italian food is pampering the taste buds like never before. And it's not just pizzas and spaghetti that the residents are ordering in restaurants and fast food joints across the city. They are experimenting with Risottos, grills and pastas as well.
The whiff is unmistakable. As you cross joints offering Italian delicacies in the evenings, the aroma of pastas tossed in tomato and pesto sauce lure you indoor.
The tang mingles with a hint of garden fresh greens to give the flavour of Italy right here in the city.
If you are hot for the stuff, just drive down to your favourite haunt and gratify your taste buds with an abundance of salmon and Parma ham.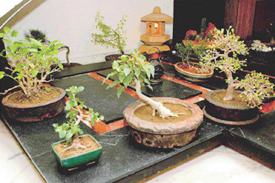 You see the weather is just right for you to savour the stuff. The pleasant evening breeze, reminding you of dying winter's fading presence, will only add to the essence.
So forget all about counting those loathsome calorie and order mouth-melting pasta and potato pie served with green vegetable sauce, or else shallow fried pieces of chicken breast served with marinated tomato sauce.
You can even go for assorted vegetables in strudel with pumpkin sauce. The choice is yours, entirely.
You see, until a few years ago, one had few options as not many restaurants were offering variety.
Undoubtedly you could enjoy pizzas and spaghetti in some of the joints, or else stand before the blue flame and wait for pasta to boil in the kitchen of your house, but hardly anything else.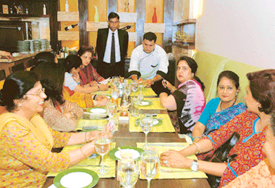 But now the dishes are more and merrier. Pick up the menu card and you will find stuff like "spaghetti with fresh marinated sun-dried tomato sauce, basil and chilly prawns" or else "Risotto with a mix of wild wood mushroom".
A word of caution here: As most of the dishes mentioned in the menu card are Italian to you, just do not hesitate in asking the member of staff serving at table, lest you land up eating something you have no taste for.
In Piccadily, it's live cooking with the chef pampering the appetite with exquisite variety of risottos and pastas, along with pizzas and special Italian desserts. Adding to the zing are over a dozen varieties of Italian cheese.
This is not all. Adding to the international gourmet experience is the presence of a herb garden right inside the restaurant — Pomodoro. There, you can pick the herbs of your choice and the chef makes sauce out of it with his expertise.
As dinner is not complete without a glass of rare wine, you can have Antinori Bianco Toscona or even Carlo Rossi. "In fact, you can choose your own bottle and the maitre `d will compliment it by serving delicious pasta," says General Manager Ambar Burman.
To begin with, order appetizer and salad. You can go in for salad of broccoli and prawns flavoured with orange mayonnaise by pulling out something like Rs 175 from your wallet. In soups, try traditional fish soup with loads of vegetables flavoured with saffron or else cream of vegetables scented with truffle oil. It's good.
Order pasta, or Risotto. You can even go in for pizzas topped with spicy salami, mozzarella, tomatoes and capers. Their Boungustalia pizza is simply scrumptious. The crust is topped with mozzarella, tomatoes, onion, bacon, pepper and ham before reaching your table.
End with desserts; go in for a hot apple strudel with vanilla sauce and ice cream. You can also order Torta Di Mandrole — almond tart served with seasonal fruits. Chocolate lovers can go in for rich dark mousse with vanilla ice cream.
In Mountview, the ambience and the setting with light music floating in the air is just right for a perfect date with Italian delicacy. You can order Cannelloni Italian or else Spaghetti Napolitaine. "The stuff is good, actually," says General Manager R.P. Singla.
If you are going to Hotel Shivalikview, remember to taste Lasagne Verde. It's a rich blend of pasta, spinach and tomato prepared by expert chefs," says Food and Beverage Manager Jagan Chaudhary.
At Subway in Sector 17, go in for Pizziola sandwich, or Subway melt. Italian BMT with smoked chicken, ham and lamb salami is worth tasting. It's easy on the pocket too. So go ahead and try the stuff.