N E W S U P D A T E
Sikh children hold turban march
during Chirac's visit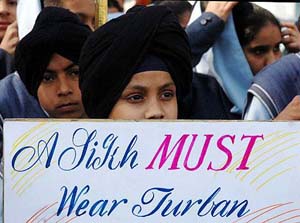 Schoolchildren at a protest march organised by the Shiromani Akali Dal (Panthak) demanding that the Sikhs should be allowed to wear turban in France, in New Delhi on Monday, while French President, Jacques Chirac, is on a three-day visit to India .
— PTI photo

New Delhi, February 20
Coinciding with the visit of French President Jacques Chirac, Sikh
schoolchildren wearing turbans held a protest march here today against
his country's ban on their religion's distinct headdress at state
schools.
Led by religious leader, Mr Manjit Singh, the children carried placards
urging the visiting French President to exempt Sikh pupils in France
from the ban.
France banned religious symbols such as Sikh turbans and Muslim
headscarves in state schools in 2004 in a move aimed at checking what
officials said was the rising influence of radical Islam among France's
large Muslim population.
"This march does not just challenge a law, but the Western way of
thinking," says Mr Manjit Singh, a senior member of the Delhi Sikh
Gurdwara Management Committee (DSGMC) and head of the Shiromani Akali
Dal (Panthak).
The schoolchildren, who walked from Gurdwara Bangla Sahib to the
Parliament Street, later submitted a memorandum with the French Embassy
also.
In a separate memorandum addressed to Chirac, supporters of former
Punjab Chief Minister, Mr Parkash Singh Badal, also demanded that the
ban be revoked.
"We find no reason in imposing suchy a ban on turbans. Are Sikhs living
there not European?" asked Avtar Singh Hit, who heads Badal's party in
Delhi.
Several Sikh pupils in France have been expelled from school for
breaking the law. — PTI