BCM School celebrates annual day
Our Correspondent

Ludhiana, February 20
BCM School, Basant City, celebrated its first annual day here today. Tiny tots of the school presented a cultural programme.

Students presented an item based on a Punjabi wedding. The colourful item depicted the customs and traditions of a Punjabi wedding, like Jago, Banna, Ghori, etc.

Another item that was much liked by the audience was "Festivals of India," which portrayed the theme of "unity in diversity" of our country.

The chief guest, Mr Satyanand Munjal, appreciated the efforts put forth by the staff and students in organising the show.

Mr R.B. Khanna, member of the management, Mr S.D. Kalia, Principal, BCM School, Chandigarh Road, Mr M.R. Mehta, Principal, BCM School, Focal Point, Mr M.L. Kalra, Principal, R S Model School, Shastri Nagar, Mrs Paramjit Kaur, Principal BCM School, Shastri Nagar, Dr Vandna Shahi, Principal BCM School, Basant Avenue, Dugri Road, were present. All participants were awarded medals.

Expressions-2006

concludes: A two-day mega fest Expressions-2006, organised by the Guru Nanak Institute of Management and Technology (GNIMT), Gujarkhan Campus, concluded here yesterday.

The GNIMT, Civil Lines, Ludhiana, bagged the overall trophy.

The chief guest for the prize distribution function, Dr Amarjit Singh Dua, Dean(Colleges), Guru Nanak Dev University, Amritsar congratulated the prize winners and members of the GNIMT family.

Punjabi singer Harbhajan Mann enthralled the audience with his hit numbers. Students of the GNIMT danced to the tunes of the songs.

The chief guest for the evening was Mr Surinder Kumar Dawar, Parliamentary Secretary, Punjab.

Mr Dawar honoured Harbhajan Mann:

Punjabi film actress Kimi Verma and SSP Kawaljeet Singh Sandhu attended the function.

The evening concluded with a fashion show and bhangra by GNIMT students.

Sports day:

Sports day of Chanda Mama and Lovely Lotus was held at Chanda Mama School here today.

Little children participated in games like animal butterflies and flowers race, crawling baby race, problem solving race , balls and balloons race, etc.

The children enjoyed refreshments after races and they children were given participation certificates.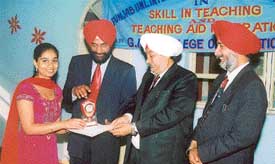 Gurinder Pawar receives the second prize in teaching of English from the chief guest at a function at GMT College of Education in Ludhiana. - A Tribune photograph


Teaching competition:

The GMT College of Education organised an inter-college competition in skill in teaching and on-the-spot teaching-aid preparation under the guidance of the Principal of the college, Dr H.S. Sidhu here yesterday.

Sixtyfour students from nine different Colleges of Education participated in the competitions.

Mr Hardaljeet Singh Gosal of Punjabi University was the chief guest.

Results: teaching of Hindi: Aarti, GMT College , 1st; Rajni Bala, Malwa College, 2nd; and Suchita, GHG College, 3rd.

Teaching of English: Munmun, Doraha College , 1st; Gurinder Pawar, GMT College, 2nd; and Hena Bedi, BCM College , 3rd.

Teaching of Punjabi: Sukhwinder Kaur, Malwa College, 1st; Harpreet Kaur, GMT College, 2nd; and Simranpreet Kaur, DD Jain College, 3rd.

Teaching of social studies: Harpreet Kaur, GHG College, 1st; Monu Arora Pratap College, 2nd; and Piyusha, GMT College, 3rd.

Farewell function:

New Senior Secondary School , Civil Lines, organised a farewell function for the students of Class XII on the school premises here today.

Mr Bharat Bhushan Kapoor, an alumnus of the school, was the chief guest. Principal V.L. Patel and president Sunil Maria accorded him a warm welcome.

Junior students presented a cultural show.