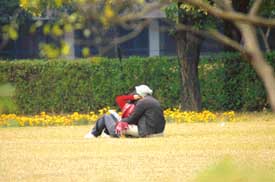 Literary Love
As winters are giving way to the examination season, so many youngsters are rushing to the libraries across the city for studying much more than the prescribed books, says Saurabh Malik
SHE tiptoes to his seat in a library for borrowing notes, and leaves with much more than that. English literature student Simran Sandhu takes along with her a wee bit of Rajiv's concentration. For the next half an hour, his eyes move to and fro between the subject and the object. Finally, slamming shut T.S. Eliot's 'The Waste Land'; he invites her for a gossip session in the adjoining happy hunting grounds. —Photo by Pradeep Tewari



MISSION CHANDIGARH
Gayatri Rajwade
HE has never taken a photograph where the buildings never spoke! For this French photographer, structures in Chandigarh speak eloquently. Michel Dieudonne is in the city on a unique programme. He is here to take photographs of Le Corbusier's architecture for a special exhibition. It all goes back to the city of Firminy in Central France, which after Chandigarh is the second largest accomplishment of the French architect. A complex built by Le Corbusier in Firminy comprises of a stadium, a swimming pool, a cultural centre and "Unite d'habitation". The work of another building, the Saint-Pierre Church designed by the architect was left incomplete after he passed away in 1965.


Michel Dieudonne
Stu-c times
Less than a fortnight after it was launched, "stu-c.com" has become a craze with the students and alumni, says Saurabh Malik
THEY whisper sweet nothings at Panjab University's Students Centre without leaving their room's comfort. Reposing separately on comfortable chairs, together they log on to a network of excitement by clicking internet explorer before opening "stu-c.com".
Charming Hallways
Hallways offer a glimpse of your personality. This is your first personal space where you lay down the terms of the friendship you are offering to your visitors. You could make it a cozy welcome area or a cool clearly defined hallway.
Taking you for a ride
AFTER the success of the Bluff master, filmmaker Ramesh Sippy is once again ready to take centrestage with his much-hyped potboiler 'Taxi No 9211' that will hit the Neelam, Chandigarh, Fun Republic, Manimajra and KC, Panchkula.
Get popular
YOU all might have noticed that most successful people have pleasing and charismatic personality. They have certain unique qualities by the virtue of which people get attracted towards them. They gain popularity and respect wherever they go. Possessing such a pleasing personality is more important than any thing else you possess. Hence following are some golden rules to develop a fabulous personality.
When colours get united!
Anandita Gupta
A flush here and a brush there— 'they' tumble down the desire lane with much furore. And as they pierce through the grey clouds of dullness, a rainbow glistens softly. Deep hues give way to boring blacks and grays. Plush purple, brimming burgundy, olive green, chocolate brown, peony pinks and fiery reds sing a spring melody that fills the air.

FILM & FASHION
Brad Pitt, Jennifer divides property
After four months of their divorce, former celebrity couple Brad Pitt and Jennifer Aniston have finally divided their properties and assets, which they jointly held before separation. The pair have concluded their $ 60 million divorce settlement, which entitles the former 'Friends' star to assume sole ownership off their $29 million dollar Beverly Hills mansion, while handing over the lucrative film company Plan B Productions to the Fight Club actor, reports Contactmusic. Brad Pitt
Getting into the root cause
REMOVAL or reduction of unwanted hair for all skin types has never been quite as easy as this, notwithstanding the hole in the pocket! Look at the flip side; no more threading, waxing and plucking for the most advanced laser hair treatment makes its presence felt—permanently and painlessly!


Nukkad mein aayee Rama
Gayatri Rajwade
SHE is most unlike 'Teacherji'—in fact quite the opposite! Bubbly, vivacious and zesty, she loves to laugh. "I used to tell Aziz Mirza (the director), so what if this teacher is staying alone she can laugh out loud!" This is actor Rama Vij at her feisty best, regaling onlookers with stories about her stint in the ever-green Nukkad.




STRANDED: Rama Vij gets her hair done
Translucent Art
Not just the hotels lobbies, even houses are being decorated with stained glass paintings, says Saurabh Malik
ARTIFACTS carved out of stained glass are cutting an edge like never before. And it's not just hotels and restaurants that are brightening up the rooms and halls with colourful object d'art. Trot down the lobbies leading to the living rooms of so many houses in the city and you will find silhouettes of mermaids and even golfers imprinted on the glass walls.
Soulful music
Meet this budding singer Rupanjali Sharma. But she is the one with a difference. When youngsters of her age is busy doing remixes, Rupanjali preferred to do a religious album to start with.
An artist's journey
Parbina Rashid
NATURE'S bondage with the artist commune is everlasting. They never seem to tire while capturing the beauty nature in various forms and techniques. The latest to join the brigade is Renu Aggarwal, an amateur artist, who held her first exhibition at IndusInd Art Gallery.
Stony expression
S.D. Sharma
ARTISTIC expression' in shape and form communicates feelings and emotions. That is why we rely so heavily on our instincts while judging the value of 'art'. A galaxy of such aesthetic statements in 'sculpture', as beautiful as rare they are, adore the otherwise calm ambience of the Kalgram complex. Another four such masterpieces were just added to the repository of sculptures of Kalagram following the just concluded Sculptor's camp.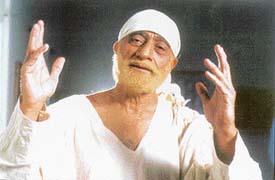 The Saint
He is well known in the media circuit as Baba, and he has been carrying that tag really well since the past 25 years. Ever since he played the role of Sai Baba in 1977 for a film by Manoj Kumar, Sudhir Dalvi has never been tired of essaying the coveted role repeatedly. As he takes on a yet another journey to play Baba in Shirdi Ke Sai Baba currently on SaharaOne, he talks about the inspiration, spirituality, fan following and more.
---