Of Women, By Women
They might be driven by the need to excel, carve out a niche for themselves or spurred on by the need to survive in a harsh world but each of these all-women enterprises is a story of remarkable will, writes Naveen S. Garewal
THESE are no Amazonian women, nor do they draw their inspiration from Xena — the warrior princess. They are ordinary women, who have decided to make their own place in what was essentially a male preserve. What is fascinating is that many of these women can easily be mistaken for the homemaker next doors. They have carved out a niche for themselves in their chosen spheres and displayed a remarkable will to succeed.
There are more and more 'all-women enterprises' coming into the limelight. Some are driven by the spirit to survive in a 'man's world', others to prove themselves and yet many more to cash in on the fact that 'woman as a consumer' with both power to purchase and take decisions is making an appearance on the Indian scene.
Driving force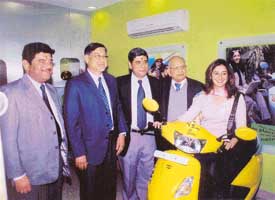 (From left) Anil Malhotra of Stan Wheels, Hero Honda MD Suman Kant Munjal, Naresh Malhotra and Hero Cycle Chairman O.P. Munjal with Kanika Soni at the launch of Just for Her, the first all-women outlet in the region. — Tribune photo
These ventures by women are also targeting women with the USP that all good things in life are not just for men alone. When the Hero group launched an all-women retail outlet in Ludhiana last month, the group's Managing Director, Suman Munjal, was aiming to get women salespersons, customer care executives and mechanics to target women customers. In fact, "Just for her", an exclusive showroom is run by an all-woman team and the clients are only women. Mrs Ludhiana 2006, Kanika Saini, launched Pleasure, a scooty targeted at women customers.
The message was: Bikes are no longer the big-boy toys and every woman is entitled to what men have and perhaps much more.
The experiment is a resounding success. "Women come to this Stan Wheels showroom on their own and ride out with Pleasure. The entire process, from walking in to leaving after the purchase, is made by women alone and they are helped by the female staff," says Suman Munjal.
The punchline "Why should boys have all the fun?" is not simply a poser in the catalogues of Pleasure, there is a deliberate shift in the thinking of most people. Women occupy a very significant place in the consumer segment and this can be proven from the instant success of a product positioned like this.
This may not have been accepted so well if it was launched a few years ago. This is a product made especially for women and sold to them by other women who stress the importance of 'freedom for today's women' and associate this with the product", says Naresh Malhotra, MD Stan Wheels, the company that sells Hero Honda, who along with his brother Anil persuaded Suman Munjal to start this all-women enterprise, a first in the region.
The Hero Group has since opened some more all-women outlets and there are plans to raise the number of such enterprises across the country to 20 by the year-end.
Bold strides
In Chandigarh too there are many examples of women doing well in the traditional male preserves. Nihar Dass took over the petrol pump business from her father, Kanwar Mahindar Singh of the Kapurthala family. She wanted to provide an equal opportunity to women. The 32-year-old Auto Service Station, Sector 4, Chandigarh was turned into an all-women petrol pump. Nihar proved sceptics wrong when her core team of four women employees grew to nine. Pumping gas, inflating tyres, supervising the unloading of Indian Oil tankers, etc. has been handled by women since 2003 when the petrol pump got an all-women status.
"It is not that simple to function in an environment that is traditionally male-dominated. However, the women's team did exceptionally well, with my husband Prashant smoothening out the rough edges as and when they cropped up.
The experience has been great but for a few obstacles in day-to-day functioning. The petrol pump is all set to undergo a cosmetic and commercial makeover", says Nihar with pride.
She has deliberately curtailed business at the pump in view of the ongoing construction, which is likely to be completed by the end of April.
Once the construction is over, Julie, Neetu and Baby, who currently handle customers, will be helped by more women who will be recruited. The convenience store, eatery, ATM, etc on the premises will be managed by an all-women team.
The story of Pawan Kumari Sachdev is no different from many women. "Married to an alcoholic and a drug addict, I never saw my husband go to work even for a single day. I had to bear the burden of bringing up five daughters and a son single-handed. Initially, I tried my hand at stitching but the earning could not sustain the large family, so I started knitting as well.
This too did not take care of our needs, so the entire family got involved in making paperbags out of old newspapers," recalls Pawan Kumari, from Jalandhar, who now runs an all-women dhaba in Raman Mandi.
"When three of my daughters who were helping me in business got married, the paperbag venture slowed down. Again, a search began for something that could provide us two square meals a day. Unable to do anything else, I started cooking for 15 workers at an adjacent ice factory. Rs 5 per plate for six rotis and dal was enough to feed my family but not good enough to help me send my children to school. This is the biggest regret I have today".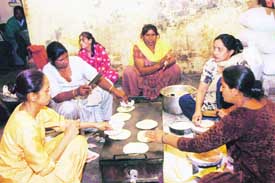 Pawan Kumari's dhaba in Raman Mandi, a story of determination, gives employment to women who have faced adversity. — Photo by Pawan Sharma
All-women dhaba
Over the years, Pawan Kumari's work has picked up and she runs an all-women dhaba in which she employs women, who like her, have not had a comfortable life. "My rules are clear, people can come and take away a packed meal for Rs 10 to 15 but no eating here as there are only women and I don't want any kind of trouble", she says. Popularly known as Aunty ka Dhaba, it feeds between 100 and 150 people daily, mostly regular customers from the Punjab Armed Police (PAP) Headquarters.
Neetan, Reena, Rajni, Akash, Veena, Billey or Alka are delighted to be here. Some of them have been deserted by their husbands, while others want to strike out on their own in a man's world. Educated from Class VI to VIII, each of these women has a story that reflects sheer grit to survive. Even though Pawan Kumari controls the enterprise at present, there is talk of women expanding into a cooperative. "It is like any other business, if others can expand, so can we. Right now everything is in a flux, only time will tell what shape it takes", says one of the women.
Road less taken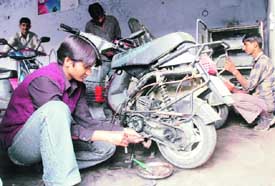 Anju, a much-in-demand mechanic, carries out repairs in her workshop.
Anju Bala is different from girls her age. After graduating from Government College for Girls, Chandigarh, Anju decided not to follow her friends to the university. She did something rare for a girl, she pursued her interest in machines and became a full-time scooter mechanic. "The confidence I got from being a sportswoman (she was in the college volleyball and cricket teams) and courage from NCC training made me decide that I am not going to follow the beaten path", she says while overseeing half a dozen mechanics that work under her supervision at the workshop in Panchkula's Sector 11.
Anju had opted to work with her father Honorary Captain Randhir Singh Chaudhry at Saligram Motors instead of doing her Masters or await marriage. In less than a year, Anju is the head mechanic and over-all in charge at Saligram Motors. She does all the repair work herself and guides other mechanics when it comes to repairing the Kinetic scooter, which is her specialisation. Her father has since moved out of the workshop to diversify in sale and purchase of vehicles.
Anju has expanded her venture from repairing scooters to servicing (washing) cars. "A majority of my clients are women who ride scooters, especially the Kinetic. They come to me because they feel more confident in dealing with a woman about an issue they know little about", she says. She has enrolled for M.A (English) through correspondence from Kurukshetra University, so that she has no regrets later on.
Guts and grit
Chandigarh, Mohali and many other districts in the region have all-women police stations. One such police station functions from PGI. "Policing was never a woman's job. Slowly women began to be accepted into the force but they were never given the task of dealing with hardcore criminals. They got soft jobs like clerical work. With more and more all-women police station being set up, things have changed. Women cops do everything expected from their male counterparts. Right from chasing criminals to cracking murder cases, building an intelligence network to work with the common citizens, policewomen are doing it right in your
neighbourhood.
Mind you, women have proved to be as good if not better compared to the smartest male cops", says a woman cop who does not wish to be identified out of fear of being targeted by male superiors. "Sometimes we find it more difficult to deal with our superiors than to handle criminals", she says pointing out the difficulties women cops have to face routinely.
Delhi and Mumbai have several exclusive places open only to women such as bar lounges. In some hotels, there is a special arrangement for solo women guests, who are served by female butlers. Some top-notch hotels have floors reserved exclusively for women executives. The time is not far when similar all-women ventures become commonplace.