Stamped Impressions
A wake-up call
Reeta Sharma
THE International Women's Day on March 8 is a reminder how issues related to women have to be addressed in changed perspectives. The status of women throughout the world is being affected by fast-track changes. On the one hand Kalpana Chawla of Haryana reached the moon, while on the other hand minor schoolgirls in the state are repeatedly raped by school teachers under whose care they have been placed.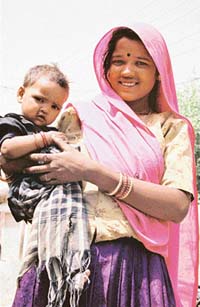 The International Women's Day is a time for taking stock
There is an awareness in India about the need for women's education. There is also focus on female foeticide, domestic violence and equal property rights.
There is a steep rise in the incidence of crime against women in our country. Be it rape, murder, being denied rights in property, dowry deaths, domestic violence, desertions by NRI husbands or being forced to drop out of schools, crime against women has been increasing despite stringent laws.
International Women's Day is time to take stock of women-related issues. It was on this day, in 1856, that women had marched on the streets of New York protesting against the atrocious working conditions in textile industries. Though the protestors were not violent, the police opened fire on them and a few women died while hundreds were injured.
It was in 1910 that a German Clara Zetkin organised the first-ever International Democratic Women's Front at Copenhagen. It was at this conference that women unanimously paid a tribute to the struggle of the women workers of the cotton and textile industries by declaring March 8 as International Women's Day. Later, the UN also adopted it.
We, the Indian women, on this day must remember M.S. Kamma of Bengal. Born into an aristocratic family, she took an active part in the struggle for freedom. A contemporary of Sarojini Naidu, this four-feet, 11-inch woman emerged so tall that the British were forced to track each movement of hers. She demanded equal opportunities like her brothers to study abroad. She forced her parents to send her to France for higher education. But once she left the country, the British did not allow her to return and she died on foreign soil. However, Kamma continued to voice against the British rule in India even while studying in France. She had represented her country at the Copenhagen meeting that laid the foundation of the International Women's Day.
The relevance of International Women's Day should not be undermined with frivolous arguments that such days do not change the plight of women. It is heartening to note that in India this day is gradually acquiring the importance it deserves. In most government offices, it is a must to organise seminars or talks on this day. Almost all NGOs assemble to address and review situations pertaining to women. Women panchs, whose number has increased after the 73rd and 74th constitutional amendments, have also started celebrating this day.
It is only on international platforms, where data is exchanged, one gets an opportunity to see that women—irrespective of whether it is West or the East, educated or the uneducated, rich or the poor—suffer and are victimised alike. Have a look at the data about the American women. Every day four women die in USA because of domestic violence. Annually, on an average 6 lakh cases of assault and battering of American women at the hands of their husbands are registered. Nearly 1,40,000 American women are raped each year. Of the battered women, 17 per cent are pregnant.
Now compare this data with that of India, as per the National Crime Records Bureau. Every half an hour, an Indian woman is molested and another raped. On an average, 18-20 dowry deaths take place every day. Every one and a half hour a woman gets killed. Of the total cases of crime registered in the country, seven per cent are related to crime against women. 67 per cent of kidnapping and abductions are of women of which 54 per cent belonged to below 18 years. Fifity per cent of total suicides in the country are by women.
Compare today's India with that of pre-Independence or immediately post- Independence. For Indian women in the past it was almost blasphemous to raise a voice against injustice or discrimination meted out to them.
We need many an International Women's Day to make not only women but also men aware of their existence.