Creativity at play
The recent Theatre Utsav in Delhi saw many interesting innovations and fusion of different audio-visual techniques, writes Chaman Ahuja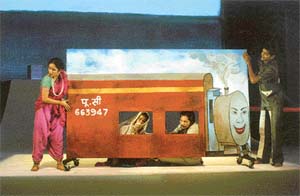 A moment in Aadhi Raat Ke Bachey — Abhilash Pillai's retake on Rushdie's novel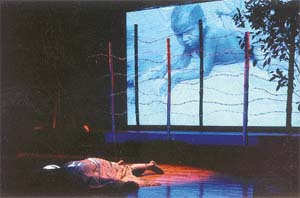 Video images have been used in Shehr-e-Afsos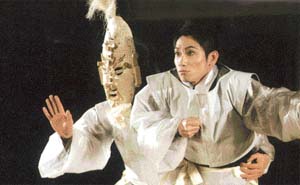 A still from Satoshi Miyagi's Othello from Japan
CHARTING India out — theatrically!" That being the legend of the 8th edition of Bharat Rang Mahotsava (now rechristened as Theatre Utsava), the festival had not only representative works of the mainstream but also an array of innovative creativity. After all, the future of theatre, even its survival in the age of mushrooming medias and booming technology, depends on the experimental impulses which can trigger off meaningful progress.
Gone are the days when experimentation in Indian theatre meant return to roots; overdone, the trend fizzled into gimmickry. Utsava had several works in that genre and some did bear evidence of innovation. For example, Akhyan Damayanti was a mosaic of several Marathi forms, The Dark Horse interwove Kolatkar's poetry and Hindustani ragas, Kalantak Lalphita used diverse clowning modes to create visuals to express Kafkaesque absurdities, Shambukvadh lent an episode from the Ramayana starkly Dalit dimensions. In this context, one might as well refer to Hamlet from Bombay directed by Neeraj Kabi (for retelling the story through melodies of Dhrupad and rhythms of Yakshagana) and to Othello in Malayalam directed by Sadanam Balakrishnan (for adapting the Bard to the elaborately codified traditions of Kathakali, Koodiyattam and Kalaripayuttu.
The sweep of experimental impulse pervaded all the seven productions based on (read, inspired by) Shakespeare's plays. True, Mohan Maharishi's Othello was a straight presentation, utterly faithful to the spirit of the original; but it, too, had a touch of novelty—in extending the stage right into the heart of the auditorium through a ramp, for street actions.
Othello from Japan took one to the classical world of Noh. In fact, it was Mugen Noh, a style evolved by the director, Satoshi Miyagi, by interlacing the elements of Noh, Kabuki, Bunraku, and by accommodating the music from around the world and percussions from Africa and Asia. Miyagi's characteristic method is to have two actors for one character, one for telling the story, the other to enact it like a doll, Othello appeared as a living ghost and told about his experiences to a pilgrim.
Romeo and Juliet from South Korea (directed by Tae Sok Oh), instead of churning tragic passions, tended to emulate the raucous comedy of Talchun, the Korean masked dance drama. What thus got staged were theatrical rituals — tableaux of hatred, riots and violence, lyrical flow of action about the flowering of love, lovers' deaths and dance of reconciliation. Romeo and Juliet directed by Anuradha Kapur had its take on the Bollywood-oriented popculture swaying the Indian youth today— mo-bikes, sensuality, violence, and so on. Rejecting a fixed set in favour of vertical movements, it transferred romance on to the walls where up-and-down movements symbolised, as it were, the ups and downs in the progression of love.
As for Measure for Measure from Sri Lanka (directed by Rwanthie de Chickera), we had an "Ultimate Reality Game Show". A man has impregnated a woman and the public is to decide if fornication deserves death. As the trial proceeds, it comes out that some other men and women (including the prosecutor himself) are guilty of the same sin. Verdict: of the populace wedding bells for all, a spoof on the facile match-making in Shakespeare's comedies. By no means realistic, the action was full of fun, frolic, dance, music, clowning.
Equally experimental was Roysten Abel's Ladki Seedhi Rahegi, a Pirandellian collage of improvisations when rehearsing School for Wives. That brings us to the improvisations of the 'performance piece': a yet-to-be-codified theatre in which body-oriented scats suggest layers of meaning without saying anything specific. In this thought-provoking but mind-teasing category one could club Khalid Tyabji's Stations, Zuleikha's Siddhatha, Maya Rao's Heads are Meant for Walking into. The last mentioned fused theatre, music and video to unleash such images as tended to bestir half-forgotten memories in the recesses of one's mind.
Madeeha Gauhar's Shehr-e-Afsos from Pakistan also made use of video-images but the most densely experimental multi-media show was had in Abhilash Pillai's Aadhi Raat Ke Bachey from NSD. The intrinsic complexity of Rushdie's novel — myths and history mixing with an individual's story, flights into nonsense, multiplicity of narrative traditions — was compounded by the complexity of such experimental forays as melange of styles (Sanskrit theatre, Parsi theatre, Mughal paintings, techno music, Bollywood visuals, graphic designs) and the plethora of video-projections which subsumed the live performers. Maybe, this presages the shape of things to come, a new kind of theatre.
The feeling that a new dramaturgy is struggling to be born in the hotbed of video-oriented technology was buttressed by Razbih Mroue's Looking for a Missing Employee from Lebanon. The narrator documenting the case of one who disappeared after embezzlement was visible on the stage but only as an image, not as a live presence. Each new 'document' from the Press (an ad, a picture, a statement, a report, an article, an editorial), instead of helping complete the story, deepens the mystery — an indictment of the way the media manipulates rumours and scandals to create public frenzy. The impregnation of a visual image with the power of a live presence crystallised in a documentary film from Iraq. Titled Home is in Our Past and directed by Hamed Teheri, here was not a video recording of a performance but a filmic translation' of theatre in which, instead of a story, there were free variations based on the memories of the experiences pertaining to the loss of identity — in fact, multiple losses by the Arabs in respect of their freedoms, of homelands, of history, of memory itself. Here was an intimation of a new art of image-making which might spell an immutable unification of reality and fantasy, of performance and technology, of man and machine, of East and West.