To the manner born
Nutan was perhaps the first heroine to risk playing unconventional roles as in Bandini. When squeakers ruled the roost, she fine-tuned her dialogue delivery with an evocative voice,
writes M.L. Dhawan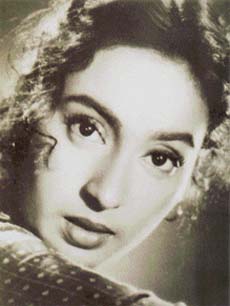 A fleeting expression on Nutan's face conveyed much more than dialogue; (below) with Dharmendra in Bandini


NUTAN was barely nine years old when she faced the camera in the film Nal Damyanti. Her mother Shobhana Samarth in Hamari Beti in 1950 launched her. In those days the heroines were big boned and in Nagina Nutan was scoffed at for being skinny. In Hum Log released in 1951, Nutan projected the emotions of a tuberculosis patient so realistically that she went on to win laurels. Her real break into big-time cinema came when she played a rebellious, juvenile, delinquent girl fighting to salvage her dignity in a correction home in Amiya Chakravarty's Seema. The film took her to dizzy heights.
From stalwarts like Bimal Roy, Basu Bhattacharya, Hrishikesh Mukherjee, etc, Nutan learnt the art of portraying a character not so much in words as through her body language and expressions. In Bimal Roy's Sujata, the bewildered expressions on her face convey the trials and tribulations of an orphan Dalit girl. When she asks her foster mother: "Agar hawa mujhe choo sakti hai to insaan kyon nahin", she depicts human anguish and agony so beautifully that while watching the film you forget everything else.
In Sujata and Seema her histrionics were psychologically penetrating. She enacted scenes with nuanced precision that were a cry from the heart. A fleeting expression on her face conveyed much more than dialogue. As Luxmi, a film actress exploited by her kith and kin in Sone Ki Chiriya, Nutan slipped into the soul of the character so unobtrusively that the audience felt that it was a chunk from her real life.
A thinking actress, Nutan did not need accessories to transmit the working of the mind of the character she played. She was equally concerned with the projections of emotions as well as their veracity. In Bandini, when Kalyani (Nutan) sees her long-lost lover Bikas Ghosh (Ashok Kumar), she sings, 'Jogi jab se tu aaya mere dware/more rang gaye sanjh sakare.' The joy on her face mirrors the divine rapture of a devotee who has seen God. She poured out ecstasy from every pore of her body, proving that teeth and lips have nothing to do with a smile.
Nutan was perhaps the first heroine to risk playing unconventional roles. She sublimated the grey-shaded character of Kalyani—a murderer and convict in Bimal Roy's Bandini. Nutan had no screaming matches or drunken hysterics in the film. Instead she appears as a quiet woman with passion raging within.
The obnoxious look in her eyes as she administers poison to the nagging and neurotic wife of Bikash Ghosh exuded disdain that sent shudders down the spine. Her demeanour takes on an eerie dead-soul intensity. Nutan's performance was at its awesome best in Bandini. She imbued Kalyani's negativity with heroic shades and made the audience empathise with her.
When squeakers and screamers ruled the roost, Nutan fine-tuned her dialogue delivery with an evocative voice. A natural throw was the hallmark of Nutan's dialogue delivery. She was low key and mellow as she was peppery and sarcastic and yet made a strong impact. According to the requirements of the scene, her voice had the tenderness of rose petals and the ferocity of a whiplash.
In Saudagar, when Mahjabeen (Nutan) is divorced by her husband (Amitabh Bachchan) on the charge of adultery, in a fit of anger, she breathes fire and brimstone, saying, 'Jaldi bol de woh alfaaz jise bolne ke liye tu itna betaab tha. Pad gayi thand kaleje main`85.' The tenor and tone of her tremulous choked voice convey her emotional lacerations and the agony of having been cheated. The expressions showing her dilemma on losing her love and security were mind-boggling. As a destitute woman, Nutan displayed a riot of emotions with unmatched passion.
As Kumud, a widow in Saraswatichandra, Nutan created an alluring image of a woman who can be desired and deified. She lit up the silver screen by projecting the entire gamut of emotions of the protagonist. The audience loved the way she worked herself into histrionic frenzy.
Nutan retained her gracious and sensitive style even in her maternal roles. In Raj Khosala's Main Tulsi Tere Aangan Ki she represented a rarefied concept of a traditional woman in the role of a stepmother, who nurtures an illegitimate son of her dead husband's mistress. She lent sheen to the role and wowed the audience with her acting-prowess.
In Meri Jung, Nutan oozed charisma. In the film Nutan was declared unstable after a devastating happening and was confined to a lunatic asylum. Her children grow up but to her mind, they are still young. What made the role outstanding was Nutan's sterling performance where her demeanour was calm and stable and yet the instability of her mind came across so effectively. Her inspired acting made the film a rare feminist phenomenon.
Through her path-breaking roles Nutan endeavoured to change the mindset of the audience about the place of women in our society. She was a pioneer in the depiction of women, particularly, tortured and tormented women, on the screen.
When heroines were nothing more than mere glamorous props meant for providing titillation, Nutan accepted only those roles in which she either played the main part or at least shared equal footing with the male counterpart.
Nutan died a painful death of cancer this month 15 years ago. Her death shook the film industry in a way only a few have done.