Dancing way to fitness
Looking for means to get rid of those extra calories? There are fun ways to do so, checks out Gayatri Rajwade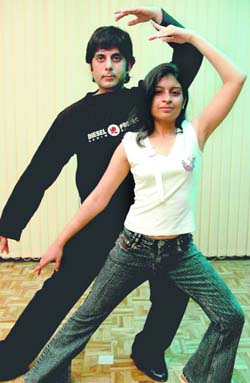 Bop your way to health and vigour! For exercise is no longer about running on the treadmill and lifting weights—kick, dance, spin, step or meditate your way to wellbeing. The selection is mind-boggling as the city wakes up to 'body beautiful' through the sashaying world of Salsa, the intensity of kickboxing, the high-energy of spin cycling, the camaraderie of aerobics and the fine technique of Krav Maga no less!
SALSA
A 'veteran' in the race for innovative fitness routines in the city, back to back Salsa classes run at Planet Fitness, Sector 8, under the tutelage of Delhi-based instructor Anubhav Kumar right through the weekends and it has been this way for more than two years now.
An exciting workout combining traditional South American dance forms from Salsa to Meringue interspersed with Tango, Mambo and the Cha-Cha-Cha, "it is a cardio workout filled with passion and heat. It is not only a fun way to learn something new but is great for coordination, body awareness and toning of the muscles," says Anubhav.
Check out his funky tips:
Think like a dancer
Stretch often, deeply and luxuriously
Music should be inviting and mischievous
Remember this a fun routine so be relaxed and carefree
The burn rate: 250 to 450 calories in a one-hour session
KRAV MAGA
This Israeli self-defence technique is the latest buzzword in fitness in the city. Started a month ago and instructor Himanshu Sharman is teaching a full class already at Planet Fitness.
"It helps build awareness, confidence, self-control, movement and physical fitness since it is integral to the system. The workout includes cardio and strength building exercises which increase flexibility too."
Krav Maga, developed by Czechoslovakian-born Imi Lichtenfeldm, is a system of fighting and self-defence for the Israeli Defence Force. Faced with the task of preparing both fit and out-of-shape soldiers, Imi developed a comprehensive system that relied on simple and instinctive moves rather than rigid techniques requiring years of training.
A modern method characterised by a logical and practical approach, it is easy to perform, natural and effective featuring simple movements and reflexive behaviour and is one of the few fighting styles which adapts to the student rather than expecting the student to adapt to it.
The burn rate: Up to 800 calories per session
And the easiest of them all: Walking
It's easy, 'going-for-a-song' and gets you to your destination too. Walking is an excellent form of exercise because of its versatility. You can do it at any age, anywhere and at any fitness level.
Go for a 30 to 45 minute brisk walk a day and notice the energy levels surge. But wear good shoes if you do not want carbuncles on your feet!
KICKBOXING
"Extremely practical martial arts in terms of real-life situations since there are no flowery moves involved; you kick, punch, and use your knees and elbows," says instructor Pancham Prashar who has been teaching this form for six years now at the Leisure Valley with classes being held twice a week.
A martial arts expert in Karate, Taikwondo and Kung-fu for 15 years now, Pancham's takes on Kickboxing reads as, "a great cardio workout which builds endurance, flexibility, agility and most importantly develops a sense of self-discipline which is the underlying principle of any martial arts form."
The burn rate: 400 to 700 calories per session
SPIN CYCLING OR SPINNING
Open currently only to members at Ozone, Sector 9, Manager Abraham Sachin plans to open up Spinning classes for anyone interested, from March this year.
Contrary to popular belief, this is not a 'hard-core' fitness programme; instead this high-energy group exercise integrates music, fellowship and visualisation in a complete mind and body workout. An unattached way to make your fitness goals a reality, you just need your feet and legs to pedal the way to a leaner, stronger body!
The burn rate: 400 to 500 calories per session
AEROBICS
Many fitness centres and gymnasiums across the city have aerobics sessions, Prime Bodies in Sector 32 has instructor Mickey at the helm who has been teaching for over 12 years now.
"These activity classes combine muscle-building exercises, stretching and dance steps into choreographed routines all performed to music. We alternate between step aerobics, dance aerobics and weights which takes care of both cardio and weight training."
Instructor Vishal Thukral who takes classes at Planet Fitness believes it is the best way to oxygenate your system!
The burn rate: 240 to 400 calories per session (45 minutes)
Why this surge in alternate forms of fitness?
Planet Fitness co-owner Priya Garg attributes it to variety. "It is not that one is better than the other. There are advantages and new skill-sets to learn with each form hence the range of activities to choose from," she says.
For as Abraham Sachin says, "Any form of activity that an individual starts is great for group activities help educate and train."
So take your pick—for profuse perspiration and aching muscles can be a pleasure too!