From humble beginnings to champion
G.S. Paul
Tribune News Service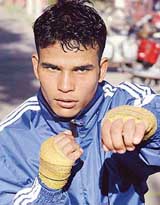 Paramjit Singh Rawat
Chandigarh, February 28
Though Paramjit Singh Rawat, an 18-year-old pugilist, could not make it to the national boxing squad to proceed for the Commonwealth Games, which are scheduled to take place at Melbourne next month, he is still zestful to play for the country.
Paramjit hogged the limelight when he struck gold in Senior National Boxing Championship at Chennai last September.
He was awarded a cash prize of Rs 5,000 for his achievement by the Chandigarh Amateur Boxing Association during the 13th AK Misra Memorial Boxing meet held at Skating Rink, Sector 10.
Currently working with the Army as sepoy, Paramjit said: "It was a challenge for me to prove my worth in the tournament. I was left out of the Services Sports Control Board of Services team as I was a new entrant and they were not ready to chance with me. So I requested for permission to represent my home state, Chandigarh. I participated in the tournament and outclassed Services boxer in the first round. In the final, I thrashed international boxer H.K. Jolly to win the gold."
Paramjit won bronze in the International Senior Boscker Memorial Men Boxing Tournament held at Hungary in January. He won his first national medal, a bronze, at the National School Games in 1999. Thereafter, his name always stood in the medals tally in sub-junior national (2003, gold), junior national (2004, silver), senior national (2005, gold).
Coming from a humble background, his father works as a peon with the Punjab State Tubewell Corporation, Chandigarh.
"Initially, boxing was just a pastime but when my brother, Ramesh, who was also a national boxer, brought home medals and trophies, I got motivated and took to the sport seriously."
Reflecting on his early days as boxer, he said: "I have seen days when I could not afford prescribed diet for a boxer and had to only rely on 'ghar ka khana' (home food) only. I used to eat a lot of 'chapatis' with sprouted pulses. Diet was such an issue for me then, let alone boxing gloves and other equipment."