Thought for food
With processed and ready-to-eat foods capturing a bigger and bigger chunk of the market slice, the demand for food technologists is on the upswing, writes Sunit Dhawan
"While he from forth the closet
brought a heap
Of candied apple, quince,
and plum, and gourd,
With jellies soother than the creamy curd..."
— John Keats in the 'Eve of St Agnes '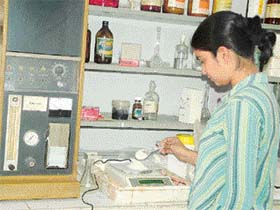 A student at work in the laboratory of the Centre of Food Science and Technology, HAU, Hisar
FOOD being a basic requirement of the humankind, its importance in our lives cannot be over-emphasized. The overwhelming demand for healthy and ready-to-eat foods, coupled with the increasing paying capacities, has opened new vistas for the enterprising entrepreneurs in the filed of food technology.
In the modern era, more and more people are becoming conscious about what they eat. Having realized the ill after-effects of binging on fast foods, many people are now turning towards a nutritiously rich and balanced diet.
In fact, healthy eating has become a necessity in the present age of widespread medical problems and people don't mind paying some extra bucks for clean and healthy food.
Thanks to this desire, the rapidly growing food industry provides one with a whole gamut of career opportunities in the areas of food processing, analysis, preservation, fortification, packaging and so on.
The upcoming discipline of food science and technology has immense scope for students with a science background and scientific temperament.
Many colleges, universities and other institutes offer courses in food science and technology. These courses usually include in-house practical training sessions in food-related industrial units or research laboratories.
A student venturing into the area is taught the basics of food processing, food analysis, food microbiology and food engineering. He or she can later specialise in dairy technology, milk, meat, fish and poultry products, cereal processing, bio-processing, bakery products and other such sub-disciplines.
Those with a technical bent of mind can even go in for developing machinery and small devices for food processing and packaging.
After passing their exams, the college or university students can go in for higher studies.
In case they want to join a job right away, plenty of opportunities await them in various sectors. They can join some fruit and vegetable-based processing unit, ready-to-serve beverage industry, bakery industry, packed food and confectionary units, hotels, milk plants, food analysis laboratories, airlines and fast-food chains.
Those interested in serving in the public sector can join the defence services, Railways or a Tourism Department.
While the research-minded ones and studious types can join the Research and Development (R&D) wings of big industrial units, the enterprising ones can start a food-processing or manufacturing unit or bakery or confectionary or dairy plant of their own.
Given the changing tastes and needs of the people as far as food habits are concerned, there is a tremendous potential in the field for innovative ideas.
Due to increasing incidence of heart-related ailments, low-fat and low-cholesterol foods are being preferred these days. Similarly, the demand for sugar-free sweets and bakery products is also increasing.
Such food products can be manufactured with a little effort, though it should be simultaneously ensured that the taste component is not compromised.
Students and professionals can also incorporate certain useful herbs in food products, thereby giving the consumer some extra value for his money.
For example, the Centre of Food Science and Technology at Haryana Agricultural University, Hisar, recently won kudos for making high-fibre Brahmi biscuits, which contained dried organic carrot powder and Brahmi, the memory-enhancing herb.
Food technologists can play a major role in inventing techniques for increasing the shelf life of food products, including fruits, vegetables, chappatis, dairy and other animal products.
All in all, the food sector is replete with possibilities and offers a promising future to today's youth.