M A I N N E W S
PM breaks protocol to receive Bush at airport
Indo-US N-deal almost ready
Rajeev Sharma
Tribune News Service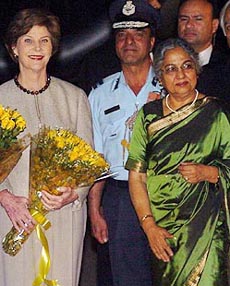 Prime Minister Manmohan Singh's wife Gursharan Kaur with Laura, wife of US President George W. Bush, at the Palam Air Force Station in New Delhi on Wednesday. — PTI photo
New Delhi, March 1
The India-United States nuclear deal was almost through even before President George W Bush set foot on Indian soil this evening.
Immediately after President Bush's special aircraft Air Force One landed here from Kabul, the two National Security Advisers, Mr M.K. Narayanan and Mr Stephen Hadley, plunged into a meeting to fasten the final nuts and bolts of the nuclear deal.
But since any deal has to be 100 per cent through for reaching the fruition stage — not 90 per cent or 99.9 per cent — the two sides were engaged constantly through the day to make sure that no ambiguities or problems surface later on. It was a long night ahead for the negotiators on both sides and it would be known only tomorrow whether a breakthrough is reached finally. It would be for the two principals to announce the outcome of these negotiations.
An indication of the rosy scenario on the nuclear deal front is that Prime Minister Manmohan Singh presided over a meeting of the Cabinet Committee on Political Affairs (CCPA), convened at a short notice, to seek its approval of the nuclear deal's final blueprint which the government has prepared.
It is understood that the Americans are game to Prime Minister Manmohan Singh's February 27 announcement in Parliament of putting 65 per cent of India's installed nuclear power capacity under safeguards. They are also comfortable with India wanting to keep the Fast Breeder Reactor (FBR) programme out of the purview of international safeguards for the time being.
Washington, on its part, wants to invoke the perpetuity clause, meaning that whatever nuclear facilities India offers to bring under IAEA safeguards will remain so in perpetuity. The UPA government has no problems to this but an influential section of the Indian scientific community is stiffly opposed to this and many other things.
During their meetings today with Mr Naryanan, several leading scientists shared their scepticism over the negative fallout of the Indo-US nuclear deal over India's long-term strategic programme. They sought certain written guarantees from the Americans. These scientists have cited the case of Tarapore nuclear reactor, built with American assistance. Washington went back on its commitment to supply fuel for Tarapore after India exploded a nuclear device in 1974.
The Bush administration has point-blank conveyed its inability to New Delhi to meet these "impractical" suggestions. Washington's contention is that it cannot give written guarantees when the Congress had not even moved a legislation yet for making necessary amendments to allow India access to nuclear technology and material.
Mr Narayanan and the Indian Ambassador in the US, Mr Ronen Sen, were involved in some very technical and sensitive negotiations aimed at clinching the nuclear deal with the Americans. These negotiations were at two levels — one, with the Indian scientific community which is wary about protection of India's long-term strategic interests; and second, telephonically with the American officials on board Air Force One which is equipped with in-flight communication facilities.
Prime Minister Manmohan Singh set aside protocol and went to the airport to receive Mr and Mrs Bush. President Bush is also accompanied by Secretary of State Condoleezza Rice, Chief of Staff Andrew Card, National Security Adviser Steve Hadley, and US Trade Representative Rob Portman.
This is the second time in his 20-month tenure as PM that Dr Manmohan Singh has received a foreign dignitary at the airport----the only instance previously being in January this year when he received Saudi Arabia's King Abdullah bin Abdulaziz.
Even Mr Jacques Chirac, President of France, a P5 country, was not given this privilege by the UPA government. However, the Prime Minister had invited Mr Chirac over an informal unscheduled dinner the day he had arrived. There was no informal dinner hosted by the Prime Minister for Mr Bush who had private dinner in his hotel suite.
Earlier in the day, a meeting of the India-US Economic Dialogue took place to review its progress and discuss the next steps towards strengthening the economic partnership between the two countries. The dialogue was co-chaired by Planning Commission Deputy Chairman Montek Singh Ahluwalia and his American counterpart Allan Hubbard who is the Director of the US National Economic Council.