Poetry powered by realism
Ayyappa Paniker is rightfully called the architect of modern Malayalam poetry. The Saraswati Samman is a recognition of his contribution to literature, writes M.S. Unnikrishanan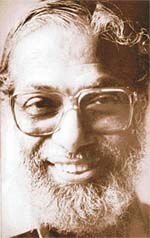 Kavalam Ayyappa Paniker
Awards are nothing new for Kavalam Ayyappa Paniker. Padma Shri, the Kendra Sahitya Akademi Award, Kerala Sahitya Academy Award, Kabeer Samman, Asan Prize, Vyalar Award and Vallathol Award are but a few of the innumerable awards collected by the Malayalam poet laureate. But he values the recent addition to his award catalogue—the Saraswati Samman—as something very precious because it is named after the goddess of learning. The award also carries a cash prize of Rs 5 lakh, the highest for any literary award in the country.
Dr Paniker has been honoured with the Saraswati Samman for his collection of writings Ayyappa Panikerude Krithikal. He is only the second Malayalam author to be honoured with the Saraswati Samman, the first being the late poet Balamani Amma (mother of Kamala Das). Poet and critic Paniker is a respected figure in the literary world. After college in Kerala, he took his M.A and PhD from the University of Indiana and did his doctoral research in Yale and Harvard Universities. He taught in different colleges and universities before retiring as the Director of English Institute, University of Kerala.
A sharp critic of the changing mores in the most "literate state", Paniker was pained to be a witness to the erosion of values all around him, the blatant communalism and casteism. He has published over 25 titles, including a translation of Guru Granth Sahib and a book in French, and was the chief editor of the Sahitya Akademi's Indian Literary Encyclopaedia.
Paniker's exclusivity lies in the new path he has hewed out for himself as he is considered the architect of modern Malayalam poetry. "His poems stand out with their disturbing and powerful images, symbols and words. His imagination hovers at a higher plane and he has made poetry writing a joyful experience. Critics and connoisseurs alike have hailed his impressive body of works. He created magic with words and his writings can be jacketed as a cross between the writings of Ezhuthachhan (the father of Malayalam literature) and Kunjan Nambiar (whose writing was full of irony, acerbic wit and sarcasm)," well-known writer, and former head of the Malayalam Department, University of Delhi, Omcheri N. N. Pillai.
Paniker's poems are compelling and mystifying and they transport the reader to different levels of consciousness. Poetry, in fact, is a disturbing passion with him, and realism is woven with deft use of words and symbols. His vision of life borders on reality and starkness, and he pens events and issues around him as they are, without oversimplifying or exaggerating. His use of language varies from the figurative to the intense, creating a visual reality, which is appealing both to the reader and the critic. Sample this:
Leaders, selfish and opportunistic,
tell us that life is for doing good,
that good is nothing but social good.
If we are clever in spreading the net,
we can have a good haul.
Paniker's poems reflect his anguish borne out of an unloved childhood as he was the fourth of the eight children—six of them girls—sired by a Namboodiri.
Paniker grew up without any paternal attention and affection. And his mother Meenakshi Amma, who was pillar of strength for him, died when he was 12. And then began a journey of solitude which greatly impacted and manifested all his poems. The lonely child began giving form to his thoughts and emotions in verse when he was in high school, and his style got chiselled as he earned name and fame. Paniker was lucky that he was born in the picturesque Kavalam village, which had also produced eminent sons like the late Sardar K M Paniker, historian and administrator, and dramatist and poet, Kavalam Naraina Paniker, as there is something in the village which makes the creative genius of a sensitive soul blossom.
"Paniker's poems have helped me to see the world through implication", wrote famous Oriya poet Jayanta Mahapatra once. And how true it is.