Light in the North-East

Manoj Kumar describes a unique initiative that has brought power to villages in Nagaland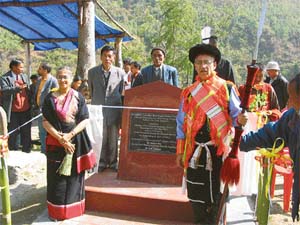 A.M. Gokhale (in Naga dress), Secretary, Ministry of Non-Conventional Energy Sources inaugurates a mini-hydel project in Chizami village.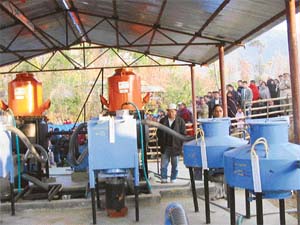 Biogas-based gasifier power project in a village in Nagaland. — Photos by the writer
ON Christmas when all the surrounding villages were filled with darkness due to a power shutdown, our Pfutseromi was the only village in the area shining as a star on the hills since every home was lit with "our own electricity" produced from khuri (wood), said Pastor Rev.L. Ritse, while welcoming his guests from Delhi.

The occasion was to celebrate the new era of "assured power supply" through 100 kw biomass gasifier power plant that would supply power to over 400 households in the village, and sell the surplus power to nearby villages. Over 500 women, men and children had gathered in their traditional tribal dresses on both the sides of road to welcome A.M.Gokhale, Secretary, Ministry of Non Conventional Energy Sources' (MNES), who had come to inaugurate the plant.

It has been installed at a cost of Rs 38 lakh under the MNES plan to electrify 25,000 remote villages through renewable energy sources like bio-gas, solar and small hydel plants, where it is difficult to supply conventional power due to a difficult terrain.

The small bio-gas power plant will also help in providing employment opportunities for operating the plant and also generating fresh opportunities for the youth of the villages.
To run the plant, the villagers have put aside a chunk of community land on which they would grow fast-growing trees for generating power. Two youth have been trained by the Gujarat-based company that has installed the plant, to run the generation machines.

A committee has been constituted, said Pastor Ritse, to collect monthly charges from households and to maintain the plant. "We are sure this plant will supply electricity to households for at least 10 years, and will raise the standard of living of villagers," he said.

The village has already planned to set up a village lake to attract tourists besides installing streetlights and showers. In the neighbouring Chizami village, the villagers have set up the first-ever "community-owned" 200 kw mini-hydel project in the country costing Rs 2.30 crore, which would supply power to two villages. The state government has also agreed to buy surplus power. "We will supply power to all the households at full voltage and in the evening, when it is most required.

Households have already agreed to pay monthly charges in time, and the profit will be re-invested in community programmes," said K.Z. Mero, Chairman, Project Management Committee.

In the insurgency-ridden state, Gokhale began his career as the Deputy Commissioner, Phake. He is credited with forming of village councils and village development boards, that are now undertaking development works like running bus services, education and health programmes.

Expressing her happiness over the power project, Ms Aple, a postgraduate student said, "We are sure that during examinations, it will give us assured light and help us get a good job."

Nagaland with a population of over 20 lakh has only one 75 mw hydel power project, and is incurring over Rs 50 crore net losses annually, said Toshi Aier, Principal Secretary, Nagaland. "Small power projects would surely play a role in lighting the villages that have remained in the dark over decades."

Due to heavy rains from April-October, it is difficult even to reach most of the villages, what to talk of an assured power supply. Villages, though officially electrified, do not get electricity most of the time. Village-owned projects, they said, would help them light their houses besides starting small ventures like rice mills. "We cannot wait for mega hydel or thermal power projects with a long gestation period. The state with vast biomass and hydel resources is ready for small power projects that would be run by the village community," said Gokhale.

Nagaland has 1000 MW power potential through 500 small projects in 1000 villages. Small power projects have become necessary considering the fact that a large number of villages around mega projects have remained in the dark, and others, especially in remote and hilly areas, do not get quality power supply.

"No doubt the cost of power in small hydel and biomass gasifier power projects is marginally higher than big hydel and thermal projects. But it empowers the village community, creates jobs without any migration. Further, it uses local natural resources without disturbing the environmental balance," said Gokhale.

After the success of small hydel projects in Himachal Pradesh and biomass gasifier project in Madhya Pradesh, he said, "the ministry has chalked out a plan to install such projects, besides solar power plants, on a large scale in the North-East. Small hydel and biomass power can generate up to 15,000 MW power across the country."