CONSUMER RIGHTS
Better service major concern
Puspha Girmaji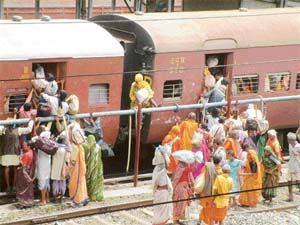 Passenger safety should get utmost importance
Itís amazing what competition does to you. In a bid to woo passengers who are now flying on cheap tickets, the Railways is today forced to bring down prices of its upper classes and even offer upgrades to higher classes. But then, lowering of fares alone would not do the trick. The Railways need to do much more to woo this class which has now abandoned it.
Remember the railway ministerís disgust at stinking toilets, when he travelled as an ordinary passenger by AC second class during election time? Forget using the toilet, the minister apparently could not even get a good nightís sleep, thanks to the stench emanating from the toilets. In the past, passengers who protested over toilets and dirty coaches have been treated with disrespect by the railway staff. Remember the case of Mr Pohare and his wife who were forced to get off the train and spend a sleepless night at a little known station and catch another train the next morning to reach their destination?
Their only fault was that they dared to protest and complain about the inefficiency of the Railways and the filth that had accumulated as a result in the coaches.. But then the Railways do not have a good track record on treating their passangers with respect.
Only recently the apex consumer court came down heavily on the Railways for ill-treating a senior citizen on the ground that she did not carry a "valid" proof of her age. Earlier too the National Consumer Disputes Redressal Commission has been highly critical of the railway staff for their behaviour towards passangers, particularly the senior citizens.
So in order to woo passangers, particularly the elderly, who may have more time to take a relaxed journey by rail, the Railways have to demonstrate that they care for them and treat them with the respect that is due to them. In fact there is a need for the Railways to train their field staff, particularly the Travelling Ticket Examiners on public relations. "Service with a smile" should be their motto.
Another area where the Railways have to compete with airlines is in the area of baggage safety. Unlike on airlines, where one need not have to clutch their baggage lest some one snatch it away from them, on board the Indian Railways, one has to constantly worry about personal belongings. The Railways therefore have to come up with a system of baggage check-in wherein passengersí baggage can be stored safely in a locker compartment and can be retrieved at the end of the journey.
Entry of unauthorised passengers is another area of concern. Railway passengers having reserved births have often to contend with travellers who have the gumption to forcibly occupy reserved berths. Here again the apex consumer court has chastised the Railways several times for allowing unauthorised persons into reserved compartments and said that it would not condone such deficient service.
So the Railways have to ensure that this does not happen, particularly on routes that are prone to this. Passenger safety should get utmost importance ó besides better maintenance of tracks, signals and coaches, better safety features in engines and compartments, the Railways should also ensure that the vestibules are checked before each journey to ensure that they do not become death traps.
Who can forget the tragic case of 21-year-old Kabita Hansaria, who fell onto the tracks and died while traveling from Delhi to Guwahati on Tinsukia mail, only because the vestibule did not have the side grills to prevent such a fall? Or that of Sarika Hora, who met a similar fate during her journey from Delhi to Pune on the Goa Express because a missing stepping plate had left a gaping hole in the vestibule. Or Mr Devi Chand, who died in similar circumstances while travelling from Rourkela to Delhi by Utkal Express?
Another area that needs immediate attention of the Railways is the speed of our trains. Even in this age of bullet trains, the Indian Railways coaches chug along at pathetically low speeds that make railway journeys unattractive even on short trips.
The railways now need to provide faster trains and at the same time, modernise railway stations with better amenities and even shopping malls that not only fetch the Railways good revenue, but also give the railway stations a more cheerful fa`E7ade. In short, the Railways have to make train journeys not just safe, but also attractive and pleasant, with modern amenities that show that the railways care for their passengers.