PUNJAB

HARYANA

JAMMU & KASHMIR

HIMACHAL

REGIONAL BRIEFS

NATION

OPINIONS

MAILBAG

BUSINESS

SPORTS

WORLD

Monday, March 6, 2006, Chandigarh, India
Updated at 3:00 am (IST)

PM talks to Putin on Iran issue
To attend G-8 meeting in Russia
New Delhi, March 5
Ahead of his statement in the Parliament tomorrow on the Iran issue, Prime Minister Manmohan Singh telephoned Russian President Vladimir Putin late last night and discussed the new international crisis in the making.



Special Article: Breaking from the past


Nation page: PM statement on Iran in Parliament today


N-deal not aimed at neighbours
Govt surrendered to US pressure on
N-deal: BJP
New Delhi, March 5
On the eve of Prime Minister Manmohan Singh's proposed statement in Parliament on the nuclear agreement with US President George W. Bush, the BJP today charged the UPA government of "surrendering" country's interests to America on the issue of separating its nuclear plants as for civilian and defence purposes.
CAST YOUR VOTE
Will President Bush's visit trigger foreign investments?



CHANDIGARH

LUDHIANA

JALANDHAR
New

DELHI

JALANDHAR PLUS

AMRITSAR PLUS

LIFESTYLE
New

FORUM

EDUCATION

JOBS & CAREERS

HEALTH & FITNESS

SCIENCE & TECHNOLOGY

SPORTS

SOCIETY

TRIBUNE CLASSIFIEDS

BRIDES WANTED

GROOMS WANTED

OTHERS

HOW TO PLACE ADVTS
Atomic states to discuss N-cooperation
with India
Moscow, March 5
The Nuclear Suppliers Group, comprising top providers of atomic technology, will discuss the issue of nuclear cooperation with India at a meeting at the end of this month following the Indo-US nuclear deal, a Russian Atomic Energy Agency official said here.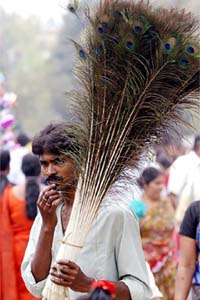 A street vendor sells peacock feathers at a rural fair in Balur, 25 km north of Kolkata, on Sunday. The peacock population is under threat due to habitat destruction, poaching and contamination of its food sources. — AFP photo
Naxal menace: CRPF to have intelligence wing
New Delhi, March 5
Heavy casualty of its men in naxal attacks due to lack of adequate intelligence inputs, has prompted the Central Reserve Police Force to set up its own Intelligence Wing despite the Ministry of Finance turning down its request for financial assistance.
Two officers suspended for Lucknow riots
Lucknow, March 5
Even before the probe report was submitted, the state government has transferred two officers and suspended one on charges of laxity to control Friday's communal riots. With shops opening and more people visible on the streets life apparently seemed to be returning to normal.

In video (28k, 56k)



Editorial: Lucknow violence


India: The Tasks Ahead
SPECIAL SUPPLEMENT

125TH ANNIVERSARY CELEBRATIONS,
INAUGURAL SESSION





HOROSCOPE
Quote
We decided (to go for the target) at tea time but scoring about eight runs an over was never going to be easy.
— Rahul Dravid

Man poisons four kids to death, commits suicide
Jhajjar, March 5
A poverty stricken man committed suicide after poisoning his four children, including three girls, to death in the Modern Industrial Estate at Bahadurgarh here last night. According to information available, Richhapal (38) served poison-mixed food to his son Manish (10) and daughters Dipali (8), Dipti (5) and Doli (3) and then, committed suicide by hanging himself from a ceiling fan.
Five killed, 24 injured in grenade blasts
Srinagar, March 5
A CRPF jawan was killed and 24 others were injured in separate grenade explosions at Khanyar here and at Pulwama today. Four persons, including two security personnel, were killed in separate incidents in the state since yesterday.


Australian PM arrives on five-day visit
New Delhi, March 5
Australian Prime Minister John Howard arrived on a five-day state visit to India today. He will have talks with Prime Minister Manmohan Singh tomorrow. In the presence of the two Prime Ministers, a number of agreements will be signed, including an MoU on Customs cooperation, a Trade and Economic Framework.


E - Revolution 2005:
A Two-day IT conclave

Assembly Elections - 2005

Turbans

Chandigarh is 50

EARLIER FEATURES
Bush rules out N-deal with Pakistan
March 5, 2006
India has arrived: Bush
March 4, 2006
India, US clinch nuclear deal
March 3, 2006
PM breaks protocol to receive Bush at airport
March 2, 2006
No change in personal and corporate IT
March 1, 2006
Survey pegs growth at 8.1 pc
February 28, 2006
Railway recruitment exam cancelled
February 27, 2006
Let us build a new J&K: PM
February 26, 2006
Lalu's please-all Budget
February 25, 2006
PM upbeat on economy
February 24, 2006