Genetic factor in depression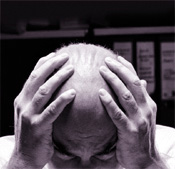 Sydney: Researchers at University of New South Wales(UNSW) claim that more than a fifth of the population has a genetic predisposition to major depression triggered by a string of stressful life events. They claimed to have found the gene that controls the neurotransmitter serotonin. Mental health experts at UNSW have been studying 127 graduates from a Sydney teachers' college for the past 25 years, with 42 per cent reporting at least one episode of major depression in that time.
They recently compared their DNA profiles with their lifetime history of major stress, such as a relationship breakdown or death of a parent, to find out whether a particular gene interacted with the environment to bring on depression.

The researchers found the influence of adverse life events on the onset of depression was significantly greater for those who inherited a short version of the serotonin transporter gene, known as 5-HTTLPR, from both parents.
"This is a risk gene. It's not a disease gene," Prof Philip Mitchell, from the brain sciences unit of the UNSW, said. "What it does it is increases your risk of depression if you are exposed to a series of stressful life events.
Researchers say it is too early to offer a genetic test for depression. Instead, they are working to find the best ways for those at risk to develop good coping skills.
— ANI
Marital tiffs can be fatal
WASHINGTON: An unhealthy relationship with your spouse may make you more susceptible to heart disease. Hardening of the coronary arteries is more likely in wives when they and their husbands express hostility during marital disagreements, and more common in husbands when either they or their wives act in a controlling manner.
"Women who are hostile are more likely to have athero-sclerosis (hardening of the coronary arteries), especially if their husbands are hostile too," Smith said.
"The levels of dominance or control in women or their husbands are not related to women's heart health.
In men, the hostility, their own or their wives, hostility during the interaction — wasn't related to atherosclerosis. But their dominance or controlling behaviour — or their wives, dominance — was related to athero-sclerosis in husbands," he added.
The more hostile the wives' comments during the discussion, the greater the extent of calcification or hardening of the arteries. And "particularly high levels of calcification were found in "women who behaved in a hostile and unfriendly way and who were interacting with husbands who were also hostile and unfriendly." — ANI
Brown rice can lower blood pressure
Washington: A new study has revealed that rice bran lowers blood pressure in rats, as scientists in Japan have shown that this waste product of rice processing, called rice bran, significantly lowers blood pressure in rats whose hypertension resembles that of humans.
The team reports their findings in the March 8 issue of the Journal of Agricultural and Food Chemistry, published by the American Chemical Society, the world's largest scientific society.
A commonly prescribed class of drugs called ACE inhibitors dilates the arteries of hypertensive patients and thus decreases their risk of stroke, heart attack and kidney disease. But the drugs can also carry side effects chronic cough, allergic reactions, dizziness, even kidney problems.
What if some component of our diet could work in similar fashion, with few or no side effects? Researchers at Tohoku University and Japan's National Research Institute of Brewing demonstrated that adding rice bran to the diets of hypertensive, stroke-prone rats lowered the animals' systolic blood pressure by about 20 percent and, via the same mechanism, inhibited angiotensin-1 converting enzyme, or ACE. — ANI
Vitamin E can be a double-edged sword
Washington: Vitamin E, one of the most powerful antioxidants, is truly a double-edged sword, say researchers at Ohio State University who studied how two of its forms act once they are inside animal cells.
In the past couple of decades, studies have looked at the benefits of vitamin E and other antioxidants. While a considerable amount of this research touts the advantages of consuming antioxidants, some of the studies have found that in certain cases, antioxidants, including vitamin E, may actually increase the potential for developing heart disease, cancer and a host of other health problems.
This study provides clues as to why this could happen, say Jiyan Ma, an assistant professor of molecular and cellular biochemistry, and his colleague David Cornwell, an emeritus professor of molecular and cellular biochemistry, both at Ohio State.
While the study doesn't get into the possible effects on health, the researchers raise the point that there is still a great deal that isn't known about how antioxidants act in the body. In order to get to that point, scientists must study how antioxidants and cells interact on their most fundamental levels. — ANI
Chocolate milk could be key to longevity
Auckland: An apple a day may keep the doctor away, but as a new study is trying to show that the best way to keep declining muscle function at bay in elderly people could be by drinking a glass of chocolate milk after a nice stroll.
The study is being carried out on a group of elderly Kiwis by a team of researchers led by Dr Benjamin Miller at the University of Auckland s Faculty of Science.
The new research aims to develop a non-pharmaceutical means to maintain muscle function and quality of life in older individuals.
As a part of the study, elderly Kiwis were asked to perform two identical sessions of aerobic exercise on a stationary bike. After one session the participants were asked to drink a mixture of protein and carbohydrate (e.g. sweetened milk) and after the other just carbohydrates.
Dr Miller said that the study was specifically meant to target the powerhouse of the cells — the mitochondria — for they are a cause of age-related decreases in muscle function, and that the researchers are trying to determine whether aerobic exercise can also increase the synthesis of mitochondrial proteins which affect the ability to make energy and play a large role in mortality — ANI