Career Hotline
Cartooning is serious business
Pervin Malhotra
Q I am a student of Class XI (Science). As I am very good at sketching and drawing, I want to become a cartoonist. Can you please tell me how to be successful in this line?
— Anil Gupta
A Cartooning is an in-born talent that can be polished with keen observation and some training. Coaching is not absolutely mandatory if you are good at sketching or caricaturing. Moreover, there are hardly any worthwhile courses in cartooning. However, a course in fine/applied art from a reputed college of art or polytechnic would hone artistic skills.
My advice would be to get all the practice you can, drawing for your school magazine, local publication, or whatever. Ask your friends and teachers for feedback to get an idea of what works and what doesn't. Just keep at it. After all, making people laugh is serious business!
After dabbling and experimenting, you will evolve your own 'trademark' style. Familiarity with multimedia or animation tools is now mandatory — particularly if you want to work in the electronic media i.e. television, Internet or e-publishing.
Suresh Sawant who recently defeated the likes of Pulitzer Prize winner, Jim Morin, to bag the first Global Cartoon contest feels that cartoonists in India have got caught in an anti-establishment time warp. According to him, cartoons need not always be bitingly critical but provide a light-hearted comment on society.
Fuel your ambition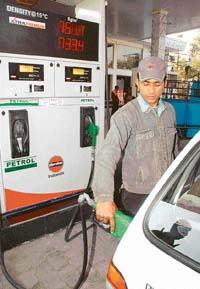 Q I am interested in studying Petrochemicals or petroleum engineering. Can you please tell me about the institutions offering such courses, eligibility criteria and the selection procedure?
— Roshan Taneja
A The opening up of the Indian petroleum sector to private players, dismantling of price controls and the increasing consumption of petroleum products have given this industry a new and much-needed fillip.
As a petroleum engineer you will make use of the latest analytical techniques to understand well and reservoir behaviour on rock parameters, geology and fluid properties, and apply what you find out to reserve and production forecasts.
In addition, your reservoir simulation models will incorporate quality control and fundamental RE data for history matching and production forecasting. You will also make hydrocarbon development proposals for new wells and facilities.
The following institutions offer BE/BTech courses in petrochemical/petroleum engineering in the North:
l Aligarh Muslim University, Institute of Petroleum Studies & Chemical Engineering, — Aligarh — 202002. Eligibility: Intermediate with PCM and English (45 per cent agg). Diploma-holders in Engg (2nd Div) from AMU are also eligible. Selection Procedure: Entrance test. (Also MSc in Petroleum Processing & Petrochem).
l Indian School of Mines, Dhanbad — 826004. Eligibility: Class XII with PCM and English. Selection: IIT-JEE.
l University of Petroleum & Energy Studies, Dehra Dun (Utt) (also A1 Kailash Colony, New Delhi) (www.upesindia.org)
A case for cyber law
Q I am interested in law as a career but am hesitant to tread the traditional career path of `going into practice'. What are the career options in the field of cyber law?
— Anuj Bhasin
A Law is not just about being swathed in a black robe and 'Mee Lord-ing' the judge as shown in numerous Bollywood films. Cyber law is a good choice as it offers career options that you had never dreamed possible.
With the number of netizens doubling almost every 100 days, the growth of the World Wide Web has been absolutely mind-boggling. As a consequence, the Internet has also spawned new and ticklish issues relating to various legal aspects of cyberspace.
Cyber Law Consultancy is a hot field where you can hand out valuable advice relating to security policing and investigation agencies. Cyber legal eagles also charge hefty fees for conducting cyber legal audits. With a number of commercial activities shifting to the e-commerce domain, these consultants draw up watertight documents to protect IPR in cyber space and draft contracts relating to technology transfers.
If you are academically-inclined, research is another good option. You can join a reputed law firm and bury yourself knee-deep in research work. Universities, Law firms, MNCs and even foreign institutes are always on the look out for tech savvy netizens who can contribute to better understanding of web related issues.
Qualified professionals often offer their services as trainers in the government and police departments and large corporations. You can also join a training institute as faculty member.
While "going into practice" may not be on your radar, but for those who have studied cyber law, litigation, replete with the trappings of courtroom drama, can offer great work satisfaction. As a litigator you get to present multi-crore cases before Adjudicating Officers or defend your client in a cyber crime case.
Eco-friendly hoteliering
Q I am presently doing a degree course in hotel management but I am deeply concerned about the environmental impact of industry. With a hotel management degree, can I still opt for becoming an environment officer in a hotel? What are the prospects?
— Devender Khanna
A It is a well-known fact that the hotel industry has always been at loggerheads with the environmentalists. Which is why many big hotel chains find themselves badgered into introducing stringent environment safety management systems.
With your obvious passion for environment conservation you seem ideally suited for taking up the job of an Environment Officer (EO).
Armed with a degree in hotel management and some experience in environment protection as an EO you have to initiate an eco-friendly policy within the organisation. You'll need to tackle the heads of various departments who are usually old horses in the trade and averse to any change. So, come prepared to do battle. Also be prepared to deal with various governmental and semi-governmental offices. In short, you need to be a highly motivated individual with exceptional leadership skills.
To apply for international eco-certifications like Ecotel, you must ensure strict implementation of the Environment Management System. To achieve these goals you will have to conduct environmental audits of the hotel and its employees and benchmark the hotel's progress and performance against global standards.
Also, hone your PR skills, as you will need to network with not just the municipal corporation but also corporate offices, NGOs, educational institutions, etc. Although fresh graduates start off with a pay package of Rs 10,000 — 15,000 per month with hard work and persistence you can aim to become the CEO — that is the Chief Environmental Officer.
Part-time MBA
Q This is my first job after completing MBA (part-time). I understand that being a fresher I have to be respectful and perform to my best. But the company is loading me with undue work pressure while paying a nominal salary as they know it's difficult to find jobs after a part-time MBA.
— Balbir Singh
A As I see it, there are two issues here — tackling the current situation at work and finding a new job.
Given your relative inexperience, you may find it difficult to find another job right away, but don't let that stop you from trying.
In the meanwhile, continue working in your current job with a positive attitude — treat it as a learning experience. Learn as much as you can to prepare yourself for the future.
But on the other hand, look at the positives — things are bound to improve, as they surely will. Your business training from a reputed institute and your youth are the other things going for you. Being a "fresher" your entire career lies ahead of you.
Management mantra
Q I am in class XII. I want to make a career in management. Can you tell me the names of universities offering integrated courses in management? Is it a good idea to opt for such course?
— Girish Sahni
A Quite a few institutions do. But many of them are private enterprises that offer courses of X Y Z foreign universities that are not recognised in India.
The following universities offer MMS/MBA (Integrated Master of Management Studies/Business Admin) courses for students who have completed Class XII:
IIT Kharagpur's Vinod Gupta School of Management (ww.iitkgp.ernet.in) and IIT Mumbai's Shailesh J. Mehta School of Management offer integrated 5-year B.TEch.-MBA programmes. Selection: JEE

Birla Institute of Technology & Science, Vidya Vihar Pilani 333031 (Raj). Duration: 4 years. Eligibility: Class 12 (PCM). (www.bits-pilani.ac.in)

Narsee Monjee Institute of Management Studies (Demed Univ), Mumbai Integrated MBA-Tech. Duration: 5 years. Eligibility: 10+2 (Science) 50 per cent agg. (www.nmims.edu)

University of Lucknow, Badshah Bagh, Lucknow 226007. Duration: 5 years. Eligibility: Class 12.

Devi Ahilya Vishwaviyalaya, Indore, Instt of Professional Studies, Khandwa Road, (MP) (www.davv.ac.in)

Maharshi Dayanand University, Rohtak (Har). Duration: 5 years (www.mduonline.org)

Gujarat University, Ahmedabad (Guj). Duration: 5 years (www.gujaratuniv.org.in)
While integrated courses are fine, they won't be of much value unless done from a top-notch institution.
If you don't get admission to a reputed institute, it may be better to do your graduation first. Work for a while to gain some practical experience and then try for an MBA from a really good B-school that offers excellent placement facilities. This is a better option than tying yourself down to a mediocre 5-year course.
Computer courses
Q I will be shortly completing my B.Tech (Electrical Engineering). Please suggest some computer software courses which would improve my prospects.
— Shalini Sharma
A If you wish to remain within your own field, a course in Computer Aided Engineering (CAE) would be useful for working in electrical design and drawing.
If you would like to do something in IT, particularly on the networking side, a course like Cisco Certified Networking Administrator (CCNA) would be of help. The Telecom sector which is currently on a roll would also be a good industry to target.
— The writer is a noted career consultant
Please send in your query, preferably on a postcard, along with your full name, complete address and academic qualifications to: Editor, Jobs and Careers, The Tribune, Sector 29, Chandigarh-160030, or at careers@tribunemail.com