What women want
The numbers may not be sizeable but theirs is a presence that is increasingly making itself heard in the boardrooms of India Inc. On International Women's Day, Chetna Keer Banerjee catches some such voices that strike a note of cheer and articulate the concerns of career women.


Careercature
Sandeep Joshi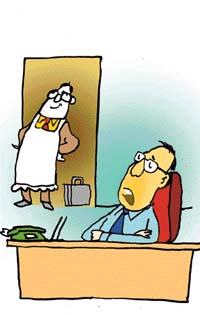 Is this the new office dress code to mark Women's Day?

Cool calculations to make before chasing a hot job
Mary Ellen Slayter
SHOULD you be a nurse? A teacher? An accountant? Maybe. But please base your decision on something other than their relative 'hotness' at the moment. I mean, Jake Gyllenhaal is pretty hot at the moment, too, but that doesn't make him the boy for me. Same goes for you and these oh-so-fabulous careers everyone is talking about.


Combine baby and business, be a 'mompreneur'
Amy Joyce
JEN Sterling left her job as a graphic designer at the World Bank more than 13 years ago. She was a few years out of school and knew pretty quickly that she did not like working for someone else. She spent her free time at the organization making a list of things she would not do if she ever had a staff.


Smart Skills
Gear up for AUTO DESIGN
Usha Albuquerque
WE have come a long way from the time when, according to Henry Ford, getting a car with some style meant you could have any colour you wanted as long as it was black!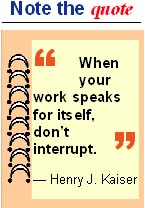 Career Hotline
Cartooning is serious business
Pervin Malhotra
Q I am a student of Class XI (Science). As I am very good at sketching and drawing, I want to become a cartoonist. Can you please tell me how to be successful in this line?
Fuel your ambition

A case for cyber law

Eco-friendly hoteliering

Part-time MBA

Management mantra

Computer courses