SHORT TAKES
Enjoyable tales
Randeep Wadehra
Shielding Her Modesty & other stories
by Sita Bhaskar Frog Books. Pages: 135. Rs. 200.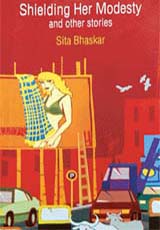 Human nature and situations are so diverse that itís impossible to provide them with convenient labels or place them in predictable slots. Take Muruga, the billboard painter in Shielding her modesty. He loves his wife but is possessive about the female forms he paints. When a group of youths begins to ogle at his unfinished painting he covers it with his brand new lungi. Shades of RK Narayan? Perhaps, but the story is enchantingly original. In The Bharati Doll, despite the Dickensian ambience, weíre shown a glimpse of the fantasy-filled world of two child labourers, eight years old Parvati and her brother Gopi. In contrast to these poverty ridden scenarios is the middleclass home of Sunanda and Ganesh in The pink silk sari. Their son marries an Indian American girl named Kalpana. One expects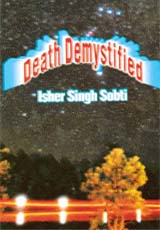 the usual east versus west clash of values drama, but is pleasantly surprised to find understanding and accommodation instead. Other stories in this collection too are in similar vein.
Death demystified
by Isher Singh Sobti. Pages: viii+149. Rs. 150.
WHAT is death? This question has exercised the minds of thinkers throughout ages. No satisfactory answer could ever be found despite the fact that theologians and philosophers have put forward well argued theories. So, is death the end of oneís existence forever or is it the beginning of the life hereafter? A change of form, perhaps, or union with the Supreme Being? Sobti has tried to put death in perspective by quoting from Sikh scriptures and providing a gist of what other religions say on this topic. But, has death been demystified?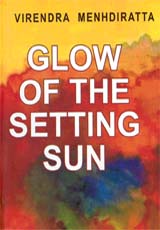 Glow of the Setting Sun
by Virendra Menhdiratta (translation: MM Mathur) Unistar.
Pages: 136. Rs. 250.
A bit of infidelity, a hint of adultery and ladles of sensitivity mark most of the stories in this volume. Despite his advancing age and being married, Murari is infatuated with old flame Anuradha in A Longing. Predictably, it ends in disappointment. Similar is the situation in The Flight wherein Manisha is the romantic other woman in the male protagonistís life. The Other Draupadi is more complex. A domestic servant is shown as managing artfully the insecurities and weaknesses of men Ė be it her husband or the sahibs she serves. In Glass Cracking in the Sun, Vimla discovers her latent inner strength after interacting with her boss. However, Barefoot on Earth is more of reflective narration thatís tinged with nostalgia. If Menhdiratta has a keen insight into human nature, Mathurís translation has ably kept the originalís flavour intact.