Daya Nayak: Hero is Villain
Vibha Sharma



Daya Nayak: Cop on the run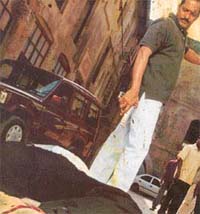 A still from Ab tak Chaappan which typifies the glorification of policemen as 'encounter specialists'
THE media has been following the downfall of Daya Nayak from the hunter to the hunted. TV channels that once showed him brandishing a mean Smith Wesson revolver with a swagger now air images of a not-so-confident man. With tears in eyes, he explains how he has been a victim of the vendetta of his former friends, bosses and colleagues.
When time ran out for Daya Nayak and he surrendered before the Sessions Court in Mumbai last month, after every court turned him away, the Mumbai police's 'encounter specialist' promised to take down with him several other top guns, whose darkest secrets he knew so well.
Of course, senior officers scoffed at his statements, questioning why he waited for so long to spill the beans. Nayak blames his "mentor" and former boss Pradeep Sharma and colleague Vijay Salskar, besides other IPS officers, who he says could not digest his "popularity" and got him framed.
It is no secret that professional jealousies can run high. The original supercop K.P.S. Gill also attributes the Daya Nayak episode and other cases in Mumbai and Delhi where encounter specialists are now facing problems, to the fallout of jealousy of fellow officers, who felt left behind in the popularity race in the media and personal or professional achievements. "The possibility that Daya Nayak is a victim of an inter-connection between the mafia, politicians and dissatisfied policemen cannot be ruled out," says former Punjab DGP.
This is Nayak's story. But the one propagated by his former friend Ketan Tirodkar — who filed the two PILs against him on the basis of which Nayak is now in the dock — has many supporters. Human rights activists openly blame the media for helping encounter specialists acquire social sanction by projecting them as super heroes. To suit their own end, they say that political and officials bosses allowed encounter specialists to attain so much power that some of them started believing that they were invincible.
For some, it boiled down to adding another number to their list of encounters for out-of-turn promotions and medals and for others monetary benefits.
It is not just Mumbai crime unit's Nayak, responsible for more than 83 encounters and close to 300 arrests, who is in the dock. Many poster boys of different police departments too are in the spotlight.
In Mumbai, as the number of encounters increased, so did their popularity. Nayak and Pradeep Sharma, interviewed by the who's who of print and electronic media, also inspired several Bollywood filmmakers. While Mumbai had Daya Nayak, Pradeep Sharma, Ravindra Angre, Praful Bhosale, Raju Pillai, Vijay Slaskar, Shivaji Kolekar, Sachin Vaze and Sanjay Kadam as superstar cops, Delhi and other states too had high-profile encounter specialists.
In Mumbai, revelations of alleged links with underworld turned the tide against some of them, in Delhi the genuineness of encounters came under scrutiny after the Ansal plaza episode where two innocent persons were shot dead.
The term "encounter specialist" never existed in the police dictionary. "We do not have any encounter specialists in the Delhi police," says DCP Ajay Kumar, chief of Delhi Police's Special Cell.
"Men in the Special Cell are good investigators, who have several adversaries in the line of work. Allegations of involvement in fake encounters are a professional hazard that motivated officers face in the course of their career. Persons in question have been transferred to other departments. But they are routine transfers," says a senior officer of the Delhi police.
Today, encounter specialists are no longer the blue-eyed boys of the force. Be they anti-terrorist operations in Delhi or anti-mafia encounters in Mumbai, human rights activists have criticised police "encounters" and have repeatedly accused the "specialists" for stage managing them. "While gangsters get killed in such encounters, policemen escape without sustaining injuries. The basic pattern of most of these encounters have been similar. There is never any independent eyewitness around whenever such an operation takes place. At times, innocent traders from Pakistan have been bumped off under the garb of anti-terrorist encounters," senior Supreme Court advocate Prashant Bhushan says.
K.P.S. Gill specifies that encounter specialist is a particularly "Bambaiya" term, coined by the media. "Each police force has some good officers who are efficient and head and shoulders over the rest. They are selected by their superiors to undertake difficult tasks like tackling terrorism or the mafia in times of crisis. Their job is to track down dreaded criminals and ask them to surrender and retaliate if fired upon. They are not some natural-born killers with oversized egos who are running amuck. They are just doing a job they have been assigned by their superiors. That's it," says Gill.
An encounter is an euphemism for a situation in which when a gangster is cornered and asked to surrender, apparently attacks the police or tries to escape and is shot in retaliatory action. "Has there been any investigation into these encounters, despite the National Human Rights Commission's guidelines? How many policemen have got hurt in such encounters," questions Prashant Bhushan.
While there is a growing feeling among the public about the lack of genuineness of these encounters, the police cites instances of policemen getting killed or injured during the operation. Primarily, encounter specialists operate through an extremely well-laid out intelligence network. They have a network of informants paid out of secret police department funds.
The criminal justice system in the country, says former Delhi Police Commissioner Ved Marwah, is so weak that it evokes no fear among criminals at least.
"They are aware of loopholes and the way to get out if caught. The system of encounters primarily began when society and politicians pressurised the police to deliver and the cops started taking shortcuts. While there is no justification for false encounters, a way has to be found to strengthen our criminal-judicial system," says Marwah.
The former Delhi Police Chief does not think there is anything special about these cops. "There are not many officers who may be willing to face the charge of murder if things go wrong, For some, it may be an easy way to get an out-of-turn promotion or a medal," says Marwah.