Dance is language of worship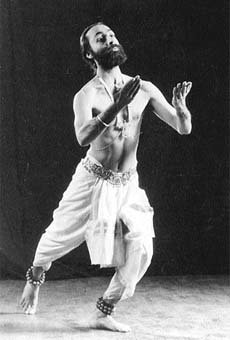 Navtej Johar: For him dance is unity of mind and body
Navtej Johar revives an ancient concept in dance which he terms 'free-flow,' that is dancing from the depths of pure-consciousness, from a unity of body, mind and consciousness. Johar is an eccentric combination, a Sikh from Punjab who wandered to Kalakshetra in Madras and became a master exponent of Bharatnatyam.
Charu Singh caught a few moments with the dancer at his Studio Abhyas, a shadowy basement with a chess board black and white flooring.
In a corner, a single brass lamp burns dimly under the picture of his yoga guru. Johar teaches yoga currently in the tradition of the Krishmacharya Yoga Mandiram (KYM), Chennai and gives occasional recitals.
Let's begin with your view on how Bharatnatyam links up with spirituality?
At its heart, any art form is spiritual, the two are in unity. Historically, Indian classical dancing has been part of temple ritual, especially tantra. Back then, a healthy understanding of sexuality was an integral part of dance. There were complex and well laid out techniques of expression and propitiating gods, there was a ritual behind this and stress was laid not on aesthetics but on ritual. It did not matter how aesthetic the dance was, what mattered was the performance done at the right time to complete the temple ritual before the deity.
Can you elaborate?
There was, in ancient times, an undercurrent of tantra that ran through temple dancing, especially, in the Shaivite tradition. This was the especially the case in performing Devi upasana. It was a celebration of the feminine principle, individuals as such did not matter. Dancers were used to please the gods: a particular dance was done as an accompaniment to the ritual to wake the deity, to make it sleep, at dusk etc. Dance was one expression to engage God, it provided a language to engage divinity and to worship.
Obviously these dancers were devadasis?
Correct, the devadasis performing Bharatnatyam were called Sadir, then temples had the devadasis and the king had Rajdasis, however, the dividing line was very slim. These women were highly cultured courtesans who were considered extremely auspicious. They were called Nityamangalis or someone who is married and never becomes a widow. Spirituality and sexuality intermingled.
What got you interested in Bharatnatyam?
I was in the second year of college when I saw a performance one evening and I knew that I could do it really well and love the experience. I decided instantly and after finishing BA, I left for Kalakshetra in Madras.
What about your family, they could not have taken this easily?
Initially, there was pretty strong opposition at home, it was tough going but I got my way.
So now we come to your Kalakshetra experience?
It was the most glorious part of my life. Just being there, living there, words cannot explain it. What inspired me was the simplicity and the beauty and the richness of the experience. It was absolutely beautiful.
What was the major influence for you at this time?
I was there for four years and we had many teachers. They were all very good. Perhaps the most definitive influence was that of Leela Samson. The abhinaya part, which is unique, was enjoyable.
Did you also learn yoga in Kalakshetra?
Absolutely. Yoga is essential for any serious dance student and I trained in Patanjali yoga at the Krishnamacharya Yoga Mandiram (KYM) at Chennai and under the guidance of T.K.V. Desikachar. My approach is quite fluid — merging asana, pranayama, visualisation, meditation and Vedic chanting.
What happened after you finished with your Kalakshetra period?
I moved to the USA where I started teaching and performing. This was the time when I did a lot of solo dance performances and experimented with other forms of modern dance. I worked with a lot of choreographers and dance companies during this period. There were many companies I worked with though Bill T. Jones company stands out. Then there was the Chandralekha Group, Leela Samson's, Peter Sparling, Yoshiko Chuma, Alan Lommasson and many more. I also studied modern dance at the New York University.
In your nine years in the USA you seem to have done quite a lot. In your choreography do you mix Bharatnatyam with modern dance?
I do not combine the two dance forms, I perform pure dance as pure dance. My modern dance, even when it does not borrow from the classical does have a subtle base in it. However, it does not resemble it. Working with the people I did was significant. It helped broaden my horizons and taught me a lot.
So what have you been up to since you came back to India?
I set up Studio Abhyas with the intention of teaching dance here and enjoyed teaching it a lot but have stopped teaching dance now because I have less and less time and it requires a lot of effort. I am teaching yoga currently.
Is there any particular dance performance or ballet that you are working towards?
I've made this dance pace called 'Fannah-Ranjah Revisited,' I have plans of carrying this to Punjab. I am working with three freelance dancers. This piece is really a result of a collaboration with the Sufi singer and composer, Madan Gopal Singh. It's a dance-theatre piece that seamlessly fuses two narratives, one from the North and the other South.
The Heer-Ranjha legend from Punjab pre-dominates but it is interspersed with Kutrala Kuravanji, a dance-drama from Tamil Nadu in which a gypsy foretells a union between the heroine, Vasantvalli and Lord Shiva.
Fanna is operatic in nature and freely intermixes the two legends. It draws from Bharatnatyam, Yoga, Chhau, modern dance and physical theatre.
The choreographic treatment is extremely contemporary.