Cash comes alive
Walk the Line is a rounded portrayal of the American musician, Johnny Cash,
writes Ervell E. Menezes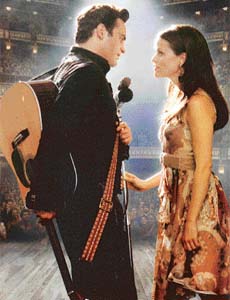 Joaquin Phoenix and Reese Witherspoon in Walk the Line
Johnny Cash, one of the big names in American music for decades, comes vividly, near throbbingly, to life in James Mangoldís Walk the Line. That he blazed a trail in rock, country, punk, folk and rap music is now history but we also see the trials and tribulations he, like most musicians, experiences, to provide a candid picture of the man and his chequered career.
With his driving freight-train chords, steely-eyed intensity and deep resounding voice, Cash gave music a distinctive sound. He evolved from a self-destructive pop star into the iconic "man in black" but he wouldnít be able to handle success. That he would eventually learn to walk the razor-thin line between destruction and redemption is what this 130-minute film is all about.
Born in a small Arkansas town, Johnny grew up in the wide-open countryside with his strict and at times violent dad (Robert Patrick) and loving brother. Johnny inherited that violent streak from his dad but it was his brotherís death that leaves a big void in his life. "Donít leave me now," he pleads with his fatally injured brother.
Then into military service in Germany, Johnny (Joaquin Phoenix) found the beginnings of music. He married Vivian (Jennifer Goodwin) who was too close to her dad for his comfort. She wasnít happy with her dream house, her car, whatever. In this era of Oldsmobiles, Pontiacs and Buicks Johnny found his music feet and thatís where he ran into June Carter (Reese Witherspoon). She was to haunt him right through his career, as he seemed to neglect his wife and three daughters.
With an Elvis-like puff and belting familiar 1960s tunes he shot to quick fame before falling a victim to drugs. "Lifeís just a bubble if you donít take the trouble to make it work," he was told. Shades of Ray Charles, his fortunes nosedive. That, plus his stormy love life makes for the colour of grey. The manner in which he pursues June has to be seen to be believed.
But it is a very human screenplay by James Mangold and Gill Dennis that covers a vast canvas and director Mangold is able to balance events and not go too deep into them. For Joaquin Phoenix it is quite an unusual role and may be thatís why he takes his time to get into it. But for Reese Witherspoon of Legally Blonde fame she slips into it like a glove. Vivacious and witty for starters, she is also able to handle the more emotional moments.
Johnnyís "June Carter love walk" is tragicomic but Mangold is able to chart out a convincing turn-around.
He gets his second chance. And the rest is history. But as in the case of Ray Charles it is a very rounded portrayal of the musician. For old timers the music is the best selling point. May be the film could have been clipped by at least 20 minutes but it surely does justice to his American music legend. Youngsters too will love it.