Sights and sounds from THE continent
Films from Europe still remain somewhat remote for the mass of Indian cine-goers. A festival of 19 top films from as many European Union nations is here to bridge the gap.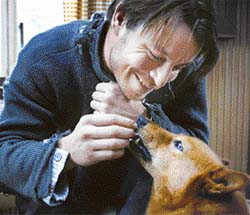 A still from Markku Polonen's Dog Nail Clipper
European cinema has always had a fair following among Indian cineastes. But for the general moviegoer in this part of the world, international films begin and end with Hollywood blockbusters. In recent years, however, films like German director Tom Tykwer's experimental Run Lola Run and French filmmaker Francois Ozon's intriguing Swimming Pool have made it to urban multiplexes around the country.
Sadly, films from Europe still remain a somewhat distant entity in India with the exception of the neo-realists and nouvelle vague masters of an era gone by. European cinema has moved on since then into territories uncharted. That is exactly what a festival of 19 top quality films from as many European Union nations, scheduled to run until April 11 in four Indian cities, is out to showcase.
The 11th European Film Festival of India, which kicked off in New Delhi's Siri Fort Auditorium-II on the evening of March 3 with the screening of the Austrian film, My Russia, will also travel to Kolkata (March 17-24), Chennai (March 24-31) and Thiruvananthapuram (April 4-11).
The inauguration of the festival took place in the presence of Barbara Graftner, the director of My Russia. The film is an intense, insightful family drama that touches upon universal political and human issues through the story of a young man who marries an Ukrainian woman and, in the process, sets off a chain of events that neither he nor his manipulative mother has much control over.
"This festival takes place once every two years as part of an Indo-US action plan to strengthen cultural relations between the subcontinent and Europe," says Jutta Stefan-Bastl, Ambassador of Austria, which currently holds the rotating presidency of the European Union.
According to Alexander Spachis, charge d'affaires of the Delegation of the European Commission to India, Europe is a bit like India in terms of its cultural range and diversity. "Yet, like the many regions of India, the 25 EU member-states are similar in many crucial respects," he says. "I am sure that is what this festival will convey in ample measure."
Among the films that will be screened is the Czech entry, Kolya, winner of the Oscar as well as the Golden Globe for best foreign language film in 1996.
Kolya is a bittersweet comedy set in the period just before the collapse of Communism. An aging Prague bachelor's life changes forever when the Russian woman he marries for convenience ditches him and migrates to Germany, leaving a five-year-old boy behind. The initial repulsion and confusion give way to a warm bonding that develops between the man and the boy.
Also in the package is the quirky Dog Nail Clipper, directed by Finnish filmmaker Markku Polonen. Polonen occupies a pre-eminent position in contemporary Finnish cinema alongside the Kaurismaki brothers, Aki and Mika, and Veikko Aaltonen.
The other films to watch out for are Mike Leigh's 1999 Gilbert and Sullivan biopic, Topsy-Turvy from the United Kingdom, Branko Djuric's Cheese & Jam from Slovenia, Gracia Querejeta's Hector from Spain, Philippe de Broca's Viper in the Fist from France, Margarida Cardoso's The Murmuring Coast from Portugal, Paula van der Oest's Zus & Zo from the Netherlands, Frederic Fonteyne's Gilles' Wife from Luxembourg, Riccardo Milani's The Soul's Haven from Italy, Anno Saul's Kebab Connection from Germany and Hilde Van Mieghem's The Kiss from Belgium.
The names on that list, barring Mike Leigh, aren't necessarily instantly recognisable. But then, most of these European directors are just about starting out as independent filmmakers. They have miles to go before they can achieve the status of a Lars Von Trier or a Michael Haneke. But, as is abundantly clear, they do have the wherewithal to get there.
— S. C.