TELEVISION
Big splash on small screen
Komal Vijay Singh chats up tele stars Arjun Punjj and Reena Kapoor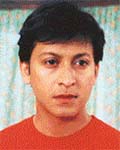 Arjun Punjj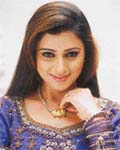 Reena Kapoor
Twenty-seven-year-old Arjun Punjj aka Dr Aman of Sanjeevani, who looks younger than his years, says, "I am a contented man. I am back as the male lead in Rajshri Productionsí prestigious, prime-time serial, Woh Rehne Waali Mehlon Ki.
But what made him quit in the first place? Arjun candidly admits, "I had differences with the production house. But the decision to part ways was a mutual one. It was done in a healthy manner. That is why when the producers got the feedback that my replacement was not working out well they got in touch with me. The differences were ironed out and I am happy to be back."
Few would know that before this young actor found fame as Dr Aman of Sanjeevani he acted in a movie called Tere Liye. The director was none other than Sanjay Gadhvi who gave us the hit, Dhoom and is currently directing Dhoom II for the Chopras. Tawny-eyed Arjun frankly says, "The movie sank because the story line was not good. Besides, the direction and production values could have been better. Subsequent to this fiasco, it was the medical drama, Sanjeevani, that brought critical acclaim as well as huge popularity my way."
The pull of films again proved strong for this gentle Leo. "Acting in Time Pass was a stupid decision. And, honestly, I think I have not been very lucky with films," confesses Arjun. "I am happy concentrating on Woh Rehne Waali`85 I am on prime-time six days a week in a Rajshri production. I shoot for 20-25 days. I think itís a good deal," he adds. Does he have no inclination to act in music videos? His face lights up. "Oh! I am open to them," he says.
How did acting happen? "That was a conscious decision. I always wanted to put on greasepaint and mouth dialogues. A bunch of model co-ordinators, who were friends, gave me a list of production houses in Mumbai. Armed with this and my portfolio, I moved to Mumbai in 1999."
This Punjabi munda, whose family is based in Delhi, says he tries to take a break and escape to his cottage in Kandaghat, near Solan, whenever he can. "I celebrated my birthday there with Gurdip and my family last to last year. I would have been there on my birthday in July last year too but The Mumbai floods held me back."
What about visits to Chandigarh? "Ah! I used to be a frequent visitor to Sector 17 earlier. Used to have a good time at Yankee Doodle. And did my share of bird-watching, too," he grins.
Arjun will be seen with Gurdip Kohli on the forthcoming game show on Star, Jodi Kamaal Ki.
Reena Kapoor is pretty and unassuming. Just right for the role of the lead character she lives on the sets of Rajshri Productionsí Woh Rehne Waali Mehlon Ki. Kapoor essays the role of Rani, the delicate, pampered girl who becomes a woman of substance in the course of lifeís roller coaster ride, with `E9lan. "I am not a glamour doll myself. I would like to describe myself as a genuine person. Quite like the character I play, I believe in celebrating each moment of life." She goes on to say, "Marriage and Woh Rehne Waali.. happened to me at the same time. I got my best friend in my husband and a serial with the best banner. Recently, I celebrated my wedding anniversary in real as well as reel life." She declares, "I shoot for more than 20 days. I am completely focused on this character. Besides, I donít believe in living to earn. I am earning to live. I am not greedy. I thank God for what I have and donít ask for more."
Reenaís husband and in-laws are Delhi-based and she flies down to the Capital to be with them over the weekend. "Sometimes, my husband comes across to Mumbai," she discloses. "I am lucky I donít have to juggle home and career. My family, which comprises my husband and parents-in-law, are my biggest strength. They are so supportive. They are the reason for my being where I am. I want to give myself and my family sometime. That is more important than working round the clock," she adds.
The young lady, whose sensibilities are finely tuned, says, "I am not a star. For that matter, nobody is. We are all doing our job. It is only those who have a complex put on starry airs."
But what about the notoriously dog-eat-dog world of TV? Reena says she does not let it affect her beyond a point. If someone else is insecure or jealous on my account, it is their problem, not mine. If someone is trying to put me down or humiliate me I try not to get involved. I do feel hurt. I am human, after all. But my lifeís mantra is not to let negative energies upset my equanimity." She elaborates, "I learnt from my father that if someone is being nasty and we respond in a like manner it completes the circle of viciousness." Smilingly, she says, "He taught me not to make any contribution towards completing that circle."
Whoa, there, girl! Way to go, one canít help but beam at her.
Idiot box in the bedroom
SEVEN out of 10 children have a television set in their bedrooms, while half have their own DVD player, according to a study that highlights the disintegration of communal family life.
A survey of more than 1,300 families found that childrenís rooms were becoming cluttered with entertainment gadgets that kept them away from their parents and siblings.
The findings have disturbed some psychologists who believe children are missing out on the more social outdoor activities enjoyed by the previous generations.
The report by Lloyds TSB Insurance estimates that British children have $28 billion worth of electronic equipment in their rooms.
Six out of 10 children own a games console, five out of 10 have a music system, while about a third of children have a computer and a similar number own an Ipod or MP3 digital music player.
One in 10 has an Internet broadband connection while 13 per cent have access to Sky or digital television in their bedrooms, the survey found.
Previous studies have shown that children tend to watch more television, or play more computer games, if they have these in their bedrooms.
Many psychologists have argued that family time is essential for parents to help children develop into fully functional and happy adults.
However, fewer than one in 10 parents surveyed believed that having so much equipment spoilt their children.
Half said their children deserved or needed the items, while a quarter said the gadgets kept their children entertained and out of trouble.
"There is quite a lot of parental anxiety about children going off and becoming private consumers in their bedrooms," Prof Sonia Livingstone, a social psychologist, was quoted by The Telegraph, as saying.
However, she believes the perception that families used to spend more time together is a myth.
"I see parents providing televisions and DVD players as a form of compensation because they donít want to let children go out any more," she added. ó ANI
Scene unseen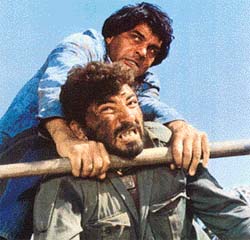 A still from Sholay
ITíS scenes behind the scenes`85quite literally. The masala you missed in films that have now become folklore.
For once, Sahara One seems to have a winner at hand as host Suresh Menon takes you down memory lane and picks out footage that was chopped on the censor board.
The show scheduled for a Saturday evening slot invites people associated with an epic and culls out the scenes that never made it to the theatres.
So you have Thakur actually killing Gabbar Singh in Sholay ó an ending that was changed at the last minute as it was thought to be very gory. There are a number of such vintage scenes that were snipped on the editing table.
Sholay, of course stands out as it has original stars like Sachin and Viju Khote telling viewers about the scenes that never were.
Treat for film buffs
IF you are an English movie buff, you are soon going to be spoilt for choice as all leading channels are going to woo you with the latest blockbusters.
Apart from HBO and Star Movies, Zee has come back from Hollywood with its shopping cart full.
Its 24-hour English movie channel Zee Studio has access to 4,000 film titles and airs films within three months of their theatrical release
The latest is that Sony Entertainment Television is all set to launch its dedicated English movie channel called Pix. The new channel is a result of Sony Internationalís acquisition of Hollywood production house MGM. The content would be sourced from the Sony Pictures library that would include titles from Columbia and MGM.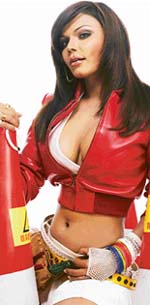 Rakhi Sawant in Pin-Up Doll
Rakhi sizzles
SHE may border on the sleaze, but the moment Rakhi Sawant releases a music video, heat starts building up. Her latest remix album Pin-Up Doll is no exception. Produced by DJ Sheizwood Aashish, it contains nine tracks of hip-hop, trance, house beats, club mix and instrumental to pump up your adrenaline.
"The album will bring out the party animal in you," says the voluptuous babe and adds, "DJ Sheizwoodís mix is awesome and his blending of unique notes will set the rocking mood on the dance floors."
An array of talented ó though lesser known singers ó like Pamela Jain, Sneha Pant, Shirin, Xinia, Shona and Sheizwood himself have rendered their voices for the album that promises to crackle on the small screen.
So get set to catch the promos and the music video of evergreen hits like Buddha Mil Gaya, Boom Boom, Hum Tum Ek Kamre Me Band Ho and Tohe Sanwaria. ó NF