United colours of Holi
Saurabh Malik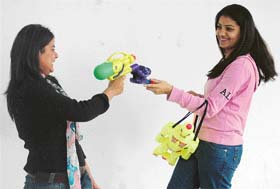 She hates hiding behind colours. That's perhaps the reason why Geetika Chauhan conceals herself in the room on the roof of her Sector 19 house on Holi every year. And while the guys cut along the sharp curves of life on way to Kasauli in open jeeps, she walks the floor waiting for the day to be over. If your predicament is similar to that of Geetika, worry no more. Stop scratching your pretty little head and play with boys, and colours, on Holi without the fear of "permanent repercussions".
Go green
First of all, go herbal. Forget all about synthetic colours. They can actually turn your life colourless. For, most Holi colours offered by the roadside vendors, even showrooms across the city, contain oxidized metals, even industrial dyes mixed with engine oil, undoubtedly dangerous for the skin.
Having doubts? Listen to city-based chemical engineer Rahul Singh. "Chances are that the green colour of joy you splash on your friend's tender visage is made from copper sulphate," he says. "It may drain the colour off your face, but silver shade is often prepared from aluminum bromide. Red is made from mercury sulphite and black colour may contain lead oxide".
These chemicals can not only cause allergy, but in extreme cases can also result in temporary blindness, renal failure, skin cancer and even paralysis, he adds. That's perhaps the reason why you should go in for a healthy Holi with herbal colours.
Compared to the synthetic colours, the herbals ones are a wee bit expensive, but then these eco-friendly powders and pastes are prepared from natural extracts of flowers, even vegetables and sometimes minerals. It may sound incredible, but herbal colours available over the counter are often made out of rose, marigold and hibiscus petals. Some even use bougainvillea, sandalwood, henna, turmeric, multani mitti and spinach to add colour to your life on the big day.
If you haven't picked up sachets of herbal hues, go to the arcade now: Pidilite Industries is offering 'Acron non toxic Holi ke rang'. "These non toxic colours are made by using food grade colours and provide a safer alternative to traditional Holi colours," says Ravi Mehta, owner of a Sector 35 provision store. "You can pick up red, green, pink, orange and yellow in 100 gms packet for just Rs 10. Colour concentrates that can be mixed with water are also available in packs of 25 gms and 100 gms priced at Rs 5 and Rs 18.
Creating colours
Just in case, you wish to create your own eco-friendly holi colour at home, here are some handy tips: For yellow colour, soak a healthy bunch marigold flowers in water and boil till it exudes fragrance. Leave it overnight to get that rich wet yellow colour. You can also dry petals of yellow chrysanthemum before grinding them for the colour of exuberance.
In case you wish to colour your friends good in green, take dried or fresh mehndi leaves and grind them into powder before mixing it with water to make a paste out of it. Colour your friends' hair the natural way. You can also dry Gulmohar, spinach and even mint leaves to prepare the colour that will turn your neighbours green with envy.
For preparing red hue of affection, take a handful of rose petals. Dry them by spreading the petals on tissue or newspaper before grinding these into a powder for applyig as gulal. Remember folks, these colours are absolutely safe. So bid adieu to the synthetic and get ready to play herbal Holi.
Play it safe
Remember to offer your own colours to the visitors as far as possible, says Neeru Sidhu, city-based beauty consultant running her own studio, Attitude. But before that, go in for "good" stuff. Not the one picked up from any roadside vendor.
Also make sure there are no hard particles, says Raman of Sector 11 chunk jewellery and gift shop, Jewels. Keep it dry as far as possible. It takes little effort to get rid of dry tones. You can always request your friends not to rub wet blush. Common cold is a good excuse.
"Do not apply petrol or kerosene for getting rid of the colour, please. Use cleansing milk, instead. That's a better option. After removing the dyestuff, go in for moisturizer, says Yashu Gautam, hair-care and professional with a beauty saloon.
Holi Day destination
In case your kind of deal involves hitting the dance floor for a great Holi experience with live music and impromptu jam-ups, drop in at one of the discotheques and trip the light fantastic. Allow the beats of Kajrare to get you grooving. Otherwise enjoy the company of friends, and good old beer, with some classic rock after finding your way into a bar.
Fun City has elaborate plans for the big day and its eve. You can lose your blues on March 14 and 15 with Mumbai's "item girl" Muskan. Another "musical group" Dare Dazzle will also perform live, besides cool music mixed by Ludhiana-based Disc Jockey.
You can get ready to cut foot lose to the thumping beats of reverberating music at Las Vegas on the Holi eve. With in-house and guest disc jockeys spinning tracks, it's going to be an afternoon full of tearing excitement, undoubtedly, says one of the directors Jaswant Rai, adding that psychedelic lights are all set to blink.
Partying would be incomplete without a day out at the Warehouse, at least this is what some of the party buffs say. Situated far from the madding crowd at Chimney Heights Resort on the Zirakpur-Patiala highway, the management has caught hold of renowned Punjabi singers for their 9 to 5 celebrations on March 15. Besides this, the revelers will get a taste of excitement during the rain dance and the fashion show.
Girls, avoid going uphill unless you are accompanied by escorts. It's bad on Holi. "You will encounter guys high on the Holi spirit dancing to the thumping beats of rhythmic music after parking their cars right in the middle of the meandering road," says Dheeraj Malhotra, client servicing manager in a Sector 17 advertising company-cum-an uphill frequenter.
Otherwise also, go to parties you are sure of. "Don't just drive down to a bash organized in a farmhouse by a friend of a friend," suggests a senior Chandigarh Police officer. "Also, make sure the hands applying colour are innocent. If the guys try to act indecent by rubbing the blush not just on the visage, glare back before leaving the venue. Report the matter to the cops. Do not be scared. If nothing else, it will teach them a lesson for all times to come".
Guys do not go overboard. You are there to enjoy the bash, not to make a fool out of yourself. "If people force you to drink, do not be rude," says Hotel Mountview General Manager R.P. Singla. "Do not get drowned in drinks either, even if you believe in combining dancing with guzzling. Also, stick to one drink. Avoid beer, if you are likely to feel the urge of having rum-in-coke later, that is. Blending drinks will only give you headache the next morning".
Don't mess with law
Another thing! Do not paint the city red on your single cylinder motorcycles with silencers "removed". And remember to wear safety helmets while zipping down the fast track of celebrations with trumpets in your hands.
Also, do not to play with the colours of law by driving around the town in open jeeps. For, the Chandigarh Police is all set to come down heavily on revelers breaking the law or violating the provisions of the Motor Vehicle Act. "The intention is not to throw a spanner in the way of celebrations, but to maintain the law and order situation," says a senior traffic police officer.