Mother-daughter duo of lawyers murdered
Tribune News Service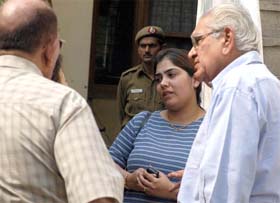 Relatives of Swarna Mahajan and Anuradha Mahajan, who were killed at their Siddarth Enclave residence in New Delhi. — Tribune photo by Rajeev Tyagi

New Delhi, March 12
A mother-daughter duo of lawyers, practising at the High Court in the Capital, was found murdered this morning at their residence in a posh area of South Delhi. While the police is investigating the matter, personal rivalry could not be ruled out as the cause of the killings, said a police official.

The victims were identified as Swarna Mahajan (75) and Anuradha Mahajan (45). They were both practising in the Delhi High Court. They were found murdered in their house number 256, Sidharth Enclave, in south district, said police officials. Swarna's son Sanjeev is settled in the USA and had been informed about the incident.

During preliminary investigations, it was found that at around 8.55 p.m. last night, two cars

with U.P. registration numbers of Saharanpur and Ghaziabad, with two persons entered the victims' house.

''When the maid came in the morning, nobody opened the door, which was bolted from inside. Then with the help of some neighbours, the police and some neighbours entered the house,'' said the DCP(South) Anil Shukla.

Police officials said both victims were tied with their dupatta and were strangulated to death. According to the maid, two people visited the Mahajans last evening and everything was fine when she left the place at around 10 p.m.

Mr Shukla further said, "All goods in the house were found intact except the almirah where some items were kept. We are trying to find out whether the assailants took away some goods."

"Documents related to some important criminal cases seem to be missing, "Mr Shukla added.

Police sources said Swarna was one of the elder women whom the local police used to visit under the senior citizens' safety measures.