Curfew in Putlighar to demolish shops
Varinder Walia
Tribune News Service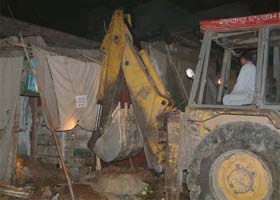 Illegal construction being razed in Amritsar on Sunday. — Photo by Rajiv Sharma
Amritsar, March 12
The district administration today ordered imposition of curfew in the Putlighar area in the morning here today to demolish 27 kiosks amid widespread protests. The heavy police force was posted here to meet any eventuality as many several affected shopkeepers had threatened self-immolation in full public view.
Commissioner Municipal Corporation K.S. Kang and SP (City) Harmanbir Singh Gill monitored the demolition to save the administration, including the police, the corporation and the district administration, from the 'contempt proceedings'. More than 2000 policemen, corporation employees and senior officials camped in the area while scores of JCB machines, tractor-trailers and other machinery were pressed into service .
Senior leaders of the opposition parties, including Ms Laxmi Kanta Chawla, state BJP vice-president, Mr Amarjit Singh Asal, District Secretary, CPI and councillors had gathered at the site to express solidarity with affected shopkeepers.
Earlier, at least eight shopkeepers of the Putlighar area had 'volunteered' to hang themselves in full public view if the administration carried out the 'demolition drive' on the basis of court directives. They also made attempts to commit suicide but they were persuaded not to take the extreme step.
The campaign against the demolition of kiosks is being spearheaded by certain Municipal Councillors and opposition leaders while all shopkeepers, put up the shutters to express solidarity with the kiosk owners for the second consecutive day today. A large number of shopkeepers, including children and women, continued to sit in the 'protest dharna' in the area to stop the demolition process.
Addressing the shopkeepers, Mr Asal said that the bazaar of Putlighar would remain closed for the third consecutive day tomorrow. The counsellors of all opposition parties will raise voice during the Budget session, starting tomorrow. However, the opposition leaders would gherao the Municipal Corporation offices during the Budget session to rehabilitate the affected shopkeepers.
All 27 kiosks, near Pipli Sahib Gurdwara which had sprung over the years had got electricity connections and were paying all dues to the corporation.