Careercature
Sandeep Joshi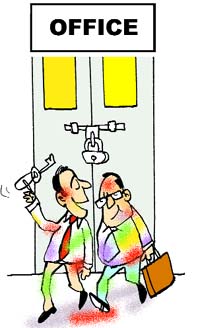 Life would be so colourless in office without Holi days.

Construct-ive choice
Usha Albuquerque
THE earthquake last year was a good wake-up call for all builders. If the many high-rise buildings in Gurgaon had been built according to established rules and guidelines, using the right building material, perhaps there would not have been so much panic. It also reinforces the imperative need for professionalism and accountability in the building and construction industry, growing at a frenzied pace today.

IIM graduates make a killing
IN this dog-eat-dog world of competition for jobs, Indian Institute of Management students are in a class of their own. They donít hunt for work, the jobs just come to them. Graduates clinching job offers with astronomical figures as salary has become sort of a custom in IIM campuses and this year is no exception.

Trendmill
IT professionals take home fatter cheques
Salaries grew by 16-18 per cent in 2005: survey
THE above average performers in the Indian IT and IT-enabled Services have seen their salaries grow by an average of 16-18 per cent year-on-year in 2005, according to a survey by Nasscom and human resource consultancy Hewitt Associates.

Event buzz
Workshop highlights demand for trained manpower
THE Ansal Institute of Technology, Gurgaon, in collaboration with North Dakota State University, USA, organised a 4-day International conference-cum-workshop. The conference on the first two days was on "Industry-Academia collaboration: Opportunities & Challenges" whereas a workshop held in the next two days, focused on Emerging Areas of Information and Communication Technology at its campus in Gurgaon.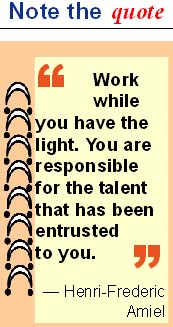 Title track
Managerial Economics

How To Start My Business

How To Sell My Products

Career Hotline
Clues to being a detective
Pervin Malhotra
Q I want to become a private detective. Can you tell me a little bit about the work entailed? What are the prospects in this field?