Bird deaths spread panic
Tribune News Service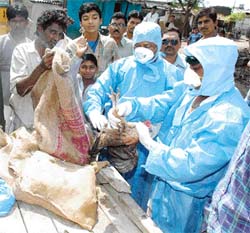 Government officials collect poultry to be culled from Amodha village around Jalgaon district of Maharashtra on Thursday.
— PTI photo
Mumbai, March 16
The reappearance of bird flu in Jalgaon district of Maharashtra has given rise to the fear that more areas across the state could be affected by the avian virus, officials here said.
Health officials who were called in to cull chicken at Navapur in Nandurbar district where the first outbreak was reported last month said poultry farmers had transferred thousands of birds to neighboring areas.
It is estimated that about 70,000 birds have to be culled in Jalgaon and the work would be completed by Friday, Chief Secretary D K Shankaran said here.
So far bird flu has been detected in four villages — Savda, Hated, Salva and Marul. About 60 teams of health workers have been sent for the operations.
Meanwhile, the death of birds in different parts of Maharashtra has caused panic. Bird deaths have been reported in Pune also. Samples have been collected for testing and the results are awaited, officials said.
However as a precautionary measure, poultry owners have been asked to quarantine their chicken while the results are awaited. Reports are also coming of chickens dropping dead at Nashik, officials said. However investigations into the bird deaths are still on.
Kolkata: After the fresh outbreak of bird flu in Maharashtra, all poultry owners in West Bengal have been asked to strictly follow the administration's guidelines on bird flu though the state is free from the H5N1 virus, a PTI report said.