Hola Mohalla ends with Nihangs' martial arts
Kiran Deep
Tribune News Service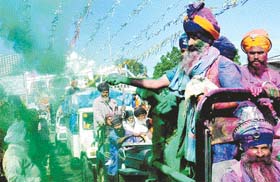 A RIOT OF COLOURS: Nihang Singhs throw dry colours on devotees during Hola Mohalla in Anandpur Sahib on Wednesday. — Tribune photo by Pardeep Tewari
Anandpur Sahib, March 16
With a fabulous display of martial arts skills by Nihang Singhs all over the town, the three-day festival of Hola Mohalla ended here yesterday.
The Nihangs a representative of the Sikh army that Guru Gobind Singh founded, performed gatka, sword-fighting and horse-riding.
The heavy rain that lashed the town till afternoon did not affect the celebration spirit of the devotees and the Nihangs.
Nihangs beating drums, riding on horses and elephants headed the procession of thousands of Nihang Singhs of 16 different groups across the state began from Shahidi Garden about 3 pm.
The blue and saffron colour of hundreds of Nihang Singhs wearing traditional dresses and turbans dominated the internal roads as they passed through the streets of the town.
As the last day of Hola Mohalla coincided with Holi, they also splashed colours on the devotees.
Age appeared to be no bar for the performance as a 5-to-50-year-old Nihang Singhs performed gatka and mock sword fighting in the internal roads.
Many of the Nihans wearing huge turbans weighing 30 kg surprised the devotees who had come from far-flung areas. The preparation for the Nihang Singhs began at about 3 am as it took hours for them to wear the traditional dresses and turbans with the weapons.
The group of Nihangs who participated in the procession included the Baba Buda Dal headed by Santa Singh, Shri Dashmesh Tarna Dal, Baba Hariyna Dal, Baba Bidhi Chandyna, Baba Nihal Singh Dal, Baba Nehar Singh Dal, Baba Lal Singh Baba Tarlochan Singh, Bir Singh and Avtar Singh.
The devotees gathered along the internal roads, roofs of houses and in the galleries of gurdwaras to witness the Nihang Singhs' procession. The procession ended at the stadium Charan-Ganga where the Nihangs performed their skills of martial war.
Baba Santa Singh of the Buda Dal, said that the Nihangs' procession represented the army of Guru Gobind Singh and helped the people to know about the Nihang Singhs' tradition.
He said many Sikhs were also baptized on during the festival here.
A procession was also carried out by the SGPC from Gurdwara Takht Shri Keshgrah Sahib.
A procession led by Panj Piaras joined by Jathedar of Akal Takht Joginder Singh Vedanti, Takht Shir Keshgrah Sahib, Tarlochan Singh, Takht Shri Damdama Sahib, Balwant Singh and Takht Shri Hazur Sahib, Rattan Singh.
Over 1500 police force was deployed in the town to manage the smooth flow of two processions in the town.
Air Force personnel displayed aeroplanes being run through remote control in the Charan Ganga stadium that attracted devotees in large numbers.