Colours of indifference
Saurabh Malik
Friendly neighbours did not splash the hues of cordiality and affection on him during the Holi of 2006.
Retired, yet not tired, school teacher P.L. Mehta, and so many other relics of the past like him, kept on rubbing their wet hands with colour and anticipation, waiting for the neighbours to arrive with sachets of yellow and green, only to find youngsters living in the vicinity zip past their houses, merrily and indifferently.
"It was like never before," says Mehta. "Until about two years ago, the neighbours would wish everyone around with colours of joy and warmth, instead of just playing around with balloons and friends".
Colourful past
Sitting in the porch of his Sector 22 house, Mehta recalls the time when the borderers would come to their house with gujjias nicely wrapped in silver foil on a platter full of care and love. "Those were the days when my wife, Shanti, was still alive. Together, we would look forward to the occasion. For, Holi was nothing less than an annual get together…."
Controlling the emotions rising in his voice, Mehta waves his hand in aversion before muttering: "It was then a community affair. Just like the Christmas, the neighbours would more or less forget the differences and come together for adding colour to life…. Oh, yes, they would ride down the fast track of excitement on bikes with silences then also, but not before celebrating the occasion with those living in the vicinity".
Directing your attention towards the spic and span veranda of his comfortable little house just behind the market, Mehta says it used to be covered with shades of excitement even a day after Holi "because of the colour sprayed by the revelers putting up in the neighbourhood".
Apathetic youth
Passing frail fingers through his graying hair, former bank employee S.K. Dutta agrees with Mehta. Living in Sector 44 after exhausting his entire youth counting crisp currency notes behind the cash counter of a nationalized institute in Chandigarh's periphery, Dutta says: "So many old geezers of my age are either too old or have passed away from this world, unceremoniously. And their young punks just do not know how to maintain and honour relationships their parents cherished so much."
Heaving a deep sigh, Dutta mumbles, "For them, we are nothing but old fossils existing in adjoining houses and Holi is just another opportunity to cut foot loose to the thumping beats of reverberating music during rain dances organised by clubs and amusement parks across the city".
Shades of hypocrisy
Dutta whispers that almost every year a neighbour sends her son to celebrate Holi with senior citizens putting up in the old-age home in Sector 15 a day or so before the occasion. She even fights for the right of her maidservant, but has never encouraged her son to visit the houses of the old battle-axes living around. "Nay, not even on Holi".
Shifting uneasily in his chair, he concludes, "For them, care, affection, brotherhood and charity are all empty words to be used with pride and strategy during big talk with other members of the fashionable society. That's all." Phew, sounds tough, but true!

Romancing colour
Gatayri Rajwade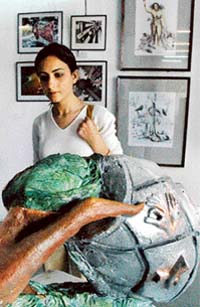 Take the time out to amble through the sparkling creativity for there is discerning effort in every work of art displayed. For the 750 odd paintings, prints, photographs and sculptures on display, this is a wonderful exploration of budding imagination and primacy of visual imagery as a vehicle of communicating vision.
The annual art exhibition of the Government College of Art, inaugurated on March 14, is a virtual ode to the artistic spirit of the students through their four years of training. Using a variety of media, forms and compositions come alive. Painting, Applied Art, Graphics (print making) and Sculpture—there is a blossoming of creative imagination.
From paintings displayed by the fourth year students like Preeti Kaur's 'Colours of Life' in oils, a "happy painting" of her inner feelings," to Lakhvinder Singh's prints, striking for their flowing lines using etching and aquatint techniques, there is a heady mix to see.
Subhavana's 'Winter Sun' impressed as a ball of wool, Praneet's photograph 'Destiny', of a camel crossing a deserted road running through the desert, Reeti Brar's serigraphic print 'Endorse' all bring to life the rich technique and imagination of the students.
Charu Diwan's etchings on zinc incorporate motifs of her life in the background with the simple mantra: ultimately man is alone.
Similarly her interpretation of the roundabouts of Chandigarh, 'Twisting Tales' complete with white lines signifying fast moving traffic and her chinecolle, 'Web of Life' are her efforts to manipulate her medium (print making) to desirable results.
Megha Katyal's untitled work in a similar format shows a cycle repair shop in remarkable detail, a wonderfully descriptive work of art by this student in her third year just as Vibhuti Jain's work titled 'Re(a)d Me' in using viscosity, etching and aquatint is all about "exploring textures, using the softness of the moon, shades and bubbles."
National scholarship holder Amrit Singh's sculpture of a mazdoor (in fibre-glass) with a kulhari supporting the form is a stark piece of work while third year Sumit Kathuria's 'The Charm and the Charmed' is a lovely sheesham wood sculpture carved out a "requirement of 3D." The work depicts a saxophone with a dragon-like snake and grew out of "limitations that force you into ideas."
Narinderjeet Singh's 'Romance' in fibreglass—intertwining forms—is an emotive piece of work, which shows considerable promise in this second year sculpture student.
The Applied Arts segment throws up a gamut of ideas from book covers (Paavni Saini's one on birds) to danglers to a Café Coffee Day window display in thermocol and PoP by Chamspa Rinchin Dorje, the intention is to convey ideas.
Satvinder Singh's oil on canvas, 'Lifestudy'—a man sitting on a chair—is a fine likeness in clear lines while second year student, Akash's 'top-shot' of two men stands out for its delightful perspective. Similarly Shivika's 'Weaver of Thought' is an appealing coming together of colours plaiting around a form in the centre of the canvas and Shiven's 'End of Days' is bold with few strokes and appealing for the effectiveness of its three basic colours, orange, the black bird and the stark blue backdrop (acrylic on paper).
The first year show work still in its buds. Still life, landscapes in water colours, artistic lettering, coins in POP, saree border in acrylic, there is an assurance of finer things to come.
The exhibition will be on till March 20 between 11 am and 6 pm.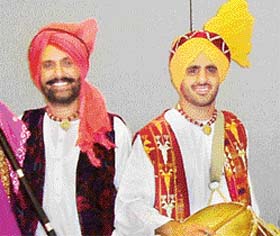 Folk dances and songs of Punjab are an expression of the people's hopes and struggles for a fuller life. They constitute a bond of union between the Punjabis and their folk culture, whether they live here or far away in the alien lands. The father and son duo of Surinder Singh and Teginder Singh is no exception to this belief. They breathe, perform and teach 'Bhangra' across the borders, in America. Both of them are in India to accomplish their mission of ' documenting the origin, evolution and subsequent changes incurred to the pure form of Bhangra, the folk dance of Punjabi farmers, especially after the 1947 partition.
The California-based sports medicine specialist, Teginder Singh Dhanoa learnt the rudiments of Bhangra dance from his father Surinder Singh, a post-graduate from Punjab University and acclaimed Bhangra dancer of the seventies. Surinder Dhanoa opined that a formative or definitive concept of Bhangra had lost its originality, vigour and vitality –had rather become a physically exhausting exercise with its very soul missing. ' You will find its variegated forms and techniques each different from the other as performed in rural Punjab, metros, films, in England or America likewise,' which always fails to invoke the soulful feelings, observed young Teginder Dhanoa, who participated in Bhangra competition at all venues.
'Though folk musical or dance forms are subject to undergo changes due to external stresses like western influences and blending of modernity from modern cinema but in any case the folklore has to be an integral part of any musical culture and one must know its original form' reiterates Dhanoa while substantiating his project of documenting 'Bhangra' in a film under the aegis of Punjabi Lok Virsa.
The Dhanoa's are doing a yeoman service in promoting the rich
legacy to the culturally starved Punjabi's living abroad. Over eighty Bhangra and Gidha dancers including Americans trained by Surrender Dhanoa are regular performers at festivals or private events, mainly at the Massachusetts Institute of Technology (MIT) and New York universities.
The inquisitive promoters and proponents of Bhangra, Surinder Singh and Teginder had documented the interviews with those folk artists, Bazigars, folklore scholars and performing dholi's in India and many in Sialkot, Pakistan. The 90-minute documentary film will cover the voyage of the most popular dance of the universe, the Punjabi Bhangra, with its very humble origin from the fields of Punjab to its majestic performances in the pubs the world over. The documentary film had been scheduled for screening on BBC and other channels in India and abroad.

Saga in stone
S.D. Sharma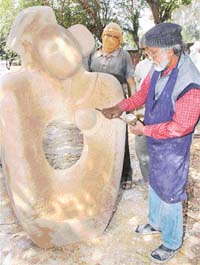 POETRY IN STONE: An artist gives the finishing touches to his sculpture at Kalagram. — Photo by Parvesh Chauhan
The Sculpture Park at the Kalagram, a dream project of the Punjab Governor and Administrator Chandigarh, General S.F. Rodrigues (retd) is growing fast with classic creations from the acclaimed artists. Every month a group of artists toils hard in meticulous discipline for two weeks together to transmute their innate perception into a classic peace of art and perfection.
Undeniably, the trio of International signatures in the realm of sculpture art, namely Prof Latika Katt, Prof Biman Bihari Das and Prof M. Dharmani, had defined wisdom, rationality and cosmic intellectualism in their three creations, a proud addition to the score of sculptures adoring the tranquil ambience of Kalagram.
'The Silent Whispers' is the most attractive in view of the regulated water flow emitted through the white marbled sculpture apparently illustrating the artist's endeavor to bridge the great and dangerous divide between the flashy, assertive metropolitan world with that of the life and labours of the 'earth' people of the silent hinterland.
'Love me, don't kill me' embalming the trifles of existence by the septuagenarian artist of myriad hues represents the ethos of birds and animals, praying for not to be preyed by the man, the superhuman. Cast in the Jaisalmer stone the female figure holding two birds shows that the female is the symbol of love and not as cruel as the hunter in a man.
Brimming with the patriotic feelings and love for the cultural heritage of the motherland is a classic piece of artistry, imagination and content. Veritably titled 'I love my country and culture'. The orientation of concave and convex arrangements integrated in deep philosophical moods is a fine blend of tradition and modernity. One marvels at the nationalistic theme illustrated with brilliance and aesthetic fulfilment.

Dreams Painted True
Parbina Rashid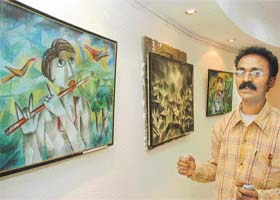 When it comes to dreaming, Dino Nath Saha dreams of the most uncommon. In his dreams he becomes the hunter, his Devi Durga becomes a plain woman spreading the message of love and joy or love becomes the centre of gravitation.
Ten paintings in mixed media, based on the theme 'Dreams of Life', gives a glimpse of the secret garden of this Kolkata-based artist in which Eve becomes the uniting force or the essence of relationship assumes a much wider meaning. Executed in layered acrylic and dry pastel his paintings speak of vibrant colours, showing the artist's expertise on blending of different shades.
For Dino Nath beauty is not blurred light only, but is contained a tinge of dark too and he tries both shades in abundance to make his work vibrant. The synthesis of this duality is achieved by his figures and also the display of the background colour.
Armed with training from eminent artists like Nirmal Mukherjee and Gopal Sanyal, Dino Nath has a number of group and solo exhibitions to his credit. At present he is working an art and craft teacher in Shishu Niketan School at Howrah.
The exhibition is on at IndusInd Art Gallery till March 20.

Dining Room is an integrally natural extension to your formal drawing room; accessible to your guests. Your dining room reflects your living style and it speaks volumes beyond your table manners.
Consider some important issues whilst making a formal dining plan. How often is the area used? How many guests generally get invited around for formal meals or parties? Do you often have sit down meals or buffet dinners? Would you require a six, eight or more seater dining table? Have you considered need based extendable regular sized table, to accommodate more guests?
Have you sealed the 'look' you wish to achieve in the room? Is it modern with sleek lines in wood, steel, glass or wood paneled English style? Create Louis Phillip interiors by converting double doors into French doors opening onto a patio or garden. Choose country furniture with louvered windows for less formal style.
Is your dining room open plan or fully enclosed separate room where air conditioning can be provided? Use subdued paints in oyster shades for smaller sized room. Add warmth and depth in larger room with warmer shades or textures on selective walls only. Have you compensated with ample electricity points if natural light is at premium?
How close is the kitchen to the dining room? Have you placed China or buffet cabinet where it can be easily accessed without disturbing your seated guests? China cabinet should be large enough to hold all your glass, crystal, china and cutlery; alternatively opt for two. Don't crowd dining room with numerous cabinets. Put main cabinet with recessed lights in dining room and house secondary one between kitchen and dining room with easy accessibility. There is no need to allow for a bar within dining room. Provide a portable liquor trolley if required.
Can you use your windows to provide a nice backdrop to our dining table? Consider Austrian or Roman blinds in chiffons, organzas and tissues. Use richer and heavier fabrics for balloon or cloud shades for an extremely different and formal window dressing. Have you got some wall space for paintings, prints, murals, motifs and arte facts? Either put one large painting or one medium sized one flanked by two or four smaller ones. Wall should attractive, not cluttered.
Don't choose light shade soft chair upholstery fabrics with babies trying to balance themselves by grabbing everything to stand up. Avoid upholstered chair backs if dining table becomes an extension of children's study. Use rich expensive fabrics only in restricted entry dining rooms or where children visit seldom. Inexpensive and easy to replace cotton or cotton-based silks are best solutions generally for seat upholstery.
If you have two ornate pillars holding the glass dining table top, then flaunt its' beauty rather than covering it with a table cover everyday. If the table is simpler in style with austere wooden top, then use coordinated table covers for daily use and finer ones for special occasions. Table cover and napkins must be in same design and fabric whilst tablemats and napkin holders generally look best in contrasting colour. Coordinate different table cover set with your china too.
Put a nice tall flower urn with matching candles or fruit platter on the table for buffet meals. For sit down meals, the flower arrangement should always be flat, with crystal or glass candleholders alongside.
Have down-lighters or scones for lighting on the walls whilst floor-standing up lighters look best in the corners. A nicely proportioned chandelier above the middle of the tabletop looks stunning. Otherwise opt for an adjustable height centrepiece. Bring it down for cosy dinner affairs and take it up for full table dinners.
Marble, tiles or vitrified tiled flooring don't need rugs and use them judiciously only to cover unsightly floors. Best rug size extends about a foot each side after placing all chairs alongside the table. Buy easy to clean rugs in case of food or liquid spills. Remember, more the texture – difficult to clean and maintain.
Irregardless of what you choose with your dining room, ensure that the style must permeate all of your interiors for the dining room; right from furniture to wall effects, drapes, lights, artifacts and flooring.
Courtsey: A.P. Singh
Beston & Co.

Garden Bazaar
Gayatri Rajwade
A pageant of colours, objet d'art and lifestyle accessories under boughs of trees, beneath wrought-iron gazebos and displayed in delightfully created niches; the annual Vanity Fair 2006 at Whispering Willows, Zirakpur promises to be a unique exhibition of all things beautiful.
"Beer, barbeque, great music and a plethora of wonderful things to choose from—this is the essence of the fair," explains Priya Jagat, part owner of Whispering Willows and organiser of the event.
What started as a marketing device, "an attention-grabber" to lure people to "way-out," five years ago has now become an annual affair with interesting objects, glass, wood furniture, paintings, linen, jewellery and handicrafts all spread out to allure. "The emphasis is on getting products that are distinctive and not available here," says Priya.
Her intention is, ultimately, to reduce the size and make the products more exclusive— bringing in new people wanting to showcase their stuff. "Ultimately we would like to provide a good platform for someone who is doing something new and creative," avers Priya.
What we can look forward to this year is Romi Kapil Dev's fashionable boutique This 'n' That, showcasing its assorted flowers and bead mats, specially crafted Oriental and Asiatic Liliums along with orchids and spring flowers in crystal and glass, country style American patchwork hand-crafted quilts, leather carpets even Russian oil paintings, handicrafts and a wide range of Turkish evil eye accessories!
Contemporary jewellery in silver and gems, Victorian ornaments, limited edition handcrafted crystal and stone jewellery even Kolkata's biggest jewellers Dia Gold come with their "Waterfall Collection', long cascading pendants, chandelier earrings, cuff mesh bracelets and huge cocktail rings.
A wide selection of hand painted suits, block and screen printed outfits in pastels, trendy embellished Indo-Western and Indian wear along with Kashmiri crewel work on organdie with wool is on offer with a host of other options in a variety of fabrics and styles.
Fine cross stitch and needle point cushions and table linen along with crochet blankets and cotton woven durries are reminiscent of old style work by our grandmothers is a special collection made by women in Punjab. A Kiran Grewal endeavour, she has adopted a few villages and is providing livelihood to the women there as a means of empowering them.
Educational books from Time Life, chocolates, ethnic frames, furniture, bags and footwear, brassware—there is a lovely range to choose from.
With an exhibition on, is food far behind? And here is where a delectable assortment makes its presence felt. Oriental fare (think dim sums!), Mediterranean cuisine and delicious Indian cooking are what you get to sample. Coupled with wine, beer and cocktails, the day is complete.
If stylised bric-a-brac accompanied with great nibbles is your idea of a perfect weekend, check out the Vanity Fair at Whispering Willows, Country Retreat, Zirakpur on March 18 and 19 from 11:00 am to 6:00 pm.

A student at 65
Anandita Gupta
Its an ideal Saturday evening—the sun almost ready to sink behind the veil of darkness, a cool crisp breeze caressing one and all and the week's hectic chores being cast aside (even if temporarily) to enjoy the coming Sunday. Employees, shopkeepers, executives, trainees, entrepreneurs and students, all seem relaxed. Seems like the whole of City Beautiful is lazing around or freaking out, but for him.
No relaxing Saturdays and no lazy Sundays. For this one student, there are no holidays. You'll find him leaning over his books, spread across his mini study table. Fingers shuffling through the pages of his spoken English course and a keen pair of inquisitive eyes hungry for knowledge, he's found cramming those never-to-be-forgotten rules of the language he's so keen on learning.
If you've pictured him as a young, plus two student, mastering spoken English for some competitive exam, you're in for a surprise. For, he's Sant Vinod Singh, a 65-year-old man, a preacher at a gurudwara. Having preached in the countries like America, England, Canada, France and Singapore etc, he's still a student himself.
"English is an international language and one finds many problems internationally if he/she doesn't know it. So, I joined the Finesse Institute of Spoken English, Sector 32, Chandigarh on 1st February, 2006 and am proud of my decision," he beams. But doesn't he feel a bit awkward, sitting and studying amidst kids and youngsters? "Being the oldest student, I do not feel odd. But while taking initiative, I feel a little bit hesitant." He confesses. "My classmates are all like my kids and I don't mind picking up things from them. I'm here to learn and so, I've shed all my egos," he adds.
His teachers say he's extremely dedicated and spends long hours revising whatever is taught in the class, besides participating in all the public speaking competitions that are held after every two months by the institute. "I learnt a lot, increased my vocabulary, can speak confidently on the topic like a house, a shop and my best friend etc," he declares proudly when asked about his latest endeavors in his class.
So friends, your favourite stars Shahrukh Khan and Sanjay Dutt (remember Mein Hoon Na and Munna Bhai?) weren't the only ones sitting amongst youngsters in the class. Here's another example in your own city!

YOUTH SPEAK
Philately — past and present
Have we ever spent time in knowing the real history behind stamp collection-what was the most popular hobby amongst the public, in the bygone years? Let us look at the detailed history of stamp collection.
The origin of postage stamp has a story behind it. In 1838, Row land Hill began to study the tax situation in England. It so happened that once when Hill was riding on his horse, he saw that a postman came to an old house and delivered a letter in the hands of a woman. The woman saw it and returned the letter to the postman. When Hill saw this, he got down from his horse and gave one shilling to the postman and gave the letter back to the old woman. The woman got angry and asked why he had given the money. Hill did not reply to her question but asked why she did not want to take the letter, which was written by her son? The woman replied that her son wrote her the letter and by merely seeing it she would come to know that he was well (the lady never received the letter). Often the postman delivered the letters and took them back with him unaccepted.
Further inquiry revealed that since most letters went through post unpaid, to be collected on delivery many of these were refused and had to be returned often as unclaimed or refused on return, thus necessitating records at every step of the two way trip, as well as double movement without any revenue. The result of this was that the Post and Telegraph Department did not get much money. At that time the postage was according to the distance. Hill proposed a radical change: that letters be carried any distance in UK for a fixed rate and that all postage be pre-paid.
Envelopes with the stamp denoting prepayment were to be sold at all post-offices and for those who wished to use their own stationery he proposed 'a bit of paper' just large enough to bear the stamp' and covered at the back with a glutinous was which might, by applying a little moisture, stick to the back of the letter. Hill's pamphlet, 'Post Office Reform' was issued in 1837.
Saurabh Gupta, Student

Hit thhi, Hit hai
Pradeep Sharma
Sukhpal Sukh is a music director with the Midas touch. In an era when the established music directors fight with their backs to the wall in the wake of the recession in the music industry, Sukhpal is churning out hit singers by dozens.
In fact, when the music composer settled in Chandigarh in 1998, he had twin objectives of giving the Punjabi music a contemporary "international feel" and provide a platform to the budding young singers. Sukhpal had largely been successful in realizing both the objectives if his track record is any indication.
The "melody maker" of the Punjabi music, Sukhpal is one of the rare Punjabi composers, who had formal training in the Indian and western classical music. At the tender age of seven years, Sukhpal began his musical journey under R.C. Kashyap in Jalandhar. And four years later, he moved to Canada where he mastered the western instruments, including trumpet and saxophone.
However, his romance with the Indian classical music continued as he enrolled in Pt. Jasraj's Music Academy in Vancouver for a "classical background".
"In 1991, I shifted base to Mumbai to train under the legendary Naushad Sahib as a music director was incomplete without the knowledge of the Indian film music", says Sukhpal with a twinkle in his eyes. And needless to the stamp of the western and Indian classical music is evident in the compositions of the young maestro.
Within months of his shifting to Canada in 1994, the young maestro was already giving Bally Sagoo the run for his money in the remix music. The release of Sarbjit Cheema's "Mela vekh diye mutiare"(1996), which had the chart-buster "Rangla Punjab", catapulted Sukhpal to the top rung of the Punjabi music.
And since 2002, Sukhpal continues to be the "uncrowned king" of the Punjabi music. In fact, his success seems to be all the more creditable with his "hit list" having a fair share of the new singers.
"You can experiment with new singers as their voices are not stereotyped. In fact, I make it a point to closely watch the personality of the new singers to make music to suit them," says the maestro, who is currently honing the skills of Rupinder Handa, winner of the "Awaz Punjab De" contest on the MH-1 music channel.
Avoiding being dubbed as "stereotype", Sukhpal is at ease working with senior singers too, in whose success he has played a major role. Amrinder Gill, Sarbjit Cheema, Debi Makhsoospuri, Amar Arshi, Surjit Khan and Raj Brar, continue to his "dream team".
What is the secret of his success? Music arrangement, comes the reply. "As the Punjabi music is not confined to Punjab alone, the arrangement has to conform to the 'international standards' to make it commercially viable. With that end in mind, I keep shuttling between India and foreign countries, including the UK, Canada and Spain, to keep myself updated on the latest in the Western music scene," he informs.
After setting new trends in the Punjabi music, Sukhpal is contemplating a professional move to Bollywood. Well Bollywood is not an alien territory for the successful Punjabi music composers and with talent and age on his side, it should be a smooth sailing for this "Punjab da puttar."

FILM & FASHION
Ninja Turtles on the loose
Warner Brothers is set to release the PG-rated; computer animated Teenage Mutant Ninja Turtles in 2007.
"Teenage Mutant Ninja Turtles represents a brand that is widely recognized all around the world, and we think this new CG version will be a huge hit among audiences everywhere," Moviehole quoted TWC co-chair Harvey Weinstein as saying.
The company has indicated that though the film won't feature the voice of Corey Feldman, it is expected to be grittier than the earlier editions. — ANI
Sequel to The Pink Panther
MGM has apparently decided to come out with a sequel of its hit movie, 'The Pink Panther'. Steve Martin, who starred in the previous instalment, is also expected to be back, as he expressed his willingness to join back based on a slew of interviews he has given recently, according to Moviehole quoting a report in IESB.net.
The sequel, however, is not expected to follow the same story line as the first sequel, "A Shot in the Dark". — ANI
Doharty's everlasting love for kate
She may have broken off her relationship with troubled 'Babyshambles' frontman Pete Doherty, but that still didn't stop the singer from declaring his everlasting love for her on the window of a car recently.
According to the Mirror, Doherty was leaving the Thames Magistrates' Court in east London where he appeared to face seven counts of possessing controlled drugs, used a marker to pen the message 'I love Kate 4 eva' on a car window before leaving the scene in his gold Jaguar car. — ANI
Sharan ready to kiss for peace
Apparently no man on earth will ever want to refuse sexy actress Sharon Stone's such a tempting offer, which despite being open for all, doesn't come free. The Basic Instinct star, who is currently visiting Israel to promote International Women's Day, has offered to lock lips with "just about anybody" who could bring an end to the country's long-running conflict with Palestine. "I would kiss just about anybody for peace in the Middle East," Hellomagazine quoted Sharon Stone, as telling a media conference.
The actress also said that she wants peace talks to include more women, and explained that she thought that women consider thoughts and feelings better than men. — ANI
Zeta-Jones, the waitress
When actress Catherine Zeta-Jones decided to do a little research for her upcoming movie by waiting at tables at a posh Manhattan restaurant, she never dreamt that she would be so successful, that she would even fooled customers into believing that she was a real waitress.
According to a source, the 'Chicago' star was so good at waiting on tables at the Fiamma eaterie, that even though customers told her she looked like the famous superstar she is in real life, they were oblivious that they were being served by the real deal.
"One night she did a little serving. A few people said to her, 'You look so much like Catherine Zeta-Jones'. And she said, 'Oh, I get that all the time'" Contactmusic quoted the source, as telling People magazine. — ANI
Jennifer does not trust men
It looks like Jennifer Aniston's divorce from actor Brad Pitt did leave a few scars after all, for the 'Rumor Has It' star no longer thinks that men can be trusted when it comes to staying loyal in a marriage.
Aniston said if a poll on fidelity were ever to be taken, it would be prove that men had a more difficult time staying loyal to their spouses, and that they were more likely to cheat on their partners.
"I think fidelity is very important in marriage. It's men who usually do the cheating - that's a very general statement, but I'm sure if we did a poll it would turn out it was more men than women," Contactmusic quoted her, as saying. — ANI
Hurley ready to bear pain for vanity
British beauty Elizabeth Hurley has revealed that she really does believe in the adage 'to be vain you have to bear pain', for she recently told contestants on her new TV design contest that having to bear pain was a small price when it came to being a fashion icon.
The 'Bedazzled' star told the four finalists of her show that the fashion industry was all about vanity, and that people, her included, were reading to shed blood when it came to looking their best at an event.
"This is all about vanity. People will suffer to look nice. I've gone home bleeding around my neck," Contactmusic quoted her, as saying. — ANI
Keanu still hurting
Hollywood hunk Keanu Reeves is still nursing aches and pains from the first of The Matrix movies in 1999 because he insisted on doing much of his own stunt work.
The actor accepts his knees will never be the same after they were beaten and bashed during kung-fu scenes, but some of his co- stars had it even worse.
"People broke things. Carrie-Anne-Moss hurt her leg, and Hugo Weaving had to have a hole drilled into his hip to drain some fluid," he was quoted by Contactmusic, as saying "I was taking ice baths and massages and trying not to cry at night. I'm still kind of tired from it, though. I'm still recovering. "My stunt double told me I did more wire work than 90 per cent of the stuntmen in the business," he added. — ANI

NEW RELEASES
All about old age

After 'Girl friend' filmmaker Karan Razdan calls the shot once again. He turns suave with new concept 'Umar' which forays into the sufferings of sick old parents of the present youngsters. 'Umar' will be released today at the Fun Republic, Manimajra.

The star cast Satish Kaushik, Kader Khan, Prem Chopra is impressive and on top of it there is a pair of Jimmy Shergill and Shehnaz Treasurywala in lead roles. It will be a good

combination.

This one is an unconventional subject and unlike Karan Razdan's previous directorial presentations, it caters to family audiences. 'Rakht' and 'Page 3' fame music director Shamir Tandon has come up with sentimental and soft compositions. Veteran and eminent lyricist Shailey Shailender pens poetic magic. It also brings out old and renowned signer Manna Dey to limelight after decades.

— D.P.