THIS ABOVE ALL
Brave old world
Khushwant Singh

IN days when His Exalted Highness, the Nizam ruled Hyderabad, anytime Aala Hazrat or a member of his family was driving through the city, the route was closed to other traffic and no one allowed to run across the road.
Once a young man slipped past the line of policemen and ran across the road with his motorcycle to get to his home. A woman member of the royal household on her way to the place saw him do so and ordered the police to arrest him. He was brought in her august presence. To teach him a lesson, she ordered urchins of the locality to spit on the young man. He certainly learnt his lesson. Overcome with shame and humiliation, he jumped into a talaab (there are a lots in Hyderabad) and drowned himself.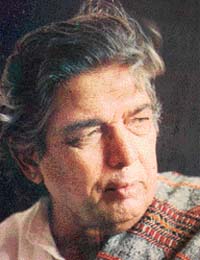 Kaifi Azmi
Not many Hyderabadis approved of the Nizamís despotic rule but could not raise their voice against it. One of them was filmstar Shabana Azmiís grandfather (Nana). He was a civil servant first posted in Hyderabad, then transferred to Aurangabad. He had a large family of sons and daughters. The girls (some surnamed Khanum) refused to wear burqa. One of them was Shabanaís mother Shaukat (b.1928).
She refused to have an arranged marriage and was keen to marry a free thinker doing his own thing rather than a boy from a well-to-do Muslim family with a secure job. She was all of 13 years but with a will of her own.
A mushaira brought some of Bombayís leading Urdu poets to Hyderabad. All of them made their living composing lyrics for Hindi films and were members of the Indian Peoplesí Theatre Association (IPTA) affiliated to the Communist Party of India. Among them were Majrooh Sultanpuri, Ali Sardar Jafri and Kaifi Azmi. Majrooh recited his well-known poem :
"Mujhey sahel ho gaeen manzilein/ Woh havaa kay rukh bhee badal gayey.
Teyra haath, haath mein aa gayaa/ Keh chiragh raah mein jal gayey.
(My destinations came in easy sight/As winds changed direction,
As I took your hand in mine/Lamps on our way were set alight.)
Then came the turn of handsome 20-year-old Kaifi Azmi. He fixed his gaze on the 13-year-old Shaukat gaping open-mouthed at him. He recited a longish poem with the refrain:
"Utth meeyree jaan meyreh saath hee chalna hai tujhey"
(Get up my beloved you have to go along with me.)
It was love at first sight. Shaukatís father invited the poets to come to Aurangabad. Shaukat went along with them. She found ways to steal into Kaifiís room. Her family sensed there was something going on between the two and tried to put an end to the affair. They failed. Kaifi returned to Bombay and an amorous correspondence began between him and his Hyderabadi sweetheart. Once Kaifi cut his own vein to write to her with his blood.
Finally, Shaukatís father gave in. He went to Bombay to see things for himself and persuaded his wife and sons to agree to Kaifiís proposal. In 1947, Shaukat married Kaifi. It was a rough life sustained by their love for each other. It lasted 55 years till Kaifi, who had suffered a paralytic stroke earlier, succumbed to another and died on May 10, 2002.
Prodded by her son-in-law Javed Akhtar, Shaukat put down her life on paper in Urdu under the title Yaad Kee Rahguzar (Down Memory Lane ó Star Publications). It makes delightful reading. Its Hindi and English translations will appear soon.
I was honoured with an advance copy sent by Shabana Azmi. In her memoirs, her mother writes Shabana was taught Marathi, Hindi and English at school. Her earlier letters to her father were written in Hindi which he could not read. His replies were in Urdu which Shabana could not read. I expect by now this beautiful daughter of an eminent Urdu poet and wife of one of the top Urdu poets of our times is able to read what her mother has to say and not turn to her husband to read it out to her.
Easy target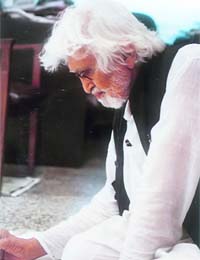 M. F. Husainís paintings fetch more than Rs 1 cr each
M. F. Husain has been summoned by an Indore court to answer the charges of depicting Hindu goddesses in the nude. Shiv Sainiks and Bajrang Dals have been harassing Husain for quite some time. They vandalised his paintings at an exhibition and in his home.
Husainís paintings now fetch more than Rs 1 crore each. They did all this to preserve Hindu culture about which it is evident they know nothing. They should be taken on a Bharat Darshan tour from Khajuraho, Konarak down to Kanya Kumari, and shown the innumerable temples, which have exquisite sculptures of men and women engaged in sex.
They should be asked to read ancient texts, which exhort people to regard sex as a sacred ritual. Our Hindu forefathers were liberal in their views; their descendants are narrow-minded bigots who believe in destroying works of art which they regard blasphemous. Husain is an easy target because he is a Muslim.
Taking these fundoos on a Bharat Darshan tour would be very expensive. A cheaper alternative for Husain would be to buy a few copies of erotic literature of ancient India: Kama Sutra, Kok Shastra, Gita Govindam, Ananga Rang by Sandhya Mulchandani.
In this profusely illustrated coffee tabler you will see the paintings of Shiva and Parvati, Krishna and Radha and Goddess Kali performing all kinds of sexual acrobatics with texts explaining what they are up to. This is our sacred heritage and not the utterances of Bal Thackeray sitting on a throne chair in Matoshree nor the monkey tricks of Bajrang Dalis. The book is printed by Lustre Press. It could drop the last two letters from its name.
Best of the lot
In a Vaishya Sammelan, a Lalaji who was President of the Vaishya Samaj boasted "Baniyas are the best citizens of India".
A spectator from some other community objected: "How can you claim that only Baniyas are the best citizens of the country? Lalaji defended: "This I do not claim. It has been officially announced by the President of India that we are the best citizens. The person wanted proof. Lalaji took out a colourful poster from his pocket and displayed it publicly before the audience. The poster read:
Bharat ke Sarv Shreshth Nagrik Baniye
ó Abdul Kalam
(Be the best citizen of India ó Abdul Kalam)
It was mistake of punctuation (-) like Roko Mat Jaane Do which made Lalaji felt at the top of the country till punctured.
(Contributed by Madan Gupta Spatu, Chandigarh)