Fighting obesity through lifestyle
Neeraj Dhingra

One can stay fabulously fit the easy way. Here are certain guidelines: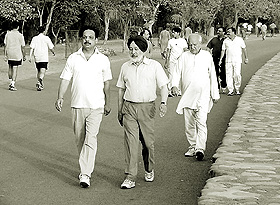 Tribune photo by Parvesh Chauhan

Know your ideal body weight
There are standard "height and weight" charts available for different age groups for various populations drawn up by health experts.
Understand body mass index (BML)
This is a reliable indicator of one's obesity. It is measured as weight in kg divided by the square of your height in meters.
For both men and women a BMI figure of between 20 and 25 is healthy. If it is over 30 you seriously need to work towards shedding a few kilos.
The principle behind shaping up and losing weight
Your calorie output should be more than your intake or else surplus food will be converted into fat, leading to weight gain.
A little planning can keep you in top condition.
Choosing a diet
This will help you lose weight and not feel deprived. The basic purpose is to recommend a diet of abundance which will not allow hunger pangs to bother you, and appeals to the palate. It need not be chocolates, cream cakes or fried food. A study conducted at the University of Sydney ranked boiled potatoes at the top followed by cooked fish, oatmeal, orange, apples and beans.
Know your average daily calorie requirement
Calorie intake for weight maintenance should be 30 cal/kg ideal body weight. A decrease of 1000 cals daily is required to lose about 1 kg a week and a reduction of 500 cals daily brings about a weight loss of nearly `BD kg a week. A drastic reduction of energy will only lead to hunger pangs, nervous exhaustion, weakness and inadequacy of essential nutrients.
Know your foods and the calories they contain
For example — 1 cup of milk has 170 cals but 1 cup skimmed milk has only 70 cals.
One egg or 40 gms meat has 70 cals.
One katorie of dal provides 100 cals.
One chapati or one slice of bread has 70 cals, one serving rice (adult) 220 cals
100 gms of green leafy veggies have negligible calories but the others provide 40 cals.
Fruits — one serving-average 40cals, but a banana provides 100 cals, an apple 80 cals and an orange 40 cals.
The list is endless.
The wonder of fiber and water
Both increase satiety and decrease hunger. The bulk of fiber makes one eat less. Water has no calories and improves metabolism.
Go for healthier low calorie sources — Sea food and pulses like peas, beans, lentils and sprouts. Soybean deserves special attention because of its health promoting properties. Anytime you choose a soy product you are going in for a high protein, low calorie food.
Counting carbohydrate — These provide half of your energy needs.
Fats — Go slow on fats but do not completely ignore them as they create a feeling of fullness and you want your brain, nerves and body to work.
Salt and weight loss — Most dieters feel concerned about their salt intake. It has no role to play when it comes to losing fat. It has no calories. In fact, it flavours low calorie food. The only drawback is that excess salt tends to make you retain water — so you might gain a couple of kilos temporarily. If you eat a low salt diet, you may lose fluid but not fat.
Small meals but more frequent — "Eat till you burst" is a wrong strategy. Always get up from the table feeling slightly hungry. Do not skip meals. People find it easiest to skip breakfast which should otherwise be the best meal of the day.
Skipping meals results in wide fluctuations in blood sugar levels that trigger hunger and overeating.
Other tips — Remember the key principle of variety, balance and moderation. Forget the habit of munching in-between meals.
Never "gulp" but "chew".

Do not get yourself too hungry.

Dinner should be light and early.

Prefer grilled food to fried or baked.
The exercise factor in weight control — The picture perfect weight reduction programme cannot be complete without physical activity as it helps you lose fat and build muscle and also increases your B.M.R. Bring variety in exercise or boredom will make you avoid it. Walking is ideal. One hour's walk at moderate speed makes you expend 200 calories.
The writer is a dietitian/nutrition consultant at the Pusa Institute of Hotel Management, Catering and Nutrition, Delhi.