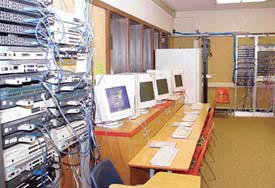 Networking skills n eed of the hour
There is an urgent need to address the shortfall in networking professionals if India is to sustain the ICT revolution, writes Ranajoy Punja
THE advent of globalisation, India's prowess in information technology and a strong education system are bringing about an Information Communications Technology (ICT) revolution. The signs are everywhere. The phenomenal rate of mobile adoption, increased ICT investments by enterprises for competing effectively, small and medium business investing in ICT to become suppliers to global MNCs and state governments looking to bridge the socio-economic disparity and providing effective citizens centric services are some examples.


Careercature
Sandeep Joshi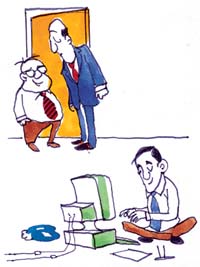 Sir, don't you think we are taking our downsizing
drive too far?

Dell to double headcount in India to 20,000
US-based computer maker Dell is aiming to double its headcount to 20,000 over the next three years in India, where it is eyeing to maintain a 40 per cent growth, its Founder and Chairman Michael Dell said in Bangalore on Monday.

Coaching centres need monitoring: survey
Students feel they are fleeced
TO make the country's higher education sector globally competitive, a majority of students, parents and educators have favoured ushering in a slew of reforms like stricter monitoring for institutes in the sector and simplifying current accreditation policies.

Set limits at work to beat burnout
Mary Ellen Slayter
It's easy to snicker every time another high-level executive steps down to "spend more time with his family.'' Especially since such announcements are often closely paired with reports about earnings that must be restated, plummeting stock prices or federal indictments.

Workability
Tackling tricky interview questions
Arvind Sharma
THE following 'difficult' questions are common to most tricky or adversarial interviews. In order to convince the interviewer that you are the best person for the job, you must prepare and rehearse your answers meticulously. Study the job description and the candidate profile; research the company; and match your skills and accomplishments to the employer's requirements.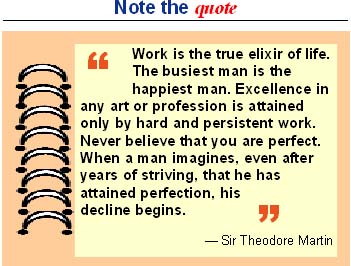 Pitfalls of online profiles
ONLINE profiles might help you get dates, but could they keep you from getting a job? Tim DeMello, chief executive of a company that manages online profiles for professionals, thinks so. "Most employers these days do some level of due diligence" about the people they hire, DeMello says.

Smart Skills
Class apart
Usha Albuquerque
SCHOOLS offer a host of non-teaching jobs, from those of counsellors and administrators to experts who train students in extra-curricular activities. A recent report on placements for IIM graduates indicated that a number of students are not taking up the lucrative job offers, but opting for setting up of coaching institutes to help other youngsters get into prestigious institutes of learning.

Career Hotline
Taking stock
Pervin Malhotra
Q I am a commerce graduate. I would like to know if there are any short-term courses that I can pursue in the stock exchange/capital markets?
Not a beastly choice

Manage hotel property

Move into microbiology

Scope in serials

Teaching track

Get a dose of pharma

Cosmetic approach