Smart Skills
Class apart
Usha Albuquerque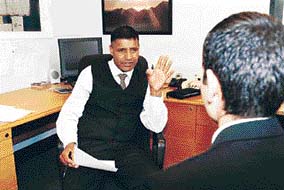 SCHOOLS offer a host of non-teaching jobs, from those of counsellors and administrators to experts who train students in extra-curricular activities.
A recent report on placements for IIM graduates indicated that a number of students are not taking up the lucrative job offers, but opting for setting up of coaching institutes to help other youngsters get into prestigious institutes of learning. Now that is as good an endorsement as any, for what has been traditionally regarded as a noble, but not so glamorous career. As more and more people begin knocking at the doors of educational institutions looking for a path to success, education as a career will continue to grow.
Schools, colleges, training institutions, even new universities, both state and private have mushroomed over the last couple of years, catering to the enormous demand for education. As the numbers in class increase, those with some experience are much in demand. New schools with corporate sponsorship of education has also become common today, with industrial families such as the Tatas, the Birlas, the Ambanis, Apeejay group, Sri Ram, India Today, Goenkas, and others having opened up several educational institutions across the country.
Nursery for growth
This is the area requiring the maximum number of trained personnel Ė school and college teachers at all levels, and trained educational administrators and managers for running the institutions in a professional manner These are excellent business opportunities for trained teachers and entrepreneurs. Moreover setting up schools, both nursery schools as well as secondary schools, as an entrepreneurial venture has also become big business today.
But it is not only teaching that is in demand, with more and more people becoming aware of the need for a wider interpretation of what constitutes a good education, schools, colleges and professional institutes have started providing students with a variety of learning experiences from horse riding and music, to counselling and life skills camps. There is, therefore, a demand for non-teaching specialists to handle these subjects.
Most school today have counselors to help students understand and deal with their social, behavioural, and personal problems. Counsellors work at the elementary, middle, secondary, and post-secondary school levels and provide support to the childís development at school. They help students develop the life skills needed to deal with problems before they occur. They also try to identify cases involving domestic abuse and other family problems that can affect a studentís emotional and academic development. Counsellors work with students individually, in small groups, or with entire classes, and consult with parents, teachers, school administrators, school psychologists, doctors and social workers, where necessary. In some states, it is mandatory for schools to have a school counsellor.
Administrative work
School administration and management is another area much in demand, as new, professionally managed schools and institutes get established. While there are many with MBAs who look for openings in school management, there are regular Masterís programmes in Educational Administration for those with a degree in education and teaching, or any relevant subject, which can prepare you for this role. Areas of work in Education Management include planning, including models for forecasting, financial management, including budget analysis, human resource management and training and handling of government policies with regard to education and the institute.
Educational management consultancies have also come up in a big way. Today, there are various types of consultancies and agencies, which provide information, guidance and counselling to students on various aspects. These could range from career counselling, to preparing for scholarships or studying abroad. With huge investments in terms of infrastructure, salaries of staff and faculty and use of self-learning instructional material such as CD-ROMS, these institutions are making the education options a highly attractive one for young people.
Schooled success
Today, most of the extra-curricular activities offered by the school are handled by specialists or experts in the field. Professional hair-stylists, musicians and artists visit schools to conduct classes in personal grooming, guitar or piano lessons, painting and sculpture and so on. Corporates have also entered into this area of professional training for specialised and vocational subjects from choreography and DJing to mass communication and modeling. Experts and specialists in the field are finding it extremely lucrative to put in a couple of hours each week in teaching thereby not only augmenting their incomes, but also honing their professional skills.
Coaching choice
Limited seats in good colleges and professional institutes has furthered stretched competition to levels where entry without preparation through a coaching system is practically impossible. Several coaching centers cater purely to the demand for the highly competitive entrance exams for medical, engineering and management courses. There are specialized coaching classes for the civil services exam too. Here also, the competition is so intense that most students have to take recourse to coaching classes, where you are taught how to answer all the questions on various topics and subjects. You are also trained to appear for the interviews, group discussions and other aspects of the competitive exams.
Teaching at a tutorial or coaching centre today has become an attractive option for teachers and other professionals. Retired academicians or professionals weary of the commercial rat race are willing to take up teaching jobs with the tutorial centres, or set up one themselves. As this is not part of the formal education, no formal teaching qualifications are required.
Moreover, now if a student cannot go to a school or college, teaching comes to him. With the development of modern communication technologies such as satellite, radio and the growth of the Internet, students can take up study in practically every subject through distance education. These systems have helped all those who want to attain higher education but are unable to adjust to the inflexibility of formal classroom education. This includes working people, people who have missed the opportunities of attaining higher education due to social or economic constraints, late entrants, people who do not have access to higher education in their place of stay, as well as those who wish to supplement their educational qualifications. It has also opened up huge opportunities for teachers.
And it is not only for distance education in India, Education Process Outsourcing is a new emerging service. Sitting in small cubicles fitted with headsets and pen mouse, tutors teach students in the US and other countries subjects like maths.
Enter EPO
It is estimated that 40 per cent of students in the US fail in maths and the country needs about one million teachers over the next 10 years. Direct interaction with the student, or providing online tuitions and tutoring as backhand support are new employment avenues for teachers. There are some companies that have already started imparting tuition to more than 1500 students in the US
The constantly changing demands of our modern society has seen the growth of education, not only as a catalyst for development but as a very viable career option. A diploma or degree in education, or a professional qualification with some years of experience can provide the launching pad for a career in this dynamic arena. So, if you have a specialised skill and are interested not only in training yourself, but in entering a field where you can also open opportunities for others, then education is the route you must take.
The writer is a noted
career expert