Veg food richer than non-veg: Dr Lunia
Mahesh Sharma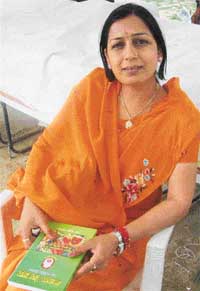 Mandi Ahmedgarh, March 22
Vegetarian provisions provide all constituents of a balanced diet and are cheaper than those provided by non-vegetarian food, claimed Dr Kusum Lunia, author of "Shakaaahar; Saravshreshath Aahar", a book that fetched her Dr Nemi Chand Memorial Award, founded by The Bhagwan Mahavir Foundation, Chennai.
Dr Lunia had come here to seek the blessings of Acharya Mahapragya.
The book had been selected as the best Hindi Book on vegetarianism. The award consists of a citation and a cash prize of Rs 51,000.
A Doctorate in Jainology and Comparative Religion and Art of Living, Dr Lunia held that vegetarianism was physiologically, economically and socially superior to non-vegetarianism.
Talking to Ludhiana Tribune at the local MGMN Senior Secondary School, Dr Lunia claimed that besides being cheaper, vegetarian food was easily digestible.
Referring to conclusions made during a study conducted by her, Dr Lunia claimed that soya bean provided protein at the rate of 2 paisa per gram in comparison to 14 paisa per gram in egg.
Pulses and wheat provided the ingredient at the rate of 3 and 4 paisa per gram. Soya bean normally provided calories 18 times cheaper than those provided by eggs, whereas it was available 10 times cheaper in pulses and wheat.
Dr Lunia said studies had revealed that a majority of criminals had committed crimes after taking non-vegetarian food and some addiction.
"Perusal of records at various police stations and jails revealed that a majority of accused and convicts were non-vegetarian and they had committed crime after consuming flesh and drinks," maintained Dr Lunia adding that vegetarianism would help preserve environment also.
She said religious activities like meditation and fasting helped one adopt vegetarianism.
Besides winning a number of individual prizes in swimming, teaching and culture, Dr Lunia and husband Dhanpat Singh Lunia had been adjudged best couple of Delhi for the past seven years.
She attributes her success to her husband who manages Gyanshala at Delhi.