Bhaskar Rao fest concludes
Our Correspondent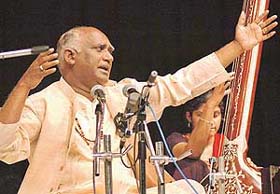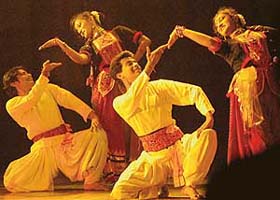 Mr Haricharan Verma (top) and a dance troupe (below) at 36th All India Bhaskar Rao Nritya and Sangeet Sammelan at Tagore Theatre in Sector 18, Chandigarh, on Sunday. — Tribune photos by Parvesh Chauhan
Chandigarh, March 26
The three-day 36th All-India Bhaskar Rao Nritya and Sangeet Sammelan concluded within a ballet by Mamta Shankar's troupe at Tagore Theatre here today. The Ballet Troupe from Kolkata transported the inquisitive audience to a cosmic experience with an enchanting ballet "Amritasya Putra".
Choreographed and directed by Mamata Shankar, the ballet refined the divine with five elements - Fire, Space, Wind, Earth and Water. The ballet also illustrated the belief that 'soul' moves in various forms before entering the human body.
The dancers through sleek movements described that "the world is a stage where a divine play is on, and we all have been sent to enact different characters. The artistes defined 'love' in all its myriad manifestations.
The costumes were designed by Mamata while her husband Chandrodoy Ghosh was the lead voice.
Musicologist and performer Haricharan Verma, Deputy Director General, AIR, commenced his vocal recital with a complex Ragaa Shudh Kalyan Haricharan proved his expertise while unfolding the bada and chhota khayal compositions. The expositions in Vilambat laya'"Gori ko gunn'and "Hari ki aaiso hi" in Madhya besides a drut bandish - "Ek ghari pal jiya maanat nahi" were well received.
Haricharan then moved on to present Ragaa Karun Shankara with "Pratham taal sur sadhe" in Rupak tala. Gifted with mellifluous voice with amazing range and a grip over rhythm, Haricharan won applause while concluding the recital with a Meera Bhajan "Jogi mat ja" . He was accompanied on the tabla by Sudhir Pandey and on the harmonium Mayank Verma.
Earlier, the Pracheen Kala Kendra director, Mr M.L. Koser, and Haricharan Verma honoured three eminent persons for their commendable contribution in respective fields with a shawl, memento and a cash award of Rs 5001 each. The recipients included Jayaram Potdar (Music),V.P. Parbhakar (Journalism) and Anjana Rajan (Art Criticism and Bharatnatayam).
Later Thespian Neelam Mansingh and Mrs Adity Dua, wife of Mr H.K.Dua, Editor-in-Chief, Tribune group of newspapers, honoured Mamta Shankar and her troupe.