Girls just wanna play hockey
Shahbad players have overcome adversity to become an integral part of the Indian team,
reports Rahul Das
When the Indian women's hockey team won the silver medal at the Commonwealth Games, there was jubilation in Shahbad, a small town in Kurukshetra district. Four girls from Shahbad — Surinder Kaur, Jasjeet Kaur, Rajvinder Kaur and Saroj Bala
— were part of the squad that narrowly missed the gold.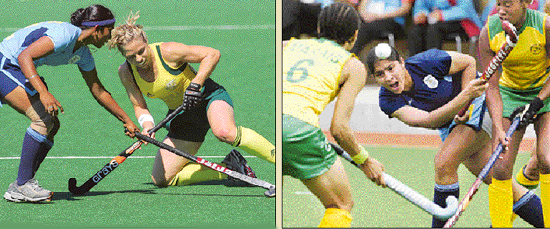 Surinder Kaur (left) and Jasjeet Kaur helped India win the silver medal at the Commonwealth Games. — Photos by Reuters, AFP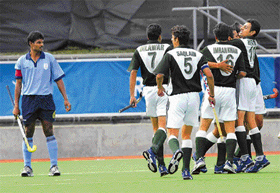 From bad to worse
Ramandeep Singh
The Indian men's hockey team is in an abyss of mediocrity, with succour nowhere in sight. Finishing sixth at the Commonwealth Games, where top teams like Germany, Holland and Spain were not playing, shows the depths the team has sunk to.


The standard of Indian men's hockey has plummeted to an abysmal level

IN THE NEWS
Punch Line
Raman Mohan
Bhiwani boxers Jitender Kumar and Vijender, who won a bronze and a silver, respectively, at the Commonwealth Games, have more in common than the sport they love and the district they come from. Both hail from lower middle-class families, have illiterate mothers but matriculate fathers.


Jitender Kumar (left) and Vijender have done Bhiwani proud by winning medals at the Commonwealth Games

Debut dossier
Vikramdeep Johal
Giving a remarkable performance in one's debut Test match is no mean feat. Doing an encore is even harder. India's Munaf Patel, England's Alastair Cook and Australia's Stuart Clark, who all began their Test careers on a resounding note last month, face a Herculean task proving that their dream debut was no flash in the pan.