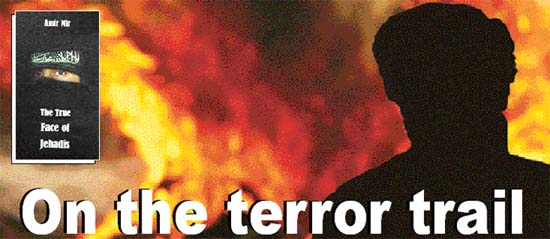 In The True Face of Jehadis, Amir Mir, Pakistan's well-known investigative journalist, focuses on the militant Islamic groups, their links with the military and intelligence establishment of Pakistan, and how terror charities are thriving in the aftermath of the earthquake in October 2005
Despite being decl- ared as terrorist support organisations by the United States and having their bank accounts frozen by Pakistan for their alleged al-Qaeda links, three banned Islamic charities — Al-Rashid Trust, Al-Akhtar Trust and Ummah Tameer-e-Nau — took full advantage of the October 8, 2005 earthquake in the Pakistan-administered Azad Kashmir, using it as an opportunity to come out in the open, revive themselves and resume their so-called social welfare activities.

Musharraf's real face
Threat to caves of Bombay
The Maharashtra Tourism Department has adopted the Trimurti statue of the Elephanta caves as its logo. But little has been done to ensure that the sculptures inside these five groups of caves are well protected, writes Vinaya Kumar
Caves of Bombay! Yes! I am referring to more than two hundred heritage caves with sculptures rivalling that of the famous Ellora, within 20 km of the city centre of Bombay! Does commerce alone makes a global city? This is the question the Archaeological survey of India or the Tourism Department of Maharashtra and the city planners of Bombay have to decide, for around Bombay are six groups of caves — Mandapeshwar, Kanheri, Jogeshwari, Karla, Mahakali.
Wonder at Bijapur
Usha Bande
Bijapur, a tiny historical town, is all geared up to welcome its visitors with a display of its architectural grandeur. There is something for everyone—tourists, archaeologists, historians, art lovers, architects, and students of culture, religious studies and literature.
Hair's key to Cleopatra's power
Think of Cleopatra and immediately you can conjure up an image of the Egyptian queen in her characteristic hairdo adorned with a cobra headgear. But apparently there was more to Cleopatra's hairstyles, as she used them in calculated ways to enhance her power and fame.
And the Oscar goes to... someone else
Shakuntala Rao
AS the 78th annual Academy of Motions Picture and Science awards, popularly referred to as the Oscars, ended for another year, it was interesting to read and watch sections of the Indian media lament as to why Indian films have made so little impact on what is considered by many as the world stage of cinema.
Directors' act
Are some of our top-notch directors looking at an alternative career? Farhan Akhtar, Karan Johar and Shaad Ali have all proved themselves closet-actors.
Help!" moans Madhavan. "If all the big-shot directors of the country turn to acting what will we do?" He has a point. First it was only Subhash Ghai who dug the idea of doing flash appearances in his films. We couldn't blame him. Ghai had come into the industry with the express purpose of being an actor.
Sharon Stone happy to strip again
Basic Instinct star Sharon Stone has revealed that she will be happy to strip in a movie again, but only in her original flesh sans digital enhancements. The stunning actress recently stripped for racy scenes in the new movie Basic Instinct: Risk Addiction, and admits she is prepared to appear nude in future films.
Rahman rocks
THE trademark curly locks are gone but A. R. Rahman continues to be as shy as ever. Ask him about the new look and he mumbles "I had shaved my head before leaving for Haj in January, so my hair is still growing back".