nATURE
Death of a tortoise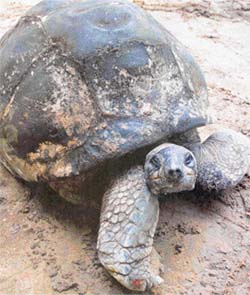 The giant Aldabra, possibly the oldest animal on earth, died at the Alipore Zoological Garden in Kolkata on March 22
THE world's oldest living tortoise died in Kolkata on March 22 leaving behind a rich history of close to 300 years and an invaluable shell that will provide scientists a clue into its actual age.
Addwaita, who was named very recently after wildlife officials realised that the tortoise had been nameless all through his chronicled age of 250 years, died at the Alipore Central Zoo of liver failure.
The tortoise's shell with a circumfrence of about 13 feet is being preserved at the zoo and scientists might later carbon-date it to pin point his actual age.
"There has been a debate over his actual age though it is by far believed to be the oldest surviving tortoise in the world," zoo director Subir Choudhury said.
According to records, four tortoises were brought to Calcutta by British seafarers from Seychelles, known for its giant tortoises, and presented to Lord Robert Clive.
While three of them died, as the new environment did not suit them, Addwaita ruled the Latbagan estate of Clive in north Calcutta till he was gifted to the zoo in 1875.
No one knows, how old the tortoise, the biggest crowd puller of the zoo, was when he was brought here. Chowdhury says his approximate recorded age was somewhere between 250 to 260 years.
The Aldabra Giant, whose numbers are dwindling are found in Aldabra and Seychelles Island in the Indian Ocean and differ from the other giant tortoises found in the Galapagos Island in the Pacific because of its small neck place on the carapace. "They have the longest longevity among all vertebrates," Mr Chowdhary said. Addwaita's burial in the hospital compound adjacent to the zoo was an emotional affair for employees. — PTI